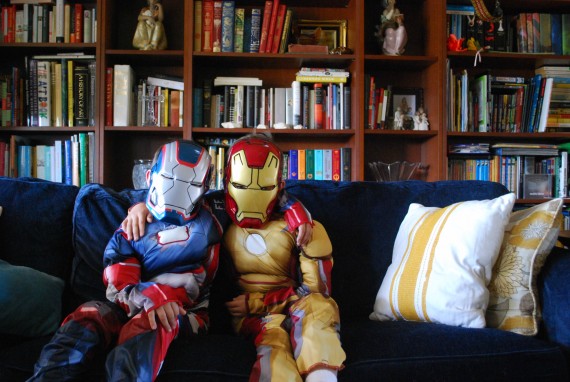 I continue to take my "jump in with both feet" attitude seriously. I'm going to do NaNoWriMo this year. I've put it off the last 2 years because the timing (right after 31 Days of William Morris) is horrible. I put it off the year before that because I was chicken. The site has been down for maintenance the last few days in preparation for November 1st, so in case that link doesn't work and you don't know what NaNoWriMo is, basically you write everyday (anything you want) with a goal of 50,000 words by November 30th. The idea is to write a book in a month.
November 30 is my 41st birthday, which is apropos of nothing.
Do I have a plan? No. Plot? No. Characters? Genre? Theme? No. No. No.
I do have prompts! A friend of mine sent me five pages of writer's prompts. I figure I'll take one of them and write until I'm done. I'm not looking for a book at the end. My only goal for the month is to get back into the habit of writing fiction.
My posting here won't be as regular but after 31 days of posts I'm sure we're all eager for the break.
Is anyone else doing NaNoWriMo? I mentioned this on Facebook last week and some people were still on the fence. Misery loves company, you know. I went so far as to drag two friends into this mess with me. On Wednesday we chatted on Facebook about some story ideas. November should be interesting.
[Unedited Facebook chat below. Please excuse typos. I'm notorious for my fast and sloppy typing.]
• 10/29, 5:20pm
Kendra
Ok ladies. Any more ideas in the writing corner?
• 10/29, 5:26pm
Jules
Nope! I'm going on a walk right now to think about it. How about you?
• 10/29, 5:26pm
Kendra
i've been tossing around ideas all day
but nothing solid
• 10/29, 5:27pm
Jules
I think my best bet will be to take a myth or classic and rewrite it. That way the plot is sort of done for me. Heh.
• 10/29, 5:27pm
Kendra
good idea
but can i just say most 2 most exciting things today
you can now renew ebooks from the library
AND amazon is introducing a program where you can get books you own in the physical world (that you bought from them) for your Kindle for pennies on the dollar
too bad i never buy books LOL
as for NaNo, I'm thinking YA, but not sure if I can pull out anything unique
• 10/29, 5:35pm
Jules
Doesn't have to be unique. It has to be 50,000 words.
• 10/29, 5:35pm
Kendra
LOL true
let's just be honest here. if i finish, it'll be a miracle
• 10/29, 5:59pm
Carey
Same here, but at least we have company
• 10/29, 5:59pm
Kendra
btw, just downloaded throne of glass from the library
i have too much to read!
• 10/29, 6:09pm
Kendra
Jules, I think you should write a YA novel that is based on love at first sight about characters named Eweniq and Zaden. (For those who don't know, here Kendra is making fun of the fact I almost never like YA, hate inappropriately weird character names, and mock insta-love.)
• 10/29, 7:05pm
Jules
Brilliant. I'm assuming Eweniq is the girl? I'll have Zaden sneak into her room at night and watch her sleep, except she doesn't sleep because she's half robot. (Her mom married Hal from 2001 Space Odyssey after he Cont-Alt-Deleted his way across Italy, India, and Bali for a year. He found redemption. And love, obviously.)
So Eweniq is a hubot and Zaden is a…jock. Some of the sports things he says and does won't compute for Ewiniq, but these two kids try to make it work until Mr. Tushman, the computer teacher, finds out Eweniq is a hubot. Now Eweniq and Zaden are on the run, finding safe haven in an underground railroad for hubots sponsored by Staples. It ends with a final confrontation between Eweniq, Zaden and Mr. Tushman in the pens and stationery aisle. Zaden, the jock, uses his quarterback skills to pelt Mr. Tushman to death with a bulk pak of highlighters. That's the first book.
Done. 50,000 words.
• 10/29, 7:06pm
Carey
Awesome- that's so … Unique
Or eweniq
• 10/29, 7:08pm
Kendra
I'm in awe. Publish that now
• 10/29, 7:27pm
Jules
Thanks. It pretty much wrote itself, like most magic. Not to brag, but I've already roughed out 4 more books. I'm seeing a 6-part series and a movie franchise.
• 10/29, 7:28pm
Carey
Don't forget the video game tie in and app.
• 10/29, 7:30pm
Jules
Line of greeting cards. *hint-hint.
• 10/29, 7:30pm
Kendra
I'll photograph your cover. I can see it now *wavy dream sequence*
A hubot and hunky post pubescent hunka burning love (with half football jersey and rock hard abs), backdropped by the smoldering remains of a post apocalyptic football field and goalpost
• 10/29, 7:32pm
Jules
YES. Can you make sure Eweniq has a plug, preferably in the back of her neck? She needs to recharge since she can't sleep, like a Prius. I want to make sure everyone understands she's a hubot.
You so get my vision, Kendra.
• 10/29, 7:32pm
Kendra
With the tag line "he only wanted to play ball. Love just wasn't in the 'program'"