In order to show you what I've done to Nico's old nursery and later big-boy room, I searched my hard drive for old pictures from 2006. These are pre-blogging, pre-pinterest, pre-Facebook, Twitter, and Instagram. The concept of social media didn't exist and most people had no idea what Etsy was. To take pictures you walked into a room, pointed your camera, and clicked a button. That was it. Oh, and to decorate a nursery you went to Babies R Us. At least I did. There were some moms who were having custom bedding done, but I think we can all guess where I sat on the issue.
Behold: 2006.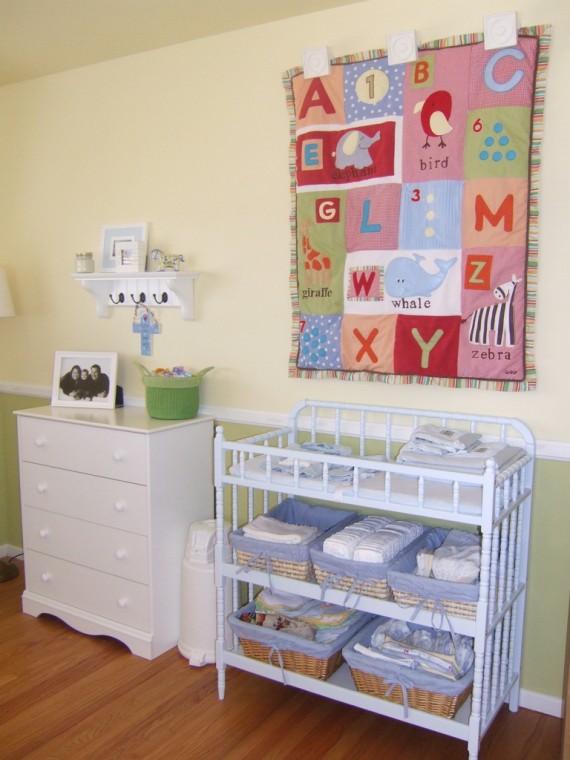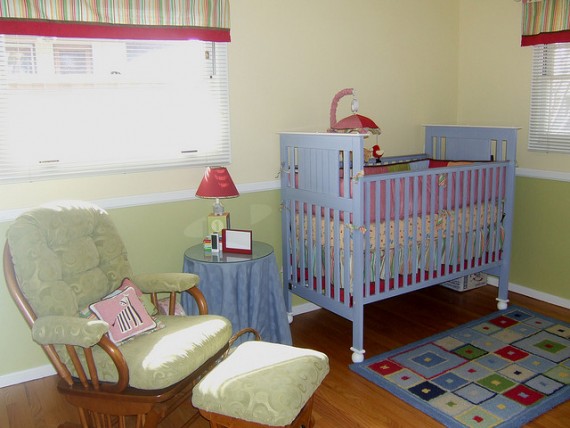 No. 1: That blue skirted table was a placeholder. I was supposed to get something else, but I never got around to it. In fact, that blue table is now full of plants. I swear, one of these days I'm going to get rid of that ugly thing.
No. 2: You see that Dutalier glider? That was top of the line in 2006. You were damn thrilled to have that glider. For Mikey I had an ektorp chair because I vowed I would never buy a glider. Hah.
A warning about what we now call the Homework/Guest room. I vowed to spend no money except new desks for the boys. That didn't quite happen, but I was close. I spent $30 on bedding from Walmart (found when I struck gold with this magic pillow) and I made sure it was bedding that would work with the paint already up on the walls. I will not repaint the walls until we are ready to redo the entire room. I don't care if paint is the cheapest fix. Not painting is an even cheaper fix.
Ask me how hard it was to find bedding that goes with green and yellow walls and red, green, brown and powder blue striped valances.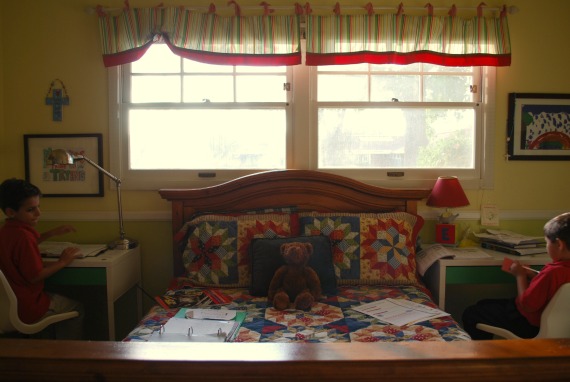 Country Living fake quilt for the win! Mikey's old crib converted into a full size bed. Two desks from IKEA used as night stands…and desks. My desk lamp from law school on Mikey's desk, Nico's nursery lamp on his desk. Nico's old teddy bear on the bed (we also use this room when one of the boys is sick) and behind him is a toss pillow from the Mister's bachelor days. It was my first "serious girlfriend" purchase for him.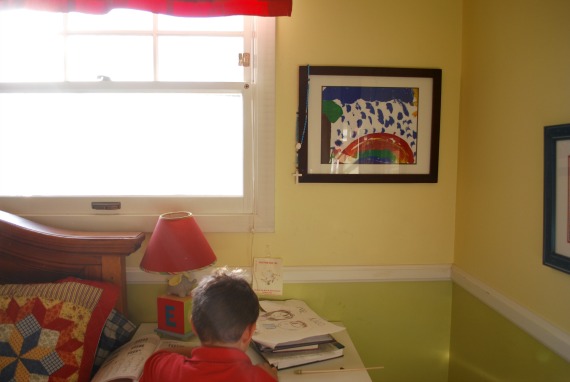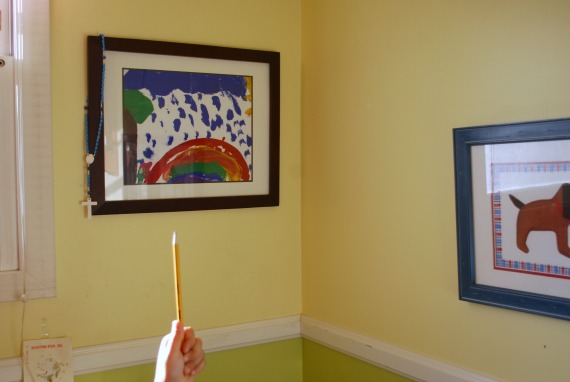 A rainbow Nico painted in Kindergarten framed because I loved it immediately. In the blue frames are prints from Mikey's nursery, but those I'm replacing with pictures of the boys in Lake Tahoe. Do you like Nico's hand holding the pencil? He thought it would be funny if the pencil was in every picture.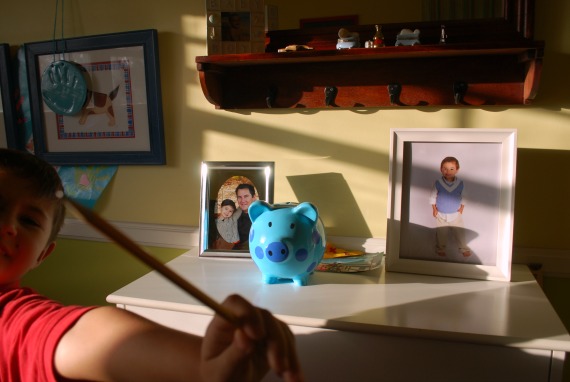 More funny pencil. Also, Nico's old dresser from the nursery now filled with extra blankets. An old shelf and mirror from Mikey's room. That hanging blue hand print in the background is the Mister's from kindergarten. I haven't bothered hanging it properly yet. More artwork from Nico tucked behind one of the frames because I'm thinking about hanging it on that side of the room.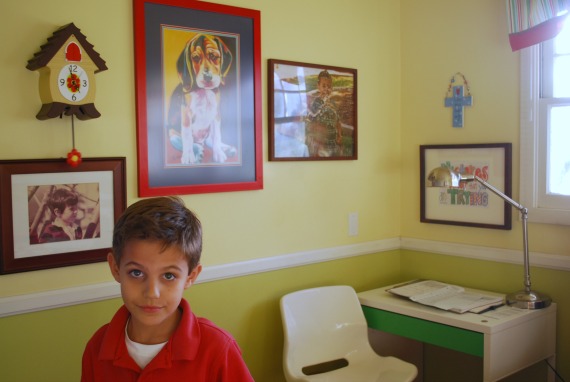 Mikey's side of the room.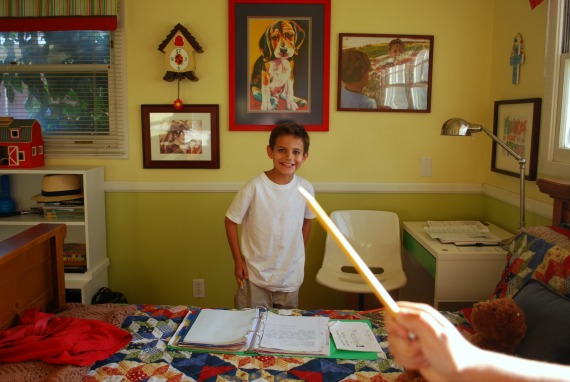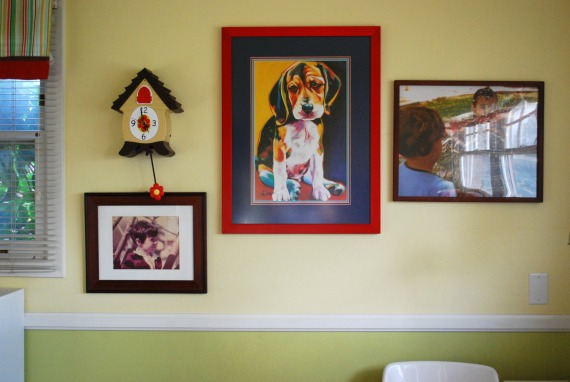 A beagle print from Mikey's nursery, a photo of Mikey and Nico from Nico's big-boy room, a cuckoo clock from Mikey's room, a picture of the Mister when he was Nico's age. Plenty of room for more pictures.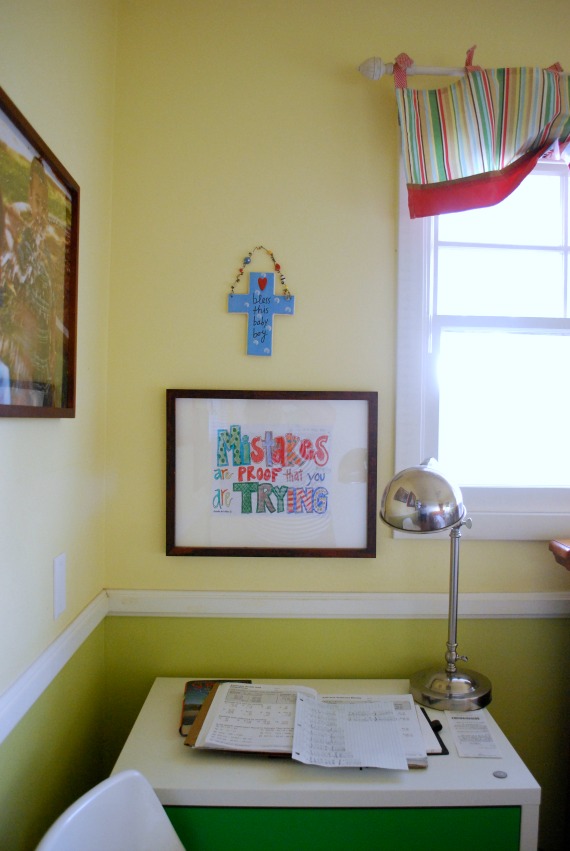 Mikey made this at school last week. It went into a frame and above his desk for obvious reasons. The cross is from his nursery.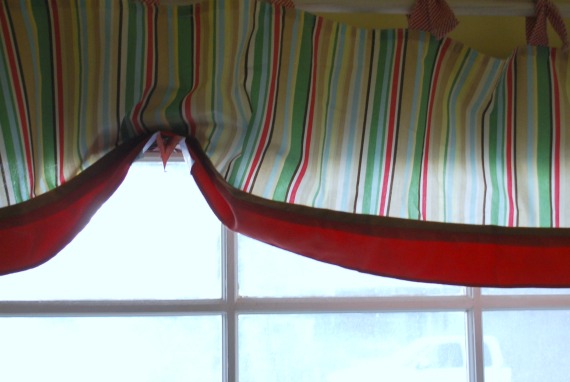 Last, but not least, a paper airplane stuck in the window because this is a homework room in theory only.