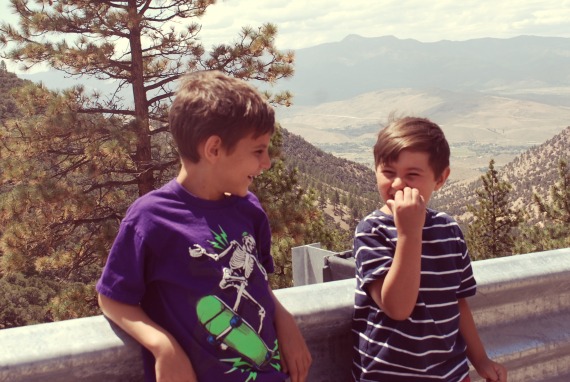 I'm just now getting to the pictures I took in Lake Tahoe! I didn't take many this year because I'm a little tired of being behind the camera. This picture isn't perfect–Mikey is out of focus and his shoulder is sprouting a tree, 3 out of 4 hands are chopped off, and no one is paying attention to the photographer–but there is something about it I love. It could be the way Mikey's laughing at something Nico said, or the very grown-up way he is leaning back against the guardrail. Or, it could be the fact that Nico is wearing his shirt backwards. He does it all the time and every time I point it out he is always so shocked to see the tag right there at his neck.
I suppose I love it because it's perfectly imperfect and candid, which isn't a bad thing to be in general.
Monday
I'm reading The One and Only Ivan to the 4th graders, which they seem to enjoy. It's a great read aloud book: short paragraphs, powerful sentences. I had my first class with Nico, which was awesome. He came up to me and asked, "Misthus Kendall, do you have any books on dragons?" He checked out a book he already has at home and never gives a second glance.
Tuesday
I went to the store for the first time in months. Not really, but I did a huge supermarket run. I bought everything and then joked about the contents of my refrigerator when I got home. Avert your eyes, primal people!
Wednesday
A 7th grader asked me if I watched Sleepy Hollow, and when I told her I didn't she said I should because I seemed like the kind of adult who cares about what kids like. I was wearing an electric blue dress with orange gladiator sandals and a rainbowish necklace so, you know, I'm thinking my outfit didn't scream CNN. Regardless, I went home and watched the pilot episode and liked it! It's a lot like Fringe, which I also like. I did not watch CNN.
Thursday
I went out to lunch with friends today–friends I met through my blog! The best part about blogging is the friends you meet. You usually have more in common than you do with people you meet in your day-to-day and you get to confirm what you always suspected: everyone has a crazy family.
Friday
My niece turned 4 yesterday, so we are celebrating today. The boys are super excited to see her.
The Weekend
Well. I just found out the Mister will be gone most of the next month, so I'm going to have to take advantage of Jessica's book and prep some meals in advance. Not only am I nervous to be on my own for that long, I'm bummed because we were toying with the idea of doing a 30 day dining in challenge. When the Mister isn't traveling, he works from the house. He's been eating in more now that I went to the store (he's not one to walk into a kitchen and get creative with random ingredients), and he swears it's making a difference. How could it not? Restaurant food is loaded with fat, salt, and sugar to make it palatable and pretty. We were curious to see how we would feel after 30 days of forgoing coffees, pizzas, breakfasts out, etc. It would be hard, but there isn't anything we eat out that we can't make at home.
Since he's going to be gone, we're going to have to table the idea–unless I take it on as my own 31 day project for October. William Morris my eating habits, if you will. In order to eat in for 31 days I would really have to be intentional about my food calendar, plan everything out, and have a system with some emergency/contingency plans in place.
Speaking of, October is two weeks away and I still have no idea if I'm going to participate in the 31 day challenge. I know I can't do it the way I've done it the last two years. I don't have the time or the money. Thinking, thinking, thinking. I still have 10 days to make a decision.
EDIT: Some 31 day suggestions in the comments. I love it and keep them coming!