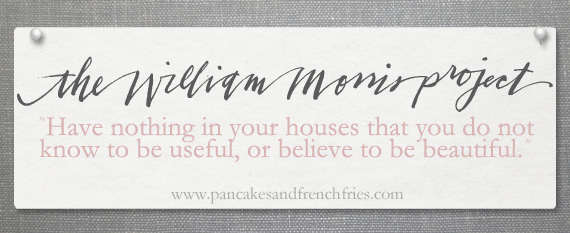 Today's post is one of those I dread publishing because it is so simple that (1) I should have done it months ago instead of procrastinating, (2) I'm slightly embarrassed of the befores, and (3) this is hardly a life-changing blog project that will revolutionize your life and break Pinterest until they can move to a larger server.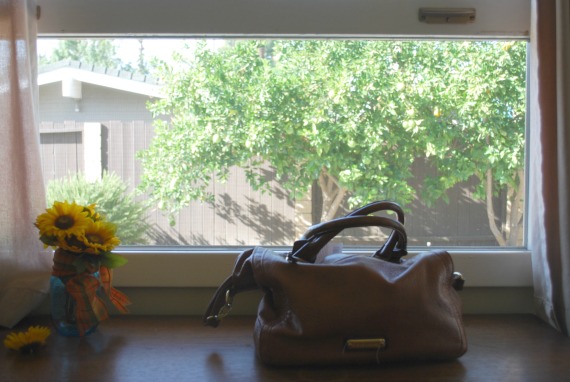 I cleaned out my purse. [Party noise maker!]
Last week I mentioned that my purse situation was becoming dire, as first world blogging problems do. I wanted to switch to a smaller bag and carry a book bag for my ipad, magazines, books, etc. But how small a bag was a mystery since I filled my garbage bag-sized purse quite nicely. I thought I might be able to get away with a medium-sized bag, but everything I found looked too small or had a prominent logo or something else wrong. Really, I think I felt weird about spending money on a new purse because everything out there seems similar to what I already have. If I really want to feel the difference in my back, I'm going to have to switch to one Meg brilliantly called "not the prettiest girl at the dance."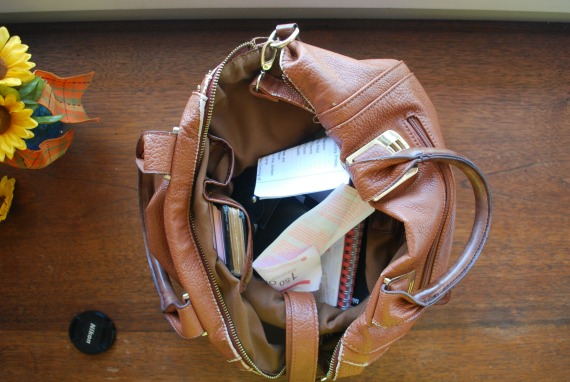 I decided to use what I already have until I find something close to perfect, and I've already received some great recommendations–I just need to find them in store! I'm not an online shopper. I want to touch it, feel it, and pass out at the price in person. For now, I'm using this purse I blogged about a couple of years ago.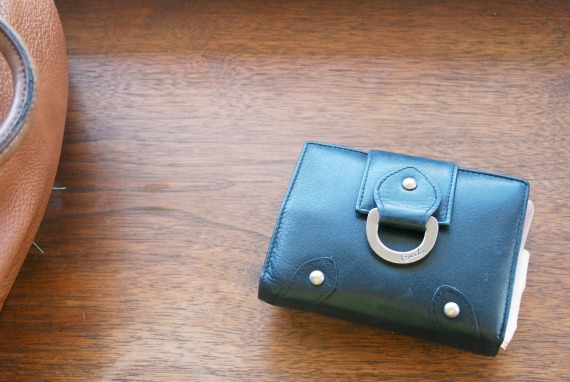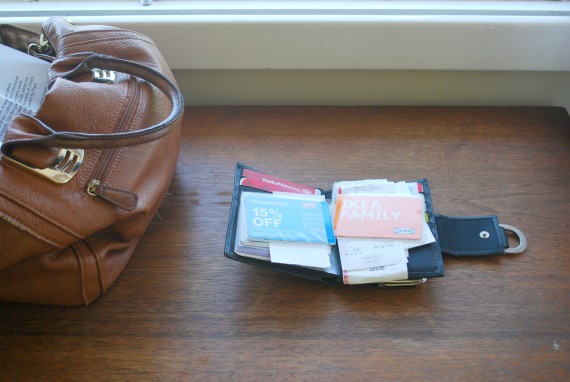 I don't want to blame my mom for my purse problems, but she doesn't read my blog so let's just agree it's all her fault. I asked her for a wallet for my 40th birthday and she gave me this black one that I didn't like (I don't wear much black, ever) but decided to keep because it is of very good quality and compact. Yes, I'm really that practical. It's a wallet; I don't care what the person at Starbucks thinks of the one I carry. I care that I have enough money inside of it to go to Starbucks. For me, a wallet has to last years. I carried the one I got for my high school graduation until my 30th birthday, and I replaced that one with this one. I just noticed my wallets are tied to momentous occasions. Weird.
Anyway, this wallet could be great but can't hold receipts.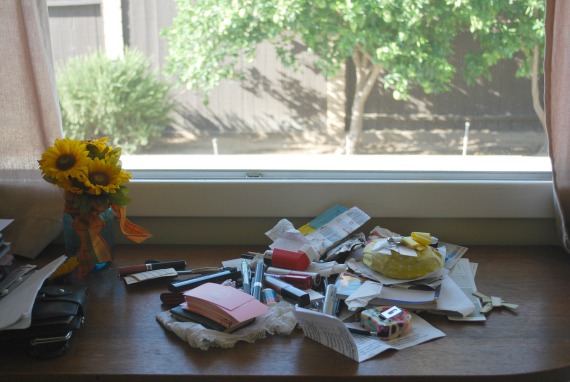 So this happened. Since my birthday I've been pretending my purse is a portal to a receipt organizing dimension. The important receipts I kept in the wallet and would move to a folder when it become impossible to open my wallet without mimicking a gag can of peanut brittle. Don't try to understand why I didn't just toss the other stuff right away because it's like trying to understand the Rule Against Perpetuities.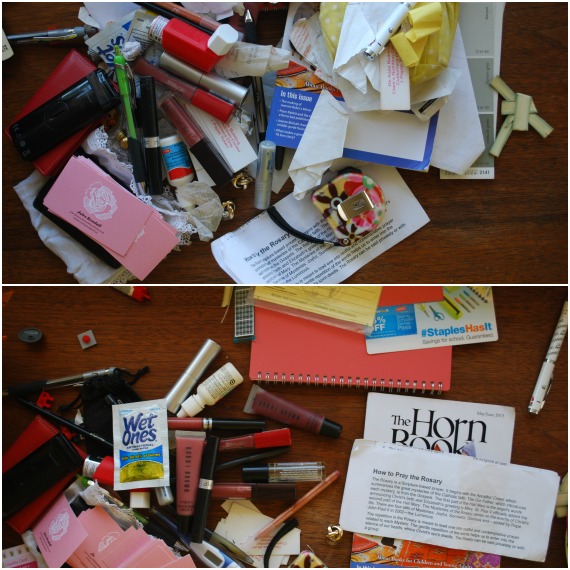 This is a comparison of the pile after removing the receipts, coupons, and little trashy bits I should have tossed ages ago.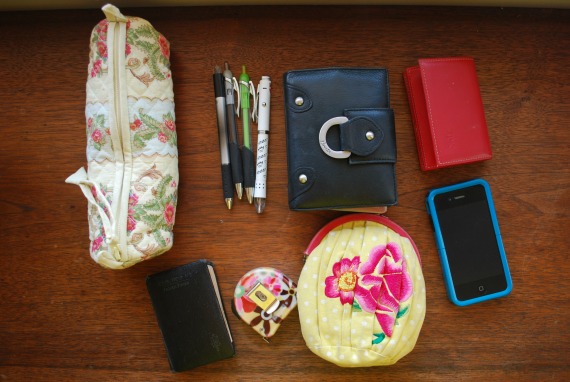 And this is what happened when I placed all my beauty supplies (DO YOU NEED PLUM LIPGLOSS? I HAVE ALL OF THEM.) in a small makeup bag. I also got rid of the day planner I stopped using months ago, put away the 400 loose business cards, and officially made that floral Anthro clutch-thingy my receipt bag.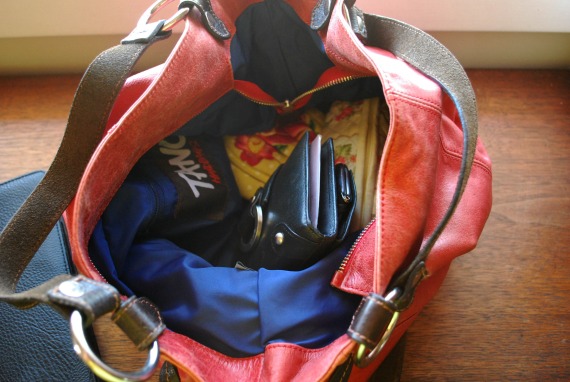 Here it all is in the bag. There is room for my ipad and a magazine. The pens I put inside a zippered pocket, but I might move them to their own zippered bag similar to one my mom has. She keeps everything in small pouches. Her purses are always immaculate, organized, and incredibly easy to switch back and forth because it's as simple as moving a few zippered pouches. Like I said, it's completely her fault.
I tested out the bag with my ipad in it and it is so uncomfortable. It's heavy and awkward. The hunt continues, but it's not pressing.
//////////////////////////////////
Now itís your turn! Feel free to share how you have lived according to the William Morris quote, ďHave nothing in your houses that you do not know to be useful or believe to be beautiful.Ē Made a plan? Cleaned a drawer? Bought a sofa? Tell us about it with a link or comment. A few guidelines:
Please link to a specific post, not a general blog address.
Your post must relate to your efforts to create an intentional home. I have a delete button, and Iím not afraid to use it.
No links to giveaways, please.
Letís use this weekly link up as an opportunity to gather inspiration and motivation. Click links. Discover new people. Say hi and good job. I know I will.

//////////////////////////////////