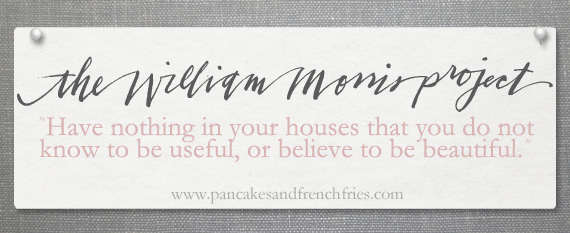 The other day Mikey brought home a questionnaire for his 4th grade class. It had the standard questions, most of which he was able to answer except for the Mister's work cell phone. Later I took a peek at it and under mother's occupation he listed Libarian [sic]. I told him (gently, nicely) that I'm not a librarian, just a volunteer, but he didn't seem to care. He and Nico are under the impression my shuffling books on my hands and knees ups their street cred. I decided to drop it and enjoy it while I can because I most likely have until 6th grade before they start actively avoiding me in the halls.
I have a few pictures of the library to share! They aren't of the whole library, but they give an idea of what I've been working on the last couple of weeks.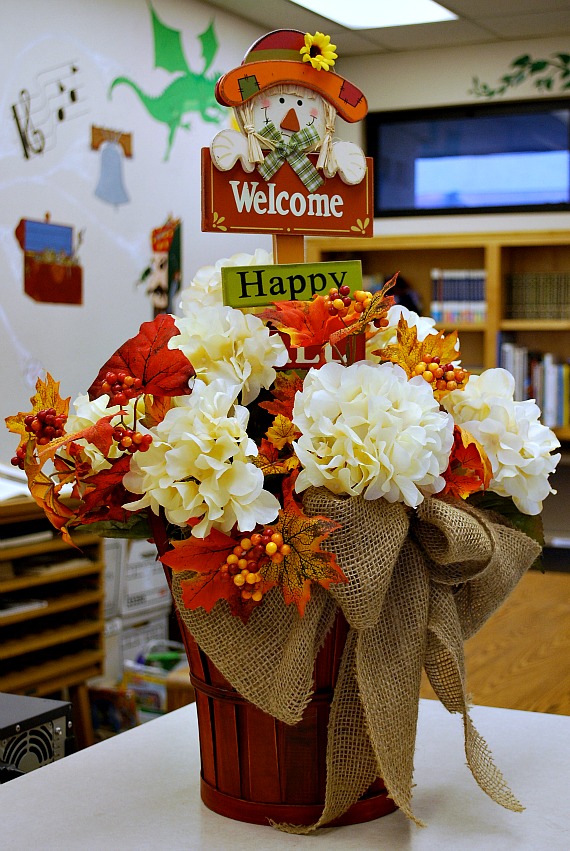 I'm not normally one for cutesy seasonal decorating, but the kids love it–especially the little ones. I have this arrangement placed so it's one of the first thing you see when you walk in. Directly across from it in the K-2 section is a wibble-wobbly metal scarecrow also holding a welcome sign. I bought him last year and the kindergartners thought he was fabulous. (He's actually kind of ugly.)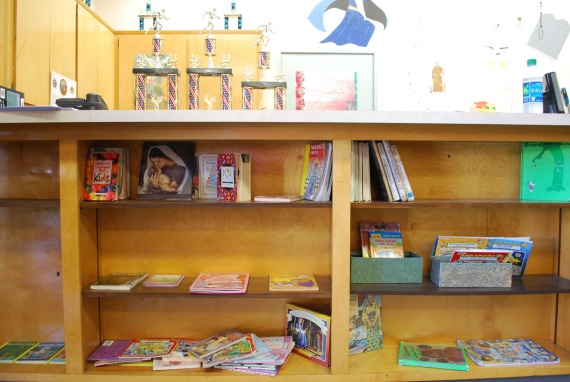 This next picture is a before, as I'm sure you can tell. It's a confounding display case (no glass doors). Last year we tried putting some little kid books there but it quickly became a cluttered mess.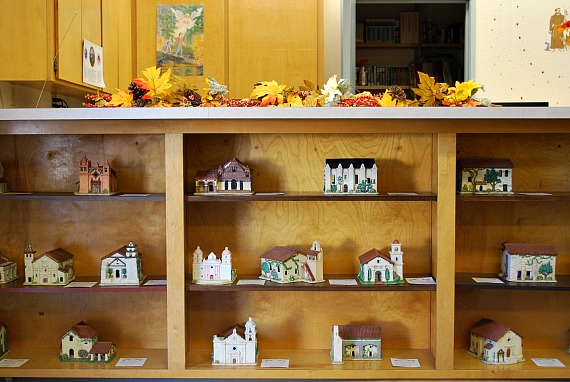 This year I decided to make it a California Mission display with little cards that share some facts about the mission. They are organized in order of founding, and I'm currently looking for something to hold up the cards. Maybe table number things used at weddings and conferences? We have all of the missions except one, and I have a whole shopping bag full of little people, benches, trees, fountains, etc. I'm still deciding whether to display them along with the missions and make it a giant diorama. Of course, if I did that everything gets anchored with Quakehold and the little ones get a lesson on "look but don't touch." I know that as a little kid I would spend hours looking at the little people. Please–as an adult I'll spend hours organizing the little people! More seasonal decor on top of the counter.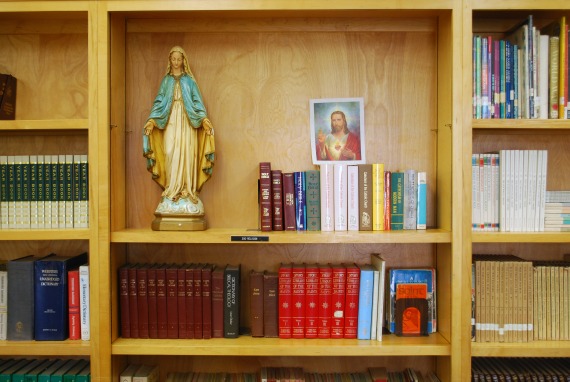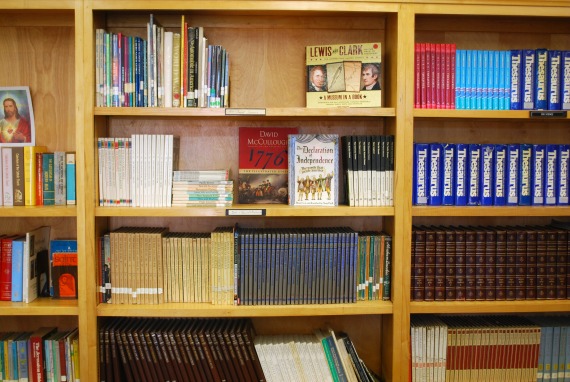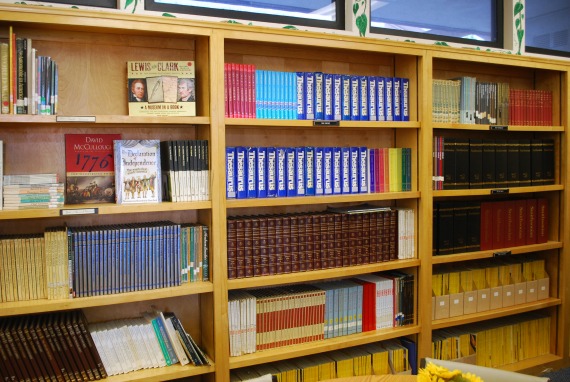 Last week I showed a before of the back wall, and here is an after. The Virgin Mary is old, chipped, and huge, but I couldn't leave her tucked in a dusty corner of the library like she was before. I still need to frame the picture of Jesus I bought, and while the books standing up on end look nice, don't do that. It's horrible for the spines. I know you know this, but someone will think I don't know this and will say "Don't you know that's horrible for this spines?!" So, yes, I know. I'm waiting for display stands.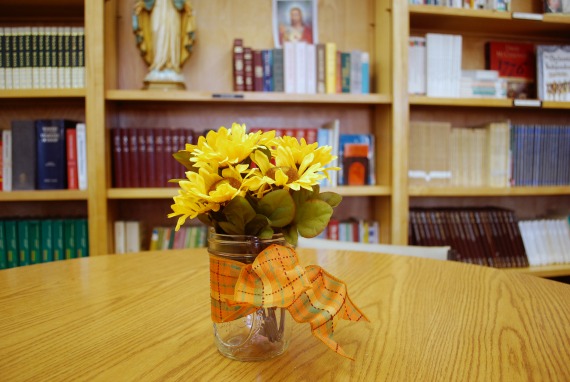 And, because apparently seasonal decor is my personal Schedule II narcotic, I put a little jar of fake sunflowers on each of the library tables. I originally planned to use fresh flowers because the idea of water and kids and books didn't immediately raise the hair on my arms. I quickly came to my senses and bought the flowers on sale at Michael's. The ribbon is my attempt to hide their fakeness. Eh.
//////////////////////////////////
Now itís your turn! Feel free to share how you have lived according to the William Morris quote, ďHave nothing in your houses that you do not know to be useful or believe to be beautiful.Ē Made a plan? Cleaned a drawer? Bought a sofa? Tell us about it with a link or comment. A few guidelines:
Please link to a specific post, not a general blog address.
Your post must relate to your efforts to create an intentional home. I have a delete button, and Iím not afraid to use it.
No links to giveaways, please.
Letís use this weekly link up as an opportunity to gather inspiration and motivation. Click links. Discover new people. Say hi and good job. I know I will.

//////////////////////////////////