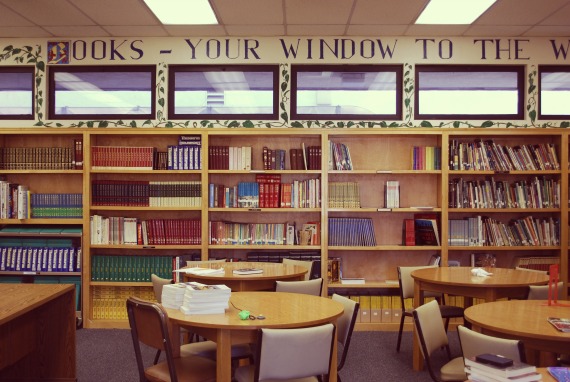 I touched 90% of the books on the back wall of the library. This is the semi-before, and you can probably tell where I stopped last year. (The two shelves on the far left.) The wall extends another bookcase to the left and about 4 or 5 to the right. I cut the picture off to protect the identity of a student/victim who was there because her mom was helping me. I put this off last year because I thought it was going to be a lot of physically taxing work unshelving, organizing, and then reshelving countless sets of encyclopedias and reference books in an eye-pleasing, but still logical and useful, manner.
So right! Not only was it physically demanding, the air conditioning wasn't working and it was 101° on Thursday. To look at it, the job doesn't look all that big, darn it.
I think it's going to look good in the end and be worth the effort, even if the only person who appreciates it is me.
The week was a blur, but the happiest moment by far of every day was the moment I finished my walk, took off my sports bra, and put on the coolest, loosest pajamas I own. My husband may be gone all week, but I'm so beat I can't even manage to put on my Paranoia Uniform of yoga pants and tank top. I'm hoping to deter any criminals by laying down an impenetrable perimeter of frump.
Have a happy weekend, everyone.