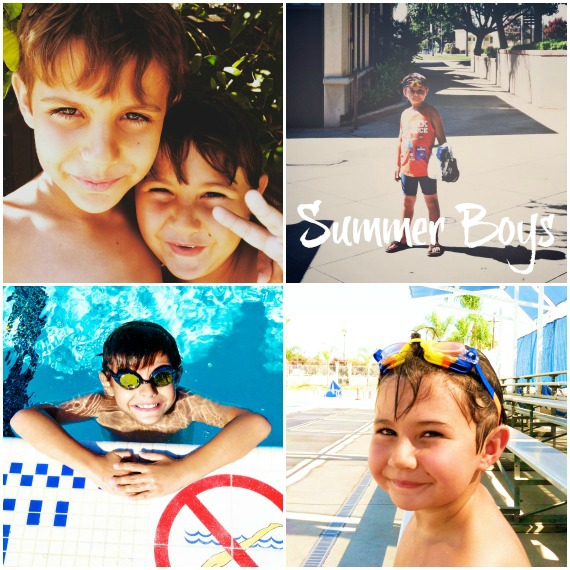 Summer is winding down. The boys wore sunscreen SPF 3000 all summer long but they still ended up brown like coconuts. I guess they have their mama's Spanish/Italian skin, huh?
Monday
It was our first day back from Lake Tahoe, and it's always great to be home. I like that when we get back our kitchen feels enormous after working in the teeny-tiny one in Tahoe. Our kitchen is far from enormous, by the way.
Tuesday
I had a really bad headache for a couple of days there, and I was so glad the Mister was still on vacation. I got to sleep most of the day and he picked up Miguel's Jr. for dinner.
Wednesday
I accepted the library position, and you all sure do know how to make a girl feel good about a scary decision. Thanks for the vote of confidence, which you will promptly regret come November after my 412th post on the Dewey Decimal system, picture books, and DIY hand sanitizer dispensers.
Thursday
Our goal for this summer was to get Nico water safe. He is, so now our goal is to get him ready for swim team so he can join Mikey. Since Mikey hasn't swam in a year, we put them both in a two week block of lessons. They both love it, and I love the idea of spending this fall at one practice at one location at one time.
For now, Mikey and Nico wear jammers. Mikey already told me it would take a firing squad to get him into briefs. From what I've heard from swim moms, the older the boy and the more competitive the swimmer, the more likely they are to wear briefs/Speedos.
They aren't kidding. Mikey and Nico practice at a college, and this week water polo players and divers practiced in the same pool. Awkward. So very, very awkward. These are collegiate level athletes. We're not talking doughy, pasty, out of shape middle-aged men on the Riviera wearing gold chains that get tangled in their chest pelts. These man-boys are extremely fit, bronze from the sun, and next to naked.
The other day the senior water polo boys had to finish their practice early, which meant they had to exit the pool while I sat there like a stunned, prudish deer. They surfaced like selkies from the sea and I'm surprised they didn't do it with Poison playing in the background.
These guys are so accustomed to walking around nearly naked they don't realize they are nearly naked. Two things occurred to me in that moment. One, I am absolutely not gay. Two, so this is what it feels like to be Donald Trump at a Miss America contest. As soon as I thought the 1st and blanched at the 2nd, I grabbed my phone and pretended to work on something that needed my immediate attention. Ordering myself a hormone panel, for starters.
[sidebar: am I the only one who thinks the beach/swimming pool is a strange concept? You are, essentially, in your bra and underwear in front of strangers, but if a stranger were to burst into your dressing room while changing at store, you'd reach to cover yourself, right? I thought about this in Lake Tahoe. Maybe I have a little Mennonite in me. Must research family tree!]
Friday
I'm loading up the Netflix que. I've already received some good recommendations–The White Queen looks promising.
The Weekend
I start at the library on Monday, so I'll be researching management software and fun stuff (decor! read aloud books!) all weekend. Wish me luck.
Have a happy, happy weekend everyone.