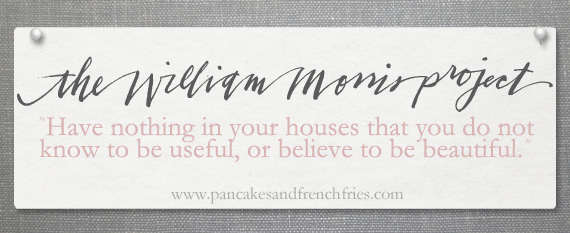 I was talking to May about our link-up last week after I announced my decision to reduce the number of posts I publish for The William Morris Project over the summer and possible the fall. She offered to keep the link up going on her blog, but I told her that wasn't necessary. I can easily set up the link-ups to go live on Thursdays for those who have projects they want to share. I wasn't going to post anything that wasn't simple living related on that day anyway, because anything else–like, I don't know, a round up of my favorite art supplies from Europe and Japan–after the last 18 months would be a little disingenuous.
So, the link-up option will still be here every Thursday. I know a few of you enjoyed reading everyone's posts and keeping up with efforts to create a more intentional space, and I hope those of you who were participating will continue to do so.
I know I will, because guess who doesn't have the boys' room done after a kabillion years and dozens of empty promises?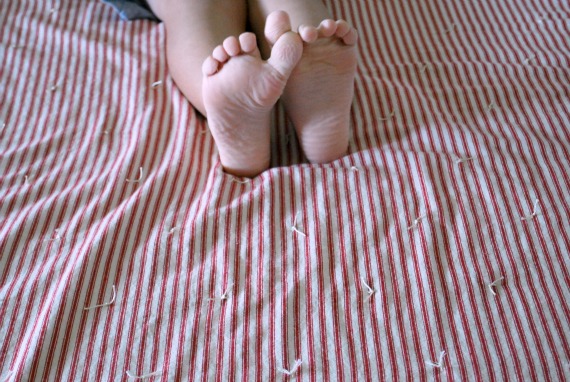 This girl!
This week was the third 1-week block of traveling for the Mister and I think I got a little cocky. I really thought I had it in the bag. I don't know what happened, but it's like on Monday my life turned into a partially inflated, untied balloon right as it slips out of a clown's mouth. I felt like some rubbery thing making loud noises and moving chaotically.
I just typed out a long paragraph detailing the many little things that drove me nuts this week and prevented me from working on the room the way I wanted to, but: whiny. Short version: many annoying things on top of the boys behaving terribly. Just terribly. I think they have summer vacation on the brain and when I open my mouth all they hear is the ocean or a soundtrack of people having fun at an amusement park. Whatever it is they are hearing, it surely isn't go to bed, clean your room, get dressed, let's go we are going to be late, I said no.
Motivation to finish their room: TO THE LEFT OF ZERO.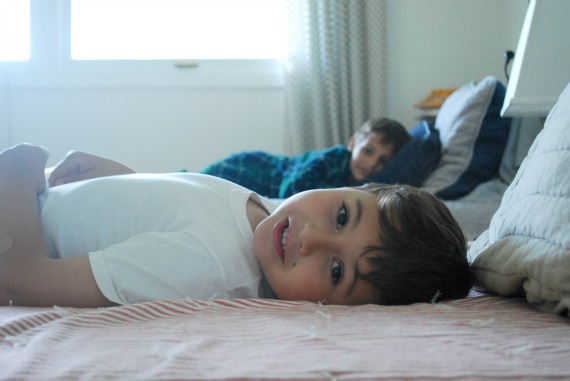 I did finish their quilts, so I still somewhat love them.
[Aside: do you see the bandaid Nico has on his left elbow? I didn't notice it until I was taking his picture and when I asked him he explained that during Water Fun Day he tripped over the fire-hose the firemen brought and landed on the nozzle. I stared at him for a minute and said, "Nico, buddy…" and Mikey just closed his eyes and shook his head.]
These are the quilts that my friend, Larissa, and Anne of Green Gables (I and II but not the WWI special sequel), Pretty in Pink, Footloose, North & South, Like Crazy, and Daniel Deronda built. I didn't realize it until just now, but if you add the running time of every movie/mini-series we'll know how long it took me to tie both quilts.
I tied them every 4 inches because my batting called for every 4-6″ (did you know the batting package will tell you the minimum spacing you should use for best results? I didn't) and I chose 4″ because Nicholas is a thrower-upper. These quilts–particularly Nico's–will see plenty of wash time. I erred on the side of caution and it's a good thing. He threw up Tuesday night.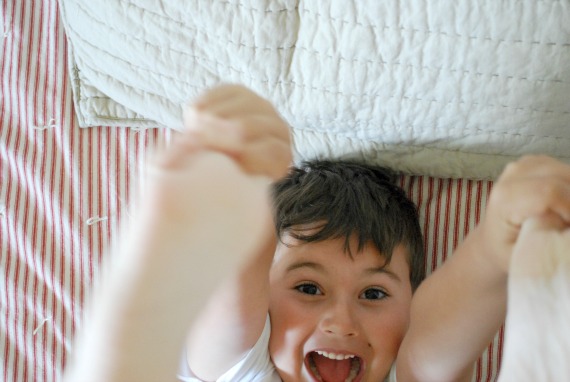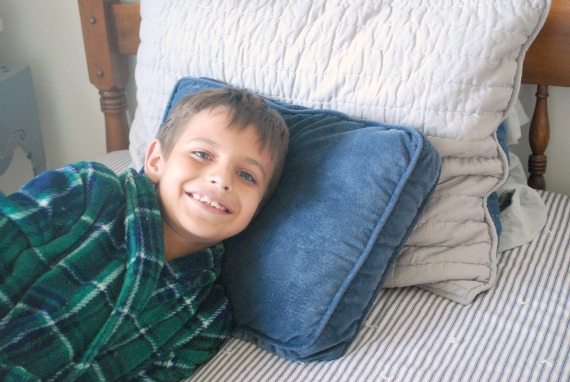 Okay, it was worth it. Nico was excited. Mikey was, too, but in his more subdued Mikey-way.
Both of them were tired from Water Fun Day. Who knows, Nico was probably recovering from the effects of a concussion he "forgot" to tell me about. They both wanted to snuggle under Nico's quilt since it was the newest.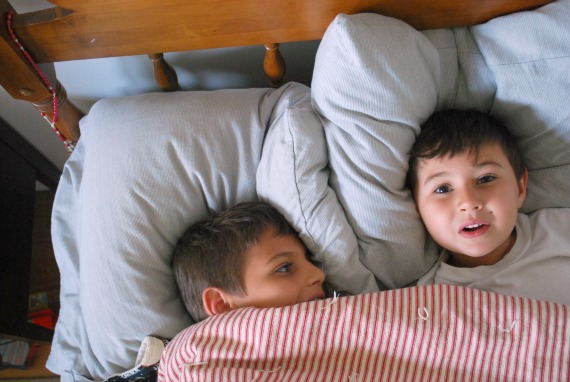 Of course, once I told them they could settle in and take a little nap they were wide awake and ready to goof off. Here they are trying to recreate this picture of them at just under 3 years old (Mikey) and 4 months (Nico).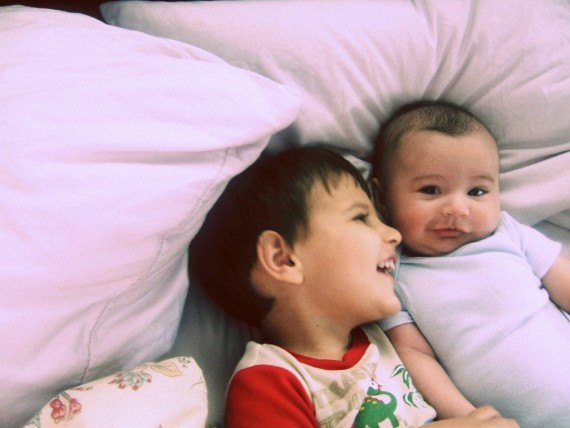 I think I want to do another quilt. Or maybe try some cross-stitch or needlepoint. I find the whole thing very relaxing, and it's a good hobby for me. I can read forever, which tends to eat up my sleep. I can't tie a quilt forever. Any experts out there?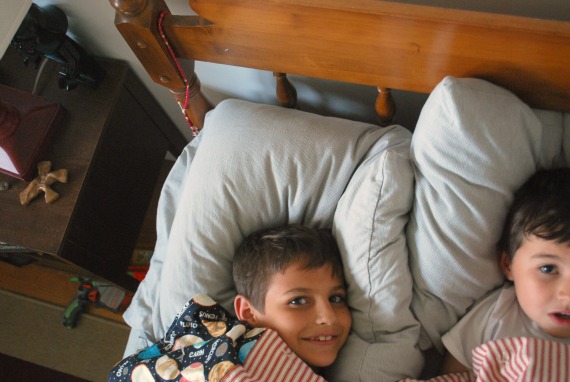 One more picture, just because.
//////////////////////////////////
Now itís your turn! Feel free to share how you have lived according to the William Morris quote, ďHave nothing in your houses that you do not know to be useful or believe to be beautiful.Ē Made a plan? Cleaned a drawer? Bought a sofa? Tell us about it with a link or comment. A few guidelines:
Please link to a specific post, not a general blog address.
Your post must relate to your efforts to create an intentional home. I have a delete button, and Iím not afraid to use it.
No links to giveaways, please.
Letís use this weekly link up as an opportunity to gather inspiration and motivation. Click links. Discover new people. Say hi and good job and all that stuff.