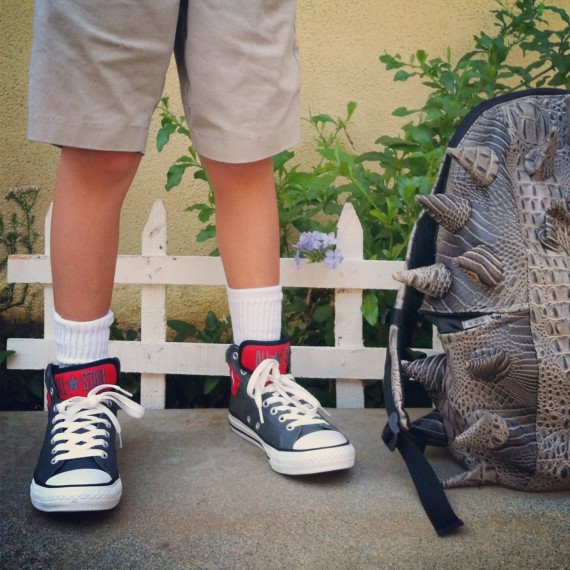 I don't know about this week! Yesterday I was on the phone with a man in the fraud division of my bank because someone in Georgia was having the time of their life in a Dollar Tree on my dime, and when he asked me how my day was going I said, "Absolutely lousy, but thank you for asking!" He laughed and told me the money hadn't left my account but to keep an eye on it. I asked him to double check because my bank balance was considerably lower than it was the day before. So he taptaptaps on his computer and asks me if the charges to the Ford dealership were mine and I said, "Oh, that's right. How could I forget? My car DIED as I was crossing a lane of traffic during rush hour on one of my city's busiest intersections after boo-boo fixing one of my children at school."
So then he laughs even harder and says, "Okay…so…the vet charges. Is your dog dying?"
And I said, "No, that was just dog food."
I made him laugh a few times and even though it was a result of my craptacular week, it did make me happy. My favorite thing to do is to make people laugh.
Monday
I walked 2 miles in triple digit weather and felt great about it. Strike that. I felt downright humble-brag, post a sweaty picture of myself on pinterest-smug about it. So there.
Tuesday
I went on another long walk and saw this guy. ZOMG WHAT. I want to meet these people. I guarantee they wear matching wolf sweatshirts–and not because they're ironic hipsters.* I need to know how they reached the conclusion to place a life-size Native American doll in Western wear on a plastic patio chair. (And why they don't fix the right foot!) I can speculate that it happened after a marathon of Curb Appeal and one too many neighborhood cats, but you can never be too sure. I had a friend in college whose parents had a life-size grandma doll that wore curlers and held a broom. They had her positioned so she appeared to be looking into the front yard from behind a kitchen curtain. You know, like she heard something suspicious and she was checking it out. I'm dead serious. She even wore housecoats–several, it varied according to season–and she had a name that I can't recall. They said she was a great alarm system, but I don't think it's for the reasons they assumed.
* Ironic hipsters, just stop. Honestly.
Wednesday
Mikey christened the leather Chucks my brother and sister-in-law gave him for Easter. We buy our kids shoes, preferably cool shoes we may not spend the money on ourselves. It's awesome, and even the kids like it because my brother has great taste in shoes.
Thursday
Larissa came over and taught me how to hand-tie the quilts! It's only a matter of time before they are on the bed and I can call the boys' room done for now. I can't wait.
Friday
Today will be a day without insults, broken down cars, injured children, fraud, and scales that lie. Also, I was promoted at Wayfair to regular writer aka Homemaker! I've made the cut. Here is my first post, though I'm still listed as a guest here.
The Weekend
I'm so far behind in my reading, it's not even funny. Let's discuss The Shoemaker's Wife on Tuesday, May 28. That leaves Daring Greatly, which we'll have to bump a week or two. I swear, I'll get back into the swing of things. At least that gives some of you with long wait times at the library time to get the books. (?)