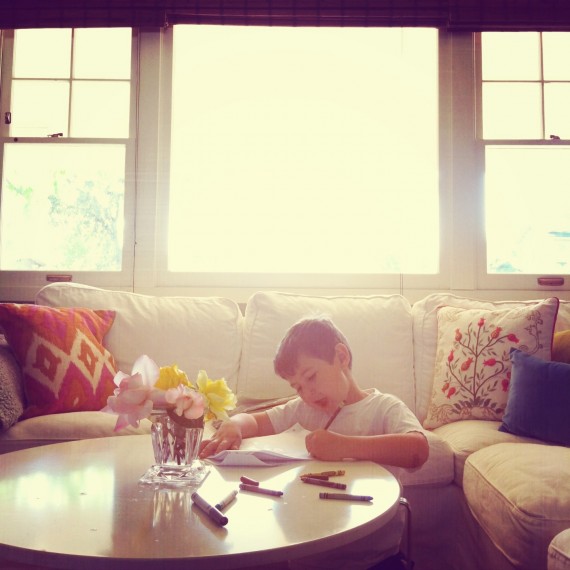 On the plus side, there were no locusts, frogs, or rivers of blood this week. Also, Erin–who many of you know from the comments–emailed me to let me know her husband (a musician) and his friends have put together a compilation album to benefit West, TX following the fertilizer plant explosion. The album is available for "pay as you want," so you can download it for free and leave a tip. You can find the album here!
Monday
I was at Michael's for the 400th time in two weeks returning supplies we didn't use at The Craft Cabinet last Friday when I saw the latest issue of Mingle near the register. I knew Andrea and were supposed to be in there at some point, but you know how these things go. I picked it up and wouldn't you know it, there we were!
So listen to what I did. I can't believe I'm going to admit this, but I was so shocked/excited, that I grabbed the magazine and told the checker to add it to my total since, "my friend and I are in this issue!"
What a dweeb. I mean, just an goofball dork. And needy, no less!
It gets better. So she looks at me, blinks, and says, "Sure. Whatever you want, Ma'am."
I impressed her -300% with my Mingle.
Tuesday
I bought Mikey's suit for his First Communion and stop with the cuteness. Little man suit.
Wednesday
There is so, so much I have to do and I am really falling behind. Being sick really made me even more unorganized than usual, so I finally had to sit down and write down a to-do list. It was huge. But, like every other time I write out what I have to do, I was able to accomplish so much more than I would have if I went from memory.
Thursday
This is going to sound crazy, but I had a good week on Twitter. I barely offended anyone that I know of and I had great conversations with various people. This is what Twitter is about for me. I get to talk to people in a more casual environment about whatever seems interesting at the time. It's like my comment section on steroids and I don't even have to write a post to generate conversation.
Friday
I would be very happy if no one was hurt or their life put in jeopardy today. I would be even happier if today is the last day I ever have to write something so macabre.
The Weekend
Lots of baseball. It's makeup weekend, so I'm pretty sure we have a game every day. Plus choir. But you know what? Doesn't matter. We're happy, healthy, and safe.
Have a great weekend, everyone.