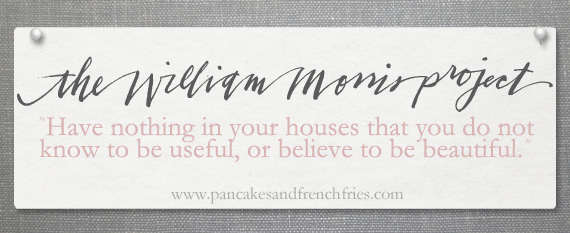 I feel like I am celebrating a momentous occasion, but really all I did was clean out Cost Plus World Market and Target of pillows. Actually, for as indecisive as I am about pillows, it really is a momentous occasion. For a split second I debated buying more expensive pillows, but I couldn't justify the cost in our busy family room. Plus, I'm fickle and adore change. You know this.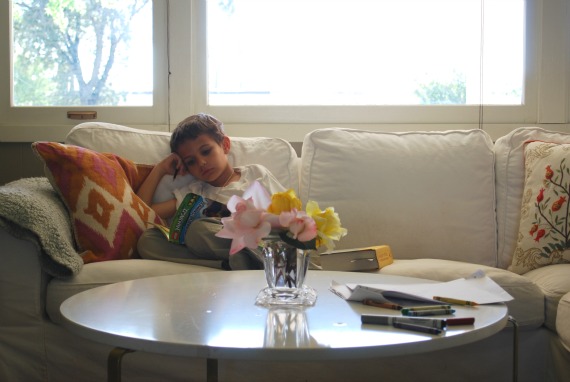 I did consider searching etsy for some original pillows, but that is the sort of thing you need to plan and I'm more of a "I just decided I won't rest today until I buy many pillows" kind of woman. Besides, there are too many options on etsy. It's like walking into 5 Guys and asking for "a burger." I need to buy pillows at the In n Out of pillow places: cheese or no cheese. Done. Maybe ask me if I want grilled onions. Please with the "special top-secret" menu. Not interested.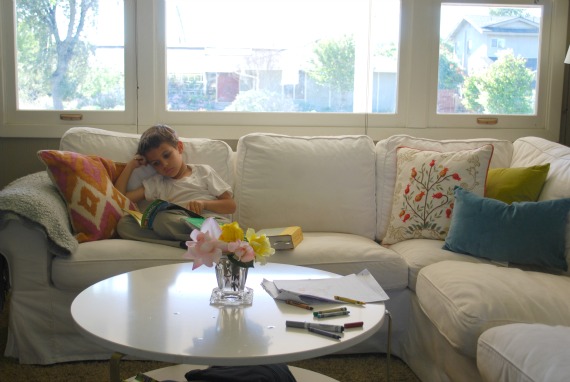 I knew I wanted the pillows to be bright, happy, and full of color. I felt the room needed that to balance the dark bookshelves and the paint on the wall which, thanks to trees and west-facing windows, looks muddy and olive mid-afternoon. I bought enough to toss in each corner of the sectional without rhyme or reason. I figured as long as the colors had the same vibe, it would all work out in the end.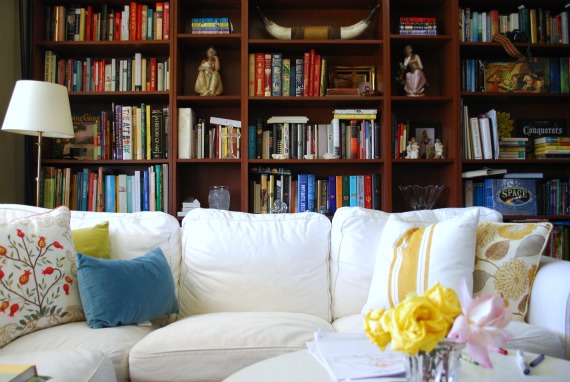 The yellow striped pillow is from Target. The floral behind it is from Cost Plus World Market, as are the rest of the pillows. My favorite (this week) is the pink and orange pillow Mikey is leaning against. I like the rough texture and that it's a bit flat, like a pancake. Fluffy pillows are great until they make it impossible to sit on your sofa. Nico's favorite is the skinny blue velvet one. He keeps asking me if he can bring it to bed. The answer is always no.
The roses are from my garden and our there only to make things look pretty for pictures. Sometimes I have a plant, but usually the top looks much like the bottom does. Disastrous, in other words.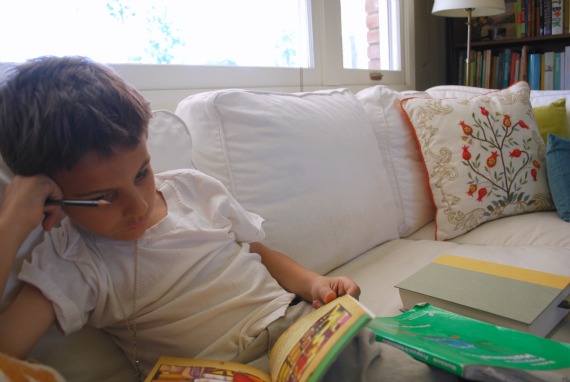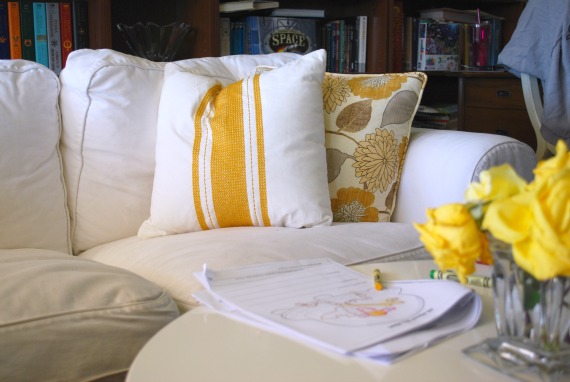 This is a post about buying pillows and placing them on a sectional, so really this is all I have. I'll wing it from here and say that I took the picture of Mikey reading because that is classic Mikey. He curls up on his right side when he reads and rests his head in his right hand. He usually holds a pencil or has one tucked behind his ear. (Behind his ear is his favorite.) He furrows his brow when he reads and turns his mouth down at the corners in concentration, even when he is reading Nico's Ninjago book. The walls could crumble around him and he would not notice.
I love this about him because I curl up on my left side when I read and rest my head in my left hand. If I'm reading something for book club or a book that requires concentration and focus, I hold a pencil but prefer to keep it behind my ear. I furrow my brow and have done so since I can remember. In law school it was really bad. So bad that I would hold the first two fingers of my left hand between my eyebrows to keep from developing a permanent scowl.
I curl up on my left because I'm right handed. He curls up on his right because he's left handed. It makes reading together on the sectional convenient. Nature/nuture is a trip.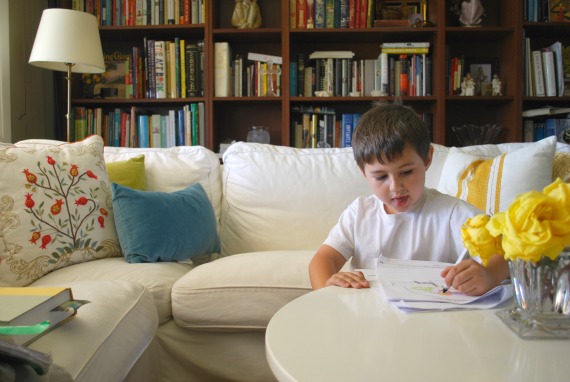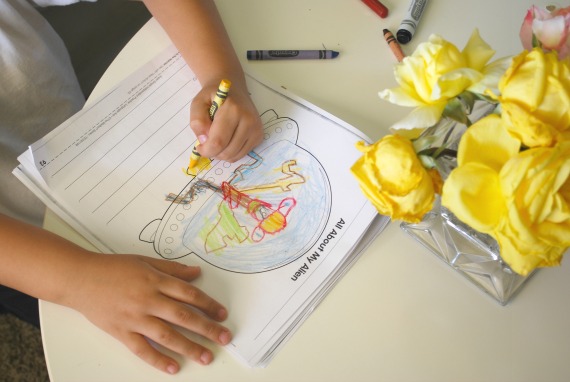 Then there's this guy. Accident prone, just like his dad. On Monday he took a terrible tumble at Mikey's baseball game. He skinned and bruised his chin, and both arms and knees. On Wednesday I picked him up from school with a bruised nose and arms/knees that looked like ground beef. The school no longer bothers to call me when Nico gets hurt. I think they're saving the phone call for when he starts breaking bones. (Please God, no.) He said a 2nd grader tripped him on accident. If I had a dollar for every time he tripped over another student, his tuition would be covered through college.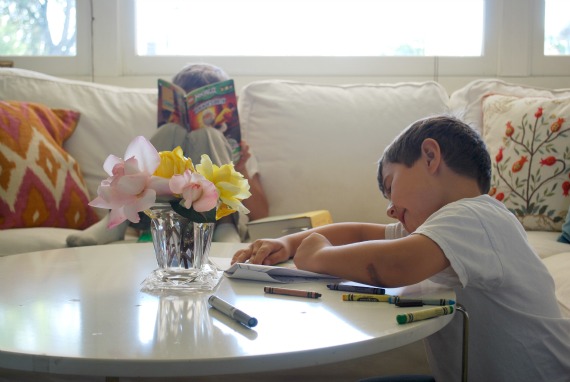 His left elbow was so bad Tuesday night that we didn't have band-aids large enough to cover all his scrapes. He couldn't sleep from his pajamas and all the blankets rubbing him. I found a sock of mine without a mate and cut two holes to make a fingerless opera glove/compression bandage. Between that and his black nose and scraped chin, Nico went to bed thinking he was the awesomest looking 6 year old in all the land. Mikey begged to differ, though I did get Cool Mom points for intentionally cutting holes in socks.
//////////////////////////////////
This post was part of The William Morris Project, a weekly series that details the steps I am taking to create an intentional home. You can see more of my goals and completed projects here. To learn more about this project, start here.
//////////////////////////////////
Now itís your turn! Feel free to share how you have lived according to the William Morris quote, ďHave nothing in your houses that you do not know to be useful or believe to be beautiful.Ē Made a plan? Cleaned a drawer? Bought a sofa? Tell us about it with a link or comment. A few guidelines:
Please link to a specific post, not a general blog address.
Your post must relate to your efforts to create an intentional home. I have a delete button, and Iím not afraid to use it.
No links to giveaways, please.
Letís use this weekly link up as an opportunity to gather inspiration and motivation. Click links. Discover new people. Say hi and good job. I know I will.