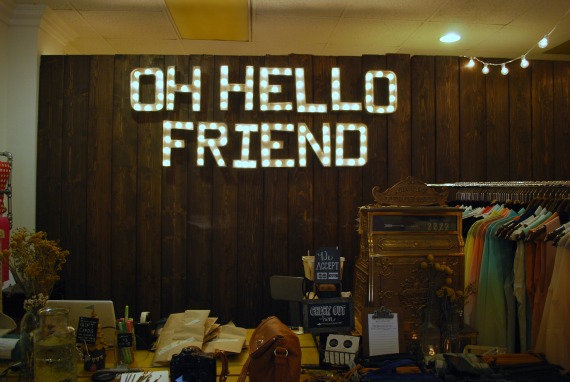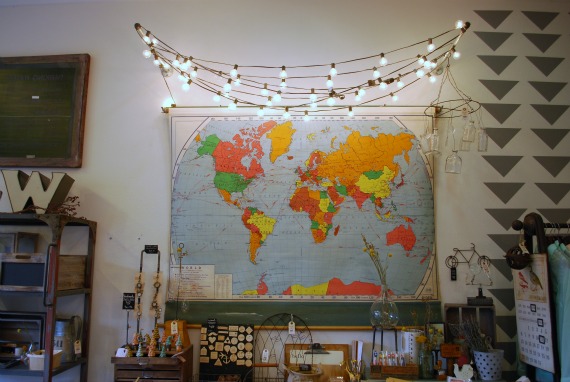 I mentioned it (ad nauseum) on Twitter and Facebook, but I don't know if I mentioned here (much) that Andrea and I hosted our second Craft Cabinet event on April 12th. This time we had Brenda Ponnay come and teach water color. Andrea and I didn't participate. Instead, we looked on longingly and admired everyone's work. It looked both intimidating and fun, and we'll be sharing Brenda's tricks on The Craft Cabinet blog next week. The Craft Cabinet is supposed to be a drama/clique/snark-free zone devoid of perfectionism and pressure. A night where you can unwind and not freak out about the little/big/every things. It only makes sense that I co-host the event.
[Pause for laughter]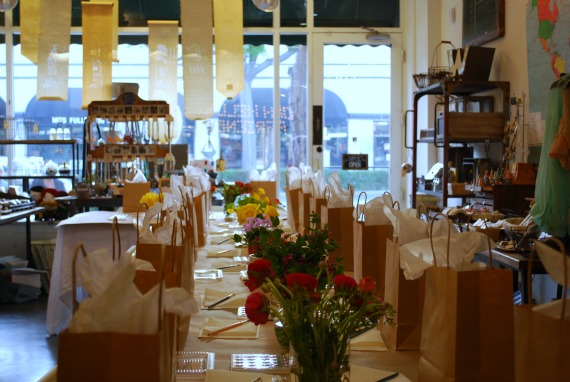 We had it this time around at Oh Hello Friend which is the best gift store ever. Danni and Nick's prices are ridiculously reasonable–I don't think a single guest walked out of the store empty handed. I'm giving my niece a gift certificate to Danni's shop for her birthday, and I'm going to make a day of it with her. Shopping, then lunch. Sounds like something a 13 year old would like to do, right? Sounds like something a 40 year old would like to do, too, but that is 100% coincidence.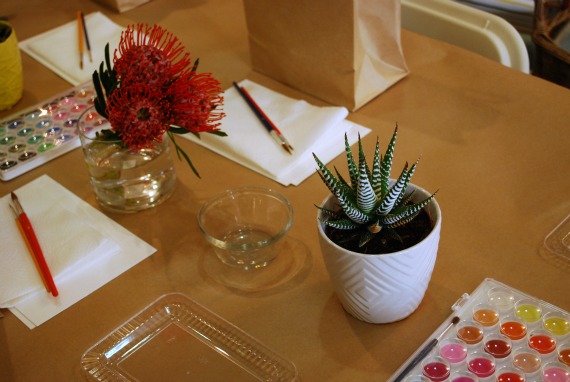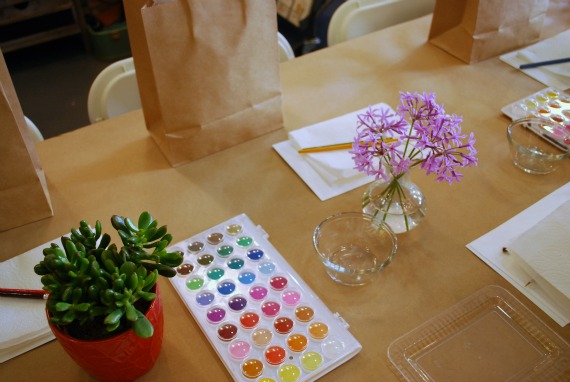 Everything looked so pretty. As usual, Andrea and I did it on a dime by necessity. We think it turned out beautiful–I told Andrea it looked like a wedding reception–and I think everyone had a great time. Next week on the Craft Cabinet blog we'll detail the food, decorations, and the goody bags. We're pretty proud of our goody bags.
This is my second event and in some ways it was easier and it some ways it wasn't. I'm The Craft Cabinet's best/ideal customer: someone who needs to hang around some cool women for a low key night of awesome. No negative self-talk allowed.
Speaking of which, remind me to tell you how I stepped on the hem of my dress and fell flat on my back (legs up!) in front of a bar full of drunk college kids. Not low key, not awesome. Well, not for me anyway. The guy who road past me on a bicycle seemed to think it was pretty awesome. He wore a black canvas jacket that fluttered behind him like a cape. A true anti-hero! You notice these things when you lay supine on concrete while stone-cold sober.