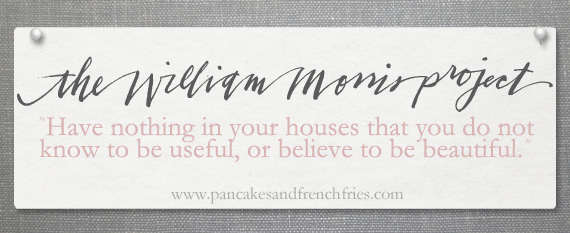 This post is sponsored by Old Navy. Check out Old Navyís Active wear in stores or at oldnavy.com #GetYourActiveON
I'm ten days into my 365 day project for body, mind, and spirit. The fitness component, the one area where I thought I would struggle, is going well. Every day I walk farther…by choice! I feel more energetic, more relaxed, and more clear-headed. I'm also out of pants.
In October I cleaned out my mom drawer, the drawer where my many pairs of sweatpants went to collect dust. I whittled my collection down to what I used regularly, but because I was so inactive, the sweats that survived were for lounging or DIY projects. I kept a pair of very loose jersey lounge pants from Old Navy that I bought last year to wear post surgery, my painting sweats, and one very old pair of compression pants.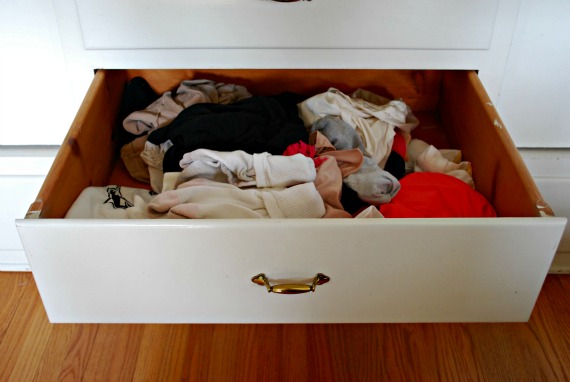 This is not my mom drawer. This is a drawer that was empty until my husband, bless his heart, tried to help me by putting away the laundry a couple of weeks ago. His technique is straightforward: upend the basket into an empty drawer. I had no idea this drawer had laundry until this post. I was wondering where all my socks went!
I put everything back where it belonged and was left with an empty drawer. (Again.)
One of the best pieces of advice I received from a reader was to fight the urge to fill empty drawers after a good decluttering. Leave the drawers empty, she said, and the right use will eventually become obvious. When it does, you'll be glad you have the extra room.
She was right. It took me a couple of months and my 365 project to realize I needed a fitness drawer.
My compression pants were looking threadbare before, but after 8 days of constant use and washing, they started to come apart at the seams. After that, I had to wear my Old Navy lounge pants. They are incredibly comfortable, but they aren't for walking. They are too big and loose; they drag on the pavement when I walk. It's hard to tell in that picture, but the pants almost cover the toes of my sneakers.
I mentioned my need for workout clothing on instagram/Twitter/Facebook and asked for suggestions on inexpensive workout clothing good enough for daily use. Many of you recommended Old Navy which, you know, turned out to be quite convenient.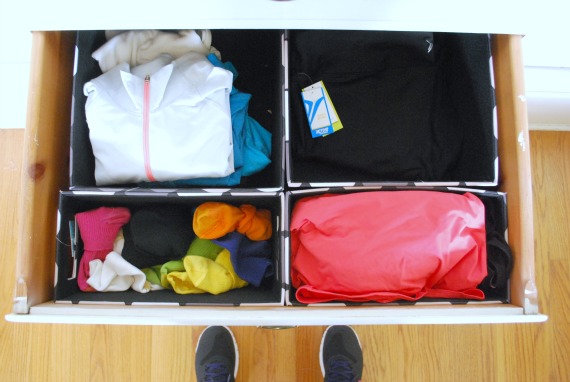 I went to Old Navy this week and took advantage of their 40% off Active sale–another tip many of you mentioned. I spent just under $100 on two running tops (Silver Blaze and Catch a Wave), two GoDRY tank tops (Electric Neon Salmon and Black Jack), and two pairs of compression leggings in black.
I'm not sure about the leggings. They are incredibly comfortable. They are slimming and flatten my tummy. They sit high on my waist, so there is no muffin top situation. They are perfect for daily walks but…they are leggings and leave very little to the imagination. I'm self conscious of my lumps and bumps and had a moment of blargh when I tried them on. (Must those dressing room lights be beacons?!) I preferred the yoga pants, but they are far, far too long for me. I would ruin them dragging them all over the city streets. My store doesn't carry petites, and I needed something immediately. I bought the leggings.
I allowed myself a moment of blargh and then focused on everything good I am doing for my health. Who knows, by the end of the 365 project those lumps and bumps could turn into quadriceps and hamstrings.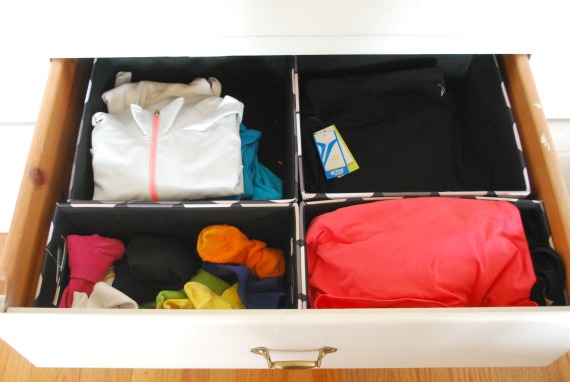 I haven't done a good job explaining how I organized my fitness drawer because the pictures make it pretty self explanatory. Storage bins: socks/pedometer/HR monitor; tops; bottoms; swimsuit/miscellaneous.
I also haven't done a good job explaining why I needed a fitness drawer. I noticed the other day that everything of importance has a space. We have kitchens to make food and rooms to watch TV. Our computers have their own desk, and even if you use a laptop you tend to sit in the same spot in the house. Our toothbrushes, an item that costs no more than $10, sit in a designated area.
Eating and brushing your teeth are the only nonnegotiable activities, and yet TV and the internet have their own carved out spaces, which suggests they are nonnegotiable, too.
I have a wall of books in my home because reading is my nonnegotiable. It is important enough for me to designate an area for reading and displaying books. That says something about me.
I am hoping my fitness drawer and proper active wear hammers home the point–to me, my family–that I am serious about adopting an active lifestyle. I decided to make exercise important enough for me to designate an area of my home to its equipment. I like what that says.
//////////////////////////////////
This post was part of The William Morris Project, a weekly series that details the steps I am taking to create an intentional home. You can see more of my goals and completed projects here. To learn more about this project, start here.
//////////////////////////////////
Now itís your turn! Feel free to share how you have lived according to the William Morris quote, ďHave nothing in your houses that you do not know to be useful or believe to be beautiful.Ē Made a plan? Cleaned a drawer? Bought a sofa? Tell us about it with a link or comment. A few guidelines:
Please link to a specific post, not a general blog address.
Your post must relate to your efforts to create an intentional home. I have a delete button, and Iím not afraid to use it.
No links to giveaways, please.
Letís use this weekly link up as an opportunity to gather inspiration and motivation. Click links. Discover new people. Say hi and good job. I know I will.

//////////////////////////////////