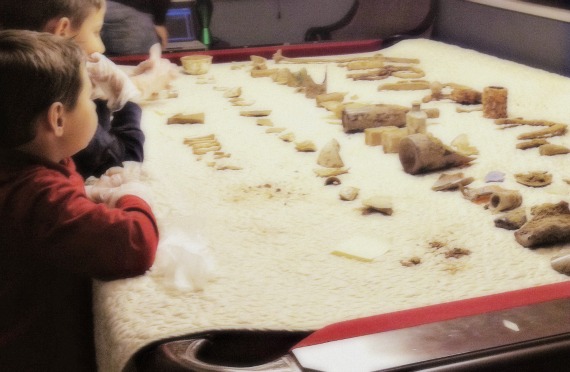 I used to dislike it when bloggers used cell phone pictures in their posts. I didn't think the quality was all that great, and I missed the crisp, clean shots. When I got my iphone last year, I was dismayed to see how many cell phone pictures were creaping into the blog. Hypocrisy is so inconvenient!
A few weeks ago–as I uploaded some more cell phone pictures–I told myself that I was going to have to start bringing my camera with me places and make more of an effort. After I gave it some more thought (no one is surprised), I decided I wasn't going to apologize for cell phone pictures. There is something nice about sharing their grainy imperfections every now and then. It's a way of saying we did/saw/visited this cool thing because we wanted to, not because it was great blog material.
Or at least that's what I tell myself. Ahem.
Monday
Don't laugh, but it was cold and windy in southern California this week. Our driveway had patches of ice! Ice! I mean, come on. That is cold for my neck of the woods. I have never been so grateful for chapstick and a warm house in my life. The wind wrecked my lips on my walk, and my poor water intake didn't help. The feeling of a mentholated lip balm first hitting your cracked lips should be sold in baggies on street corners.
Tuesday
My friend has the best job ever. She is an architectural historian, which means she surveys potential historical sites, identifies and preserves historic landmarks, and consults with cities, institutions, and even private parties when something of potential historic significance is discovered. She was recently contacted by a university that stumbled upon some items of interest while excavating the property to construct a road. She had the boys over for a history lecture and some show-and-tell before she turned everything back in with her report. The boys loved it, and so did I.
Also, it was my 13th wedding anniversary!
Wednesday
Years ago I tried to read Harry Potter to Mikey. I almost ruined the entire series for him! I got a little carried away with Voldemort's cackle, and that was the end of that mother-son moment. He had nightmares for weeks and never again wanted to even talk about the books. He picked them back up over the weekend, and by Wednesday he was finished with book one. He is now on book 2!
Thursday
Andrea are so close to announcing the next Craft Cabinet! We are looking at Orange County in March. Who's in? I was able to knock quite a few items off that to-do list, and it felt great.
My future astronaut, Mr. Nicholas, got a real kick out of this video.
Friday
The Mister had been out of town all week and he comes home today! I got a nice text from him on our anniversary and talked to him every day, but it will be nice to have him home. Nicholas can't wait to tell him he lost his first tooth!
At some point after Nicholas goes to bed, Mikey and I are going to watch the first Harry Potter together! We have a rule around here–no movie or licensed toy until you have read the book. Now that he's finished book 1, it's movie time! We're both so excited!
The Weekend
I'm finally taking my quilting class on Saturday! Other than that, all we have planned is a birthday party for our niece. Awesome.
Have a great weekend, everyone!