**If this post appears truncated in your feed reader, it is because I'm having the hacking issues on the site repaired. During that time, some things may look or run differently–and the feed seems to be one of the items affected. I am told everything will return to normal with this post. If it doesn't, please let me know. Thank you!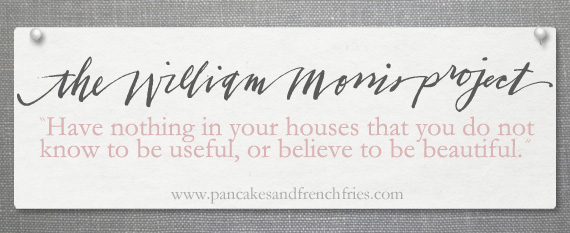 A while back I wrote about our garage, lamenting that for every step forward I made with our home's interior, I took 5 steps back in the garage.
Last year I saved everything I purged from the house. I put it in bags and bins so I could later sell it at an enormous garage sale in the spring. I kept everything on the 6? table in the garage my husband uses for work, but only just a corner. Then a little bit more than a corner. Then, when I continued on with the project weekly, I used all of the table. After a couple of months, I used all of the table and started piling things on top.

In the spring time, around the time we were supposed to have the garage sale that would make us millionaires, we had a mild earthquake. The house was fine; a few pictures moved around on the wall. The garage, on the other hand, didnít fair as well. Okay, it was my precariously stacked table of home goods didnít fair as well. It all went down faster than a house of cards, which I quickly realized that week when I opened the garage to unload my latest pile of rejects. I did what anyone else would have done in my position. I tossed the new pile of rejects on top of the old pile of rejects now heaped on the floor.

And the next week, I added another pile.

And so on.
I thought you might like to see proof I wasn't exaggerating.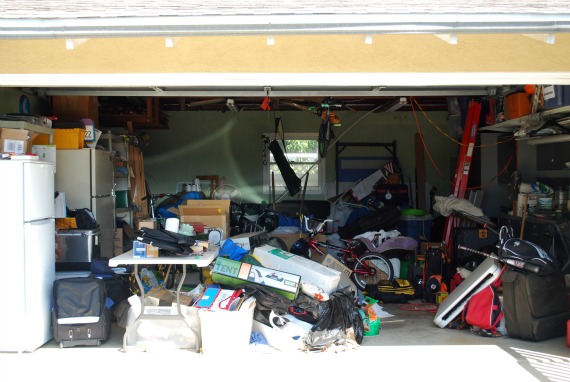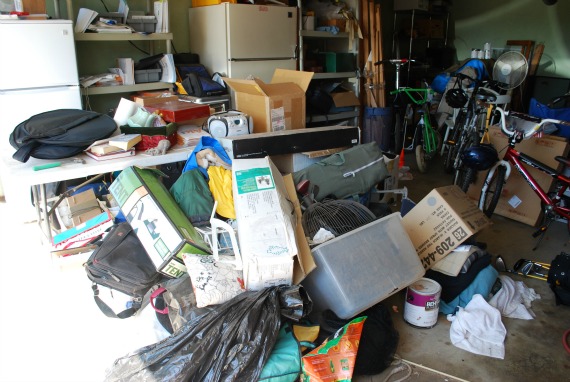 No one, and I mean no one was allowed to see the interior of our garage. It was such a source of embarrassment. One, we have never had a messy garage until this house. We can't explain it. Two, the mess was especially offensive since I was making such progress on the inside. I felt like it completed negated my 15 months of hard work. When we finally admitted we were never going to have a garage sale, we quickly donated everything to a friend's annual charity fundraiser. This helped us chip away at the piles.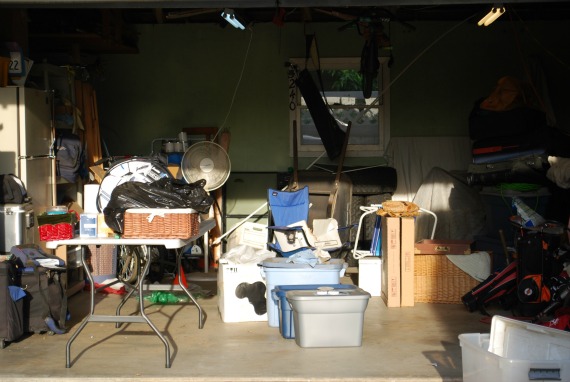 Our long term goal is to have a wall of cabinetry and shelves. It the minimum we need to effectively store everything inside our 2-car garage, but there are more pressing repairs and updates we need to do on the inside of the house. For now, we are happy with a temporary solution that has already made a world of difference.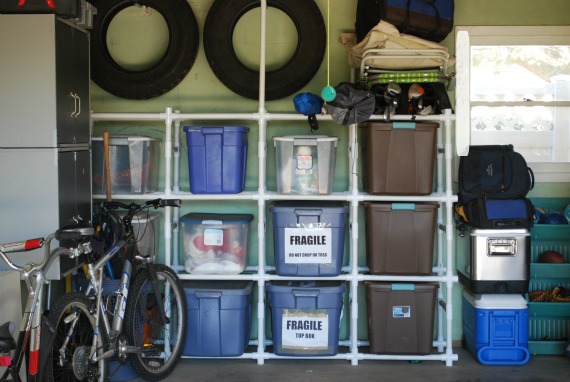 A simple PVC shelving grid helps us keep storage bins within reach and out of the rafters, which is where they were before. My husband made it for a handful of dollars. It was so inexpensive to make, as you can imagine with it being made from PVC! We'll add to it until it stretches along the back wall or fits all our storage bins, whichever comes first. There will be bins for holiday items, sporting equipment, painting supplies, and other miscellaneous categories. We'll also switch out all the bins to match the new brown ones. Not because they will all match (though that will be nice!) but because we can store more if each bin is as large as possible. Some of our older bins are too small to store much. When we get the cabinetry put in–we're thinking years from now–we'll have it built to fit the bins already in place if they are still the size that works best.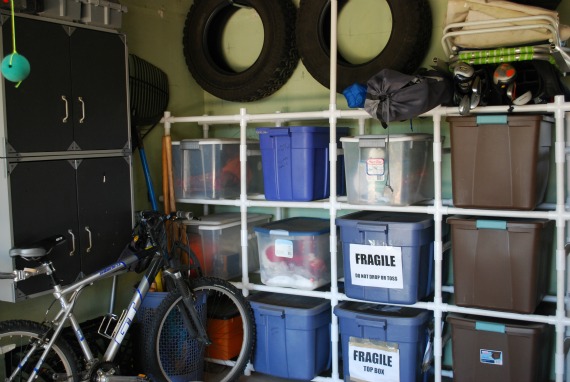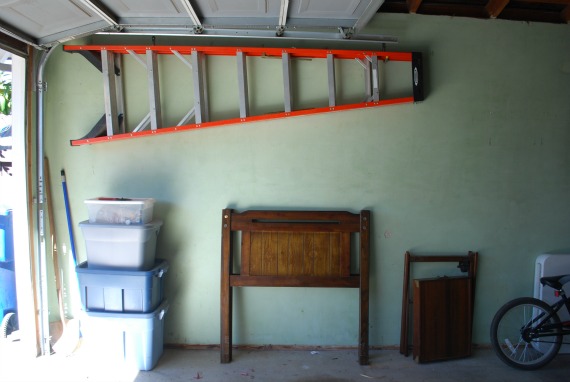 The garage is not done, obviously. I need to go through those craft bins and purge what I no longer need. I hope to drop off the beds at Goodwill this month. They were my brothers when they were Mikey and Nico's age.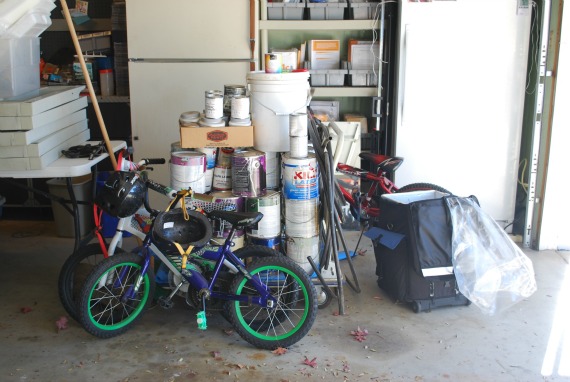 We also need to do the other half of the garage, dispose of 300 paint cans and samples, and put in a ceiling (the Mister did drywall growing up). But all that is gravy. We're just thrilled we can park my car in the garage and almost don't look like hoarders! Almost.
//////////////////////////////////
This post was part of The William Morris Project, a weekly series that details the steps I am taking to create an intentional home. You can see more of my goals and completed projects here. To learn more about this project, start here.
//////////////////////////////////
Now itís your turn! Feel free to share how you have lived according to the William Morris quote, ďHave nothing in your houses that you do not know to be useful or believe to be beautiful.Ē Made a plan? Cleaned a drawer? Bought a sofa? Tell us about it with a link or comment. A few guidelines:
Please link to a specific post, not a general blog address.
Your post must relate to your efforts to create an intentional home. I have a delete button, and Iím not afraid to use it.
No links to giveaways, please.
Letís use this weekly link up as an opportunity to gather inspiration and motivation. Click links. Discover new people. Say hi and good job. I know I will.

//////////////////////////////////