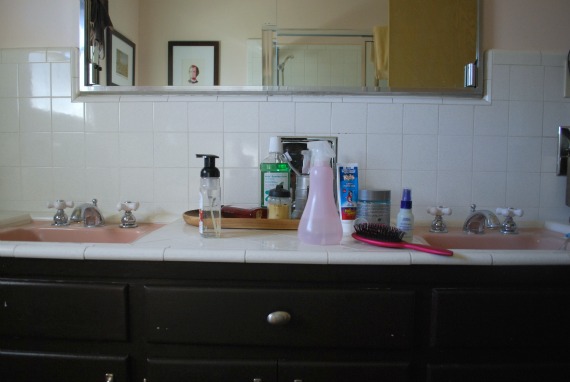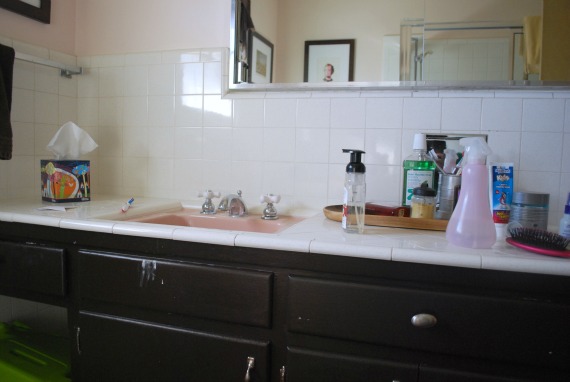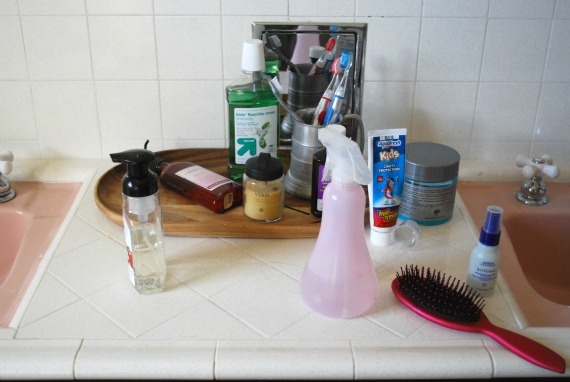 Tis a lesson you should heed:
Try, try, try again.
If at first you don't succeed,
Try, try, try again
–William Edward Hickson
I cleaned out the top drawer of the boys' bathroom vanity exactly 364 days ago. I was pleased with my $0 project, and to this day, the vanity remains organized with the exception of the vanity top and top drawer.
The vanity remains dirty most of the week. Toothbrushes tossed negligently to the side, toothpaste all over the sinks, hair products left where they were last used. Inside the top drawer, the little basket flies around the smooth contact paper and the boys (cough*Nicholas*cough) started using it to hide random curiosities like AV wires, rulers, and scissors.
The cabinet looks great, but the drawer and vanity top were a bust. I decided to try a new method to keep everything tidy.
I suspect you're thinking the vanity and drawer don't look that messy. A little cluttered, maybe, but nothing terrible. You'll have to trust me when I say it looks much worse in person. I almost didn't publish this project because I was convinced the pictures would be the most embarrassing to date. When I uploaded them, I was disappointed they didn't convey the slovenly condition that can become all rooms Nicholas frequents. I wanted them to look messier, like they do in real life.
[When my husband reads that last paragraph he will lean over and say, "Remember when you said you never do that and wanted proof? I rest my case."]
So there I was, editing pictures and wondering how I would prove that the bathroom really is messy when Nicholas skips towards me with his neck and right shoulder covered in toothpaste and chirps, "Goodnight, mama!" I said goodnight followed with, "But Nicholas, you're covered in toothpaste."
And he said, "I am?"
"Yes. Everywhere. All over your shoulder."
"Where?"
"Your other shoulder."
"Ooooh. I wonder how that got there!"
He had no clue! He did not know he was covered in toothpaste. He did not feel, smell, or see the toothpaste that went from the corner of his mouth, across his jaw to his ear, and down his neck to his rest on his adorable, priceless, filthy shoulder.
I rest my case.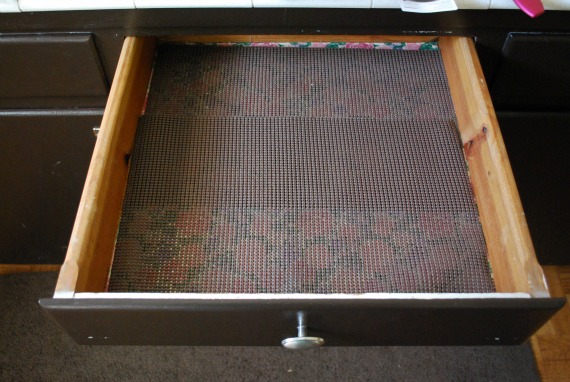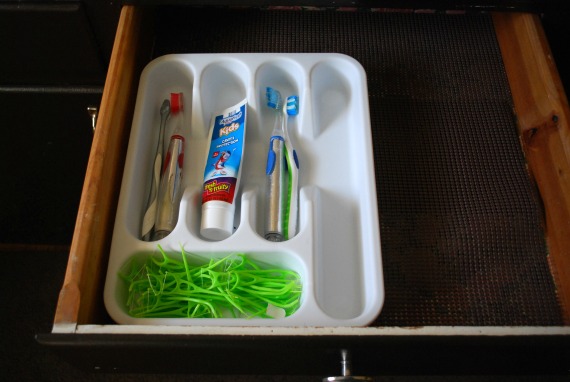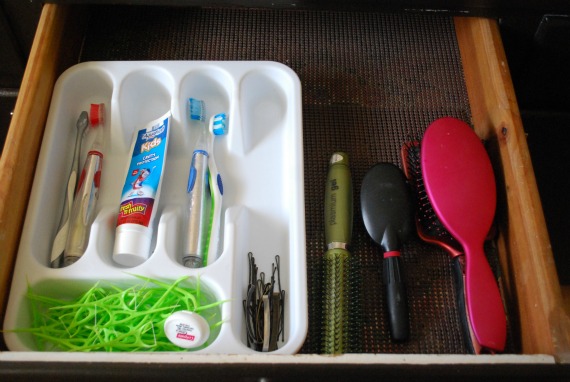 I decided to keep the counter top clear of everything but the bare minimum. I laid down some gripper contact paper from Target and placed the toothbrushes and floss sticks in a $1 cutlery tray from The 99˘ Store. It's an idea I first saw on Pinterest in an unsourced image. (Please share the source so I can properly credit the blogger! I searched for 30 minutes and came up dry.)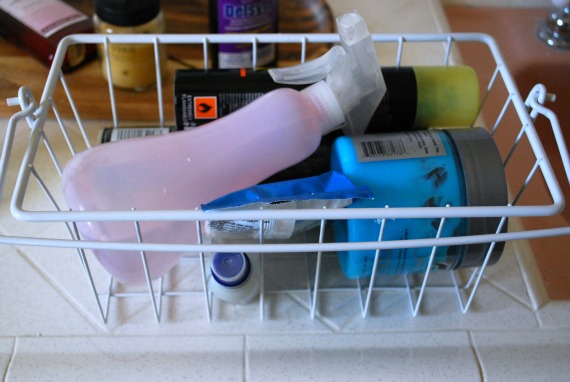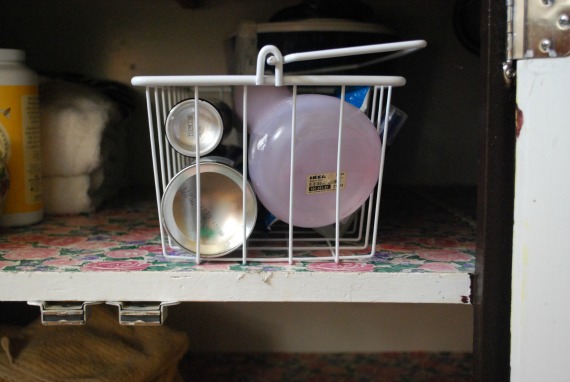 All the hair products usually left on the counter are now in a basket I found while cleaning out my strange bedroom cupboard. I placed it in the cabinet where it is easily accessible.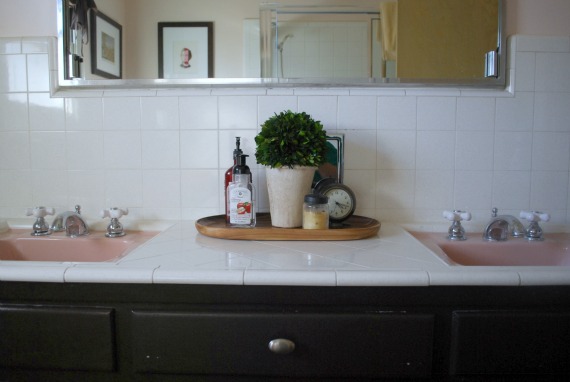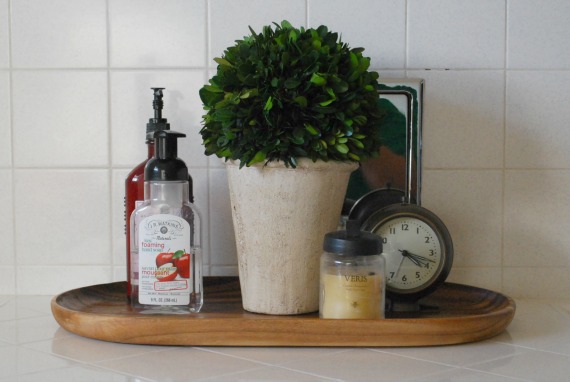 On the counter I kept the soap, lotion, and candle. I added a much needed clock and a $20 preserved plant from Home Goods. I've been wanting to try one of these plants for a while, and this dark bathroom where nothing grows is perfect. The instructions say to spray it lightly with water once a month–we'll see how it goes. I don't love the pot, but preserved plants seem to be a faux Tuscan/French accessory. If it bothers me enough in the future–I can almost assure you it won't–I'll switch out the pot with something else.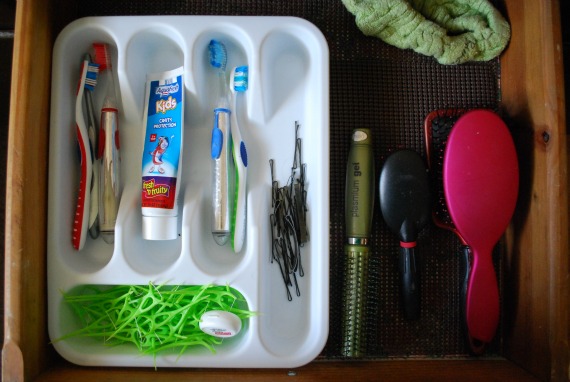 The final step for this project was to gather the men of the house into the bathroom and explain the procedure with a firm "No excuses!" I can keep it organized, I can clean it weekly, and I can even put away an errant brush every now and then. But other than, come on guys. It's not that hard.
::::::
New here? For the next 31 days I'm living according to the famous William Morris quote, "Have nothing in your houses that you do not know to be useful or believe to be beautiful." You can learn more about the project here, and catch sneak peeks of my projects by following me on Facebook, Twitter, or Instagram (I'm @pancakesfries).
::::::
Miracle of miracles, I remembered to include the Thursday link up! If you have a project you would like to share, please do.