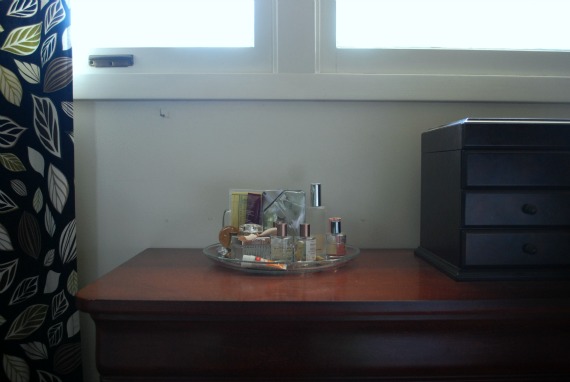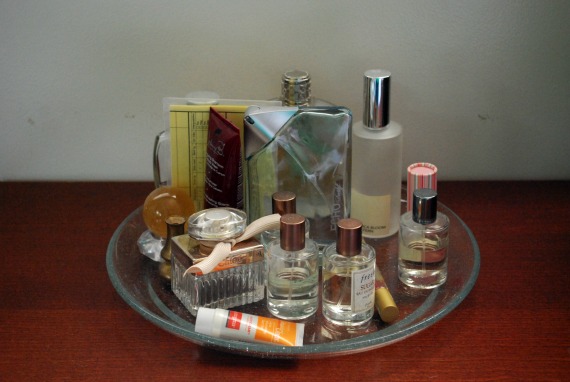 On my dresser sits a cake plate standing in as vanity tray. It's not terribly cluttered, but there are a few things that don't belong. Nicholas's vaccine record, for one. (So that's where it was!) Some "free with purchase" lotions, a piece of citrine polished into a smooth ball. Nothing horrifying, nothing insurmountable.
There are three colognes that belong to my husband. Everything else is mine. I love perfume. At one point I had at least a dozen bottles, and I used all of them regularly. I had perfume for when I wore jeans, perfume for going out, perfume for the office, and perfume for when I wanted to smell like soap. Perfume was my thing, and I was to LuckyScent what other bloggers are to Anthropologie.
Seven scents on a cake plate for me, when compared to at least a dozen, is a modest amount. There was only one problem. Two of the bottles were empty and I didn't like four of the other five. I kept the empty bottles on the tray to remind myself to buy more. I kept the ones I didn't like in case I forgot to buy perfume and also because I asked my mom for the set of four perfumes three Christmases ago. They stink on me, but I felt guilty for wasting her money. They became my "in case of emergency" perfume. But because for months I kept forgetting to buy perfume, everyday was an emergency.
I wore perfume I didn't like for months.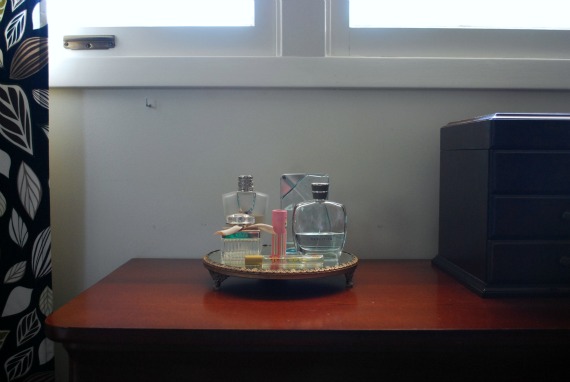 When I cleaned out the perfume tray yesterday, I made a point to discard everything I didn't like. I was suddenly really and truly out of perfume. The two bottles left are for summer. That sentence might sound frivolous to someone who doesn't love perfume, but I believe smelling like a Tahitian vacation is wrong when you're carving pumpkins.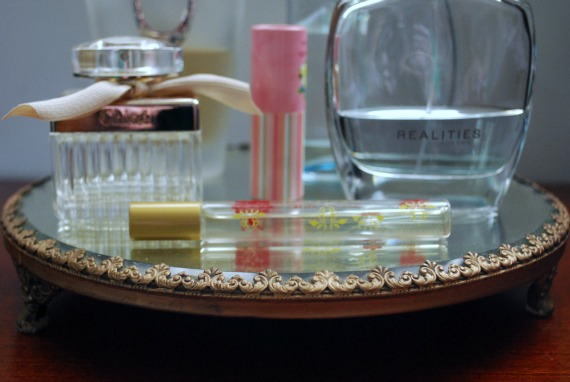 I'm sure you won't be surprised to hear that I went out and bought a bottle of my favorite fall perfume once I tossed out the four perfumes that stink. Hoarding is dangerous. Overspending is dangerous. But a slightly cluttered cake plate on a dresser is a wolf in sheep's clothing. It's nothing horrible, nothing insurmountable. It's something you can take care of tomorrow, right after you handle that really important problem. Or the really important problem after that.
I went out and bought perfume because I created a nudge. I got rid of my fall backs, my excuses to procrastinate, and by consequence, buying perfume nudged its way up my priority list. Perfume is a silly example, but I think the theory of creating nudges can apply to anything that allows you to slip into complacency. Our willingness to settle is the big bad wolf of adulthood, and the only way to beat a wolf is to think like a fox.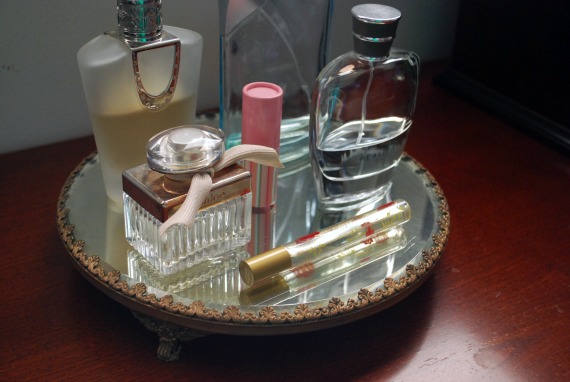 Speaking of things that are foxy, I bought a proper perfume tray. I searched for a mirrored tray for 12 years. Everything out there is just so fugly! I finally found a vintage one close to what I've been looking for all these years. I bought it at High Street Market (etsy store here), one of the few online stores that makes me want to shop with abandon. Kelly's taste is impeccable.
::::::
New here? For the next 31 days I'm living according to the famous William Morris quote, "Have nothing in your houses that you do not know to be useful or believe to be beautiful." You can learn more about the project here, and catch sneak peeks of my projects by following me on Facebook, Twitter, or Instagram (I'm @pancakesfries).