The cabinet I worked on at sunset hangs to the right of my stove. In it I kept a little bit of everything. Underneath it, on the counter, I had a small wood plate upon which sat olive oil, salt and pepper, and my vitamins.
I neglected to include the counter-top in this picture because I wasn't planning on moving my tray of kitchen accoutrements.  My bad. The best I can offer is the neck of the olive oil bottle at the bottom of the picture, a phallic symbol proudly proclaiming the virility of clutter.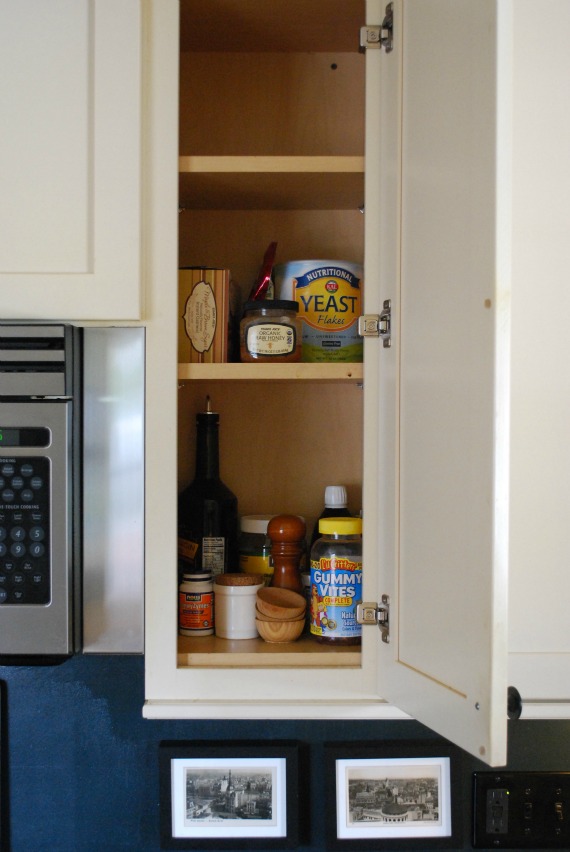 It now sits emasculated in the corner of the cabinet, clearly nobody's baby.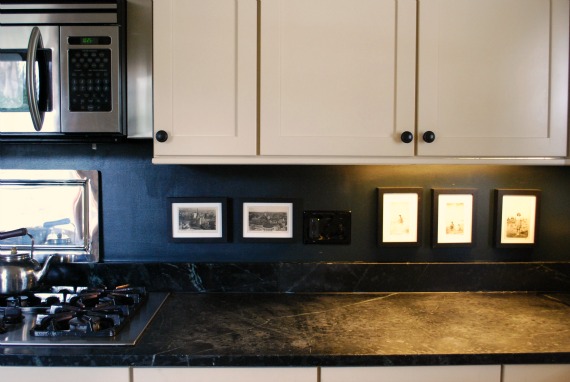 The counter top is now…I don't even know. I would say it's a smooth expanse of hopes and dreams, but that would be dramatic. I'm good with calling it a placid lake under a starry night.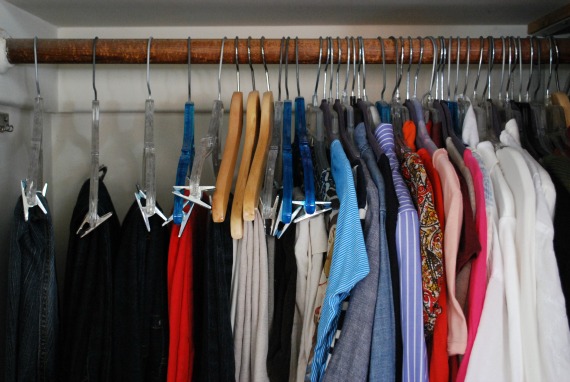 I woke up the morning after the insanity of  Wednesday's marathon cabinet decluttering in the kitchen knowing the only thing that would lure me into that cubbyhole would be an inflatable pool of chocolate and Reese's Peanut Butter Cup ice cream maintained at a constant 9°F.
Instead, I worked on my closet and contemplated the inadvisability of consuming 22 gallons of frozen dessert.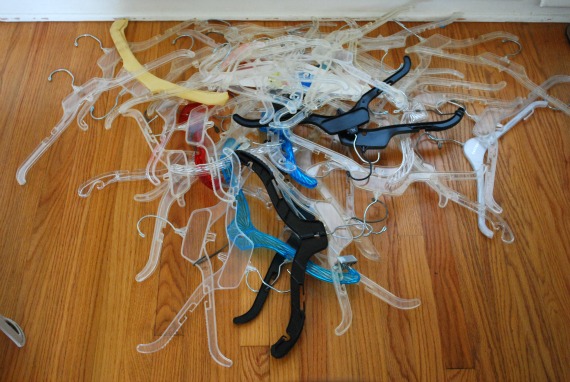 I mentioned how much I liked my new (knock off) slimline hangers when I purged
my shoes
, and a few of you mentioned you felt the same way and switched out all your hangers.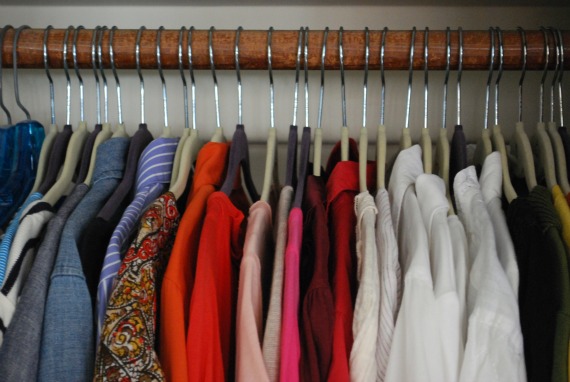 I copied you. I would have bought more of the same color so everything matched, but I used a credit I had with Ross and had to settle for the beige they had on hand. In the grand scheme of traumas, this comes before getting stuck at a green light behind someone who is texting and after the invention of candy corn.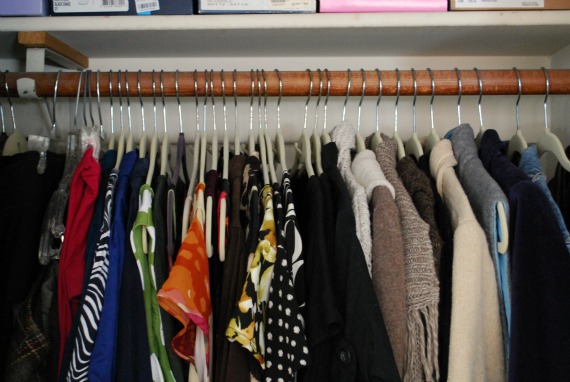 The dresses I wear to convince the Mister to go to IKEA on a holiday weekend are now easily accessible. I have waited for these hangers to find me for seven years! They are the only ones with a hook wide enough to accommodate our 1950s hanging logs. Yesterday I plucked a shirt out of the closet without grunting. The room seemed eerily silent.
The only thing left to switch out are the hangers used for pants and skirts. As much as I like the slimline hangers (knock off), they don't seem strong enough to hold denim without buckling, and I haven't seen any with clips. Any recommendations? I can't use the wooden hangers from IKEA, which is what you see in the picture above. Those don't come off the log without a hammer and a few colorful expletives.
New here? For the next 31 days I'm living according to the famous William Morris quote, "Have nothing in your houses that you do not know to be useful or believe to be beautiful." You can learn more about the project here, and catch sneak peeks of my projects by following me on Facebook, Twitter, or Instagram (I'm @pancakesfries).