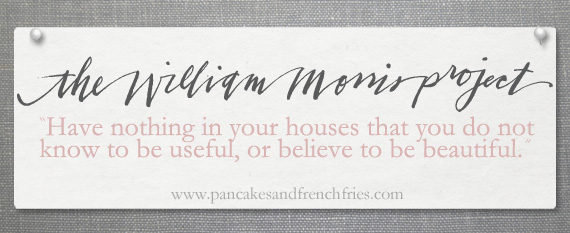 Somehow, quietly and without much fanfare, a tornado ripped apart the cleanest closet in the house. I can tell you when I first felt the ripple of a breeze. When we sold our china cabinet, we needed to store the homeless pieces held within until we could afford to install the library in the family room. My closet was the logical choice. I packed the collectibles in their boxes and placed them on the floor of my closet.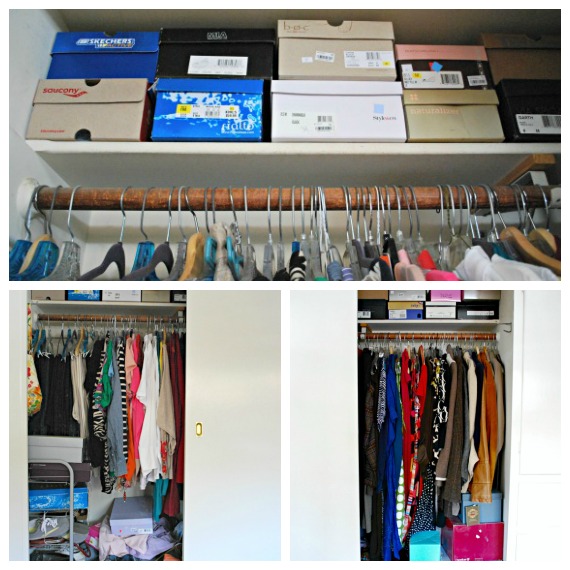 I store my shoes in their original boxes along the top of my closet. I started this a couple of years after I become thoroughly fed up with shoe racks of all kind. My mother has always stored her shoes this way, and while it pained me greatly to admit she was, yet again, right, I had to admit she was on to something. At some point in the spring, a strap snapped on my favorite pair of sandals. The soles were also starting to separate and the heels looked more than scuffed. I held onto them because I don't know. Luck? I wanted to find something similar–exactly the same, preferably–but I never did. I bought a new pair that were just okay and put them in the closet.
Something similar happened with my tennis shoes and a pair of heels I liked to wear for dates. One day my mom dropped off some shoes she had to admit she should have never bought.
With summer officially here, I started dropping to the floor of my closet winter clothes to donate.
That which I stored, bought, accepted, and discarded converged in a hailstorm of clutter. My closet doors were close to coming off their tracks, I could no longer store all my shoes on the top shelf of my closet, and the mess made me nervous. A call to action if ever there was one.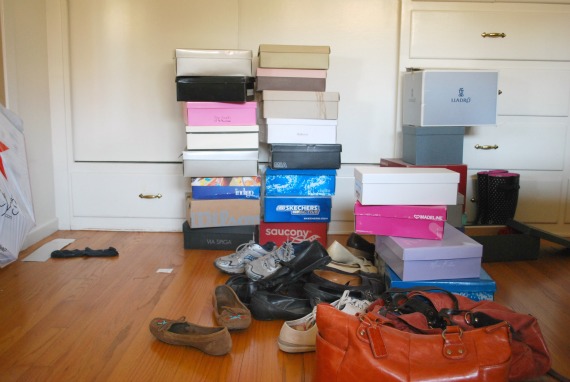 I took all the shoes and boxes out of my closet in hopes that getting rid of a few pairs would gain me enough room to store all my shoes along the top of my closet once again. As usual, I was ruthless.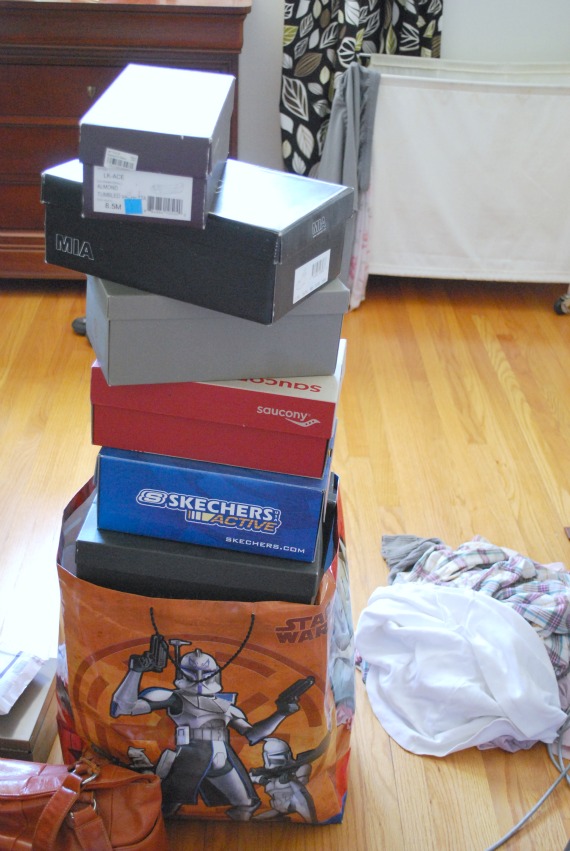 I even got rid of my favorite shoes that I bought a smidgen too big (top box) and wore until they stretched and flopped against my heels. They gave me blisters, but I still wore them. I put in the donate pile 20 pairs of shoes. There are 15 pairs of shoes in my closet, including tennis shoes and flip-flops. My knee-high boots are in the cabinet next to the closet. With the exception of my rain boots, my Rainbows, those knee-high boots, and a pair of street sneakers, everything fits on the top shelf. I might get rid of the street sneakers, too. I bought them on a whim because they were cheap. Rarely a good  move for me.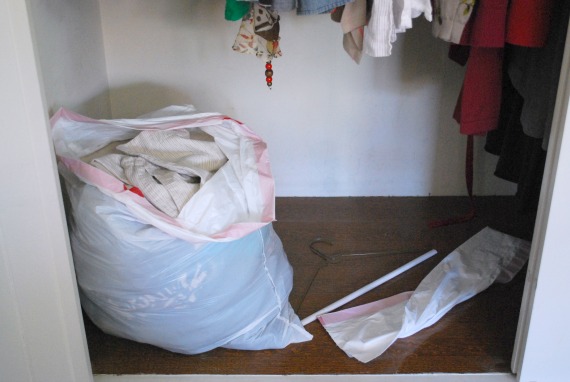 The process went quickly enough to inspire me to do some purging on the left side of my closet, which is where I keep all my pants and shirts. I'm a consistent clothing purger, so I only had one bag to donate.
I wanted to gain enough space to store my shoes on the top shelf, but I ended up purging enough to lose my shoe rack. I did have to put back the collectible boxes on the right side of my closet, but they no longer fight for floor space with shoes and clothing, so it doesn't bother me as much and my closet doors open and shut easily.
I'm happy with the way the closet looks, with a few exceptions.
I want to replace the old hangers with the same space saving hangers I bought a couple of months ago. I was out of hangers (turns out I just needed to purge my closet) and bought a set that looked promising (similar). They are perfect for boatneck shirts, slippery blouses, and strappy dresses.
I want to make an effort to buy pieces of greater quality. My style is, for the most part, classic and traditional. I can get away with paying more because these are items that I can, and should, wear for years instead of re-buying every season.
I want to practice delayed gratification. Take my favorite sandals–the ones I mentioned above. I couldn't find what I was looking for on the day I needed them, so I settled for something else. Last week I bought another pair of sandals, fancier than the replacement pair I bought previously, because I completely forgot about the pair I bought just to fill the hole in my closet. Had I just waited until I found what I really wanted, I wouldn't have a pair of sandals in my closet that I'm not positive I will wear again. I should probably put them in the donate pile, but my I'm stubborn and prideful.
I do feel really good, though. So good, in fact, that I opened and closed my closet doors a few times yesterday just because I could.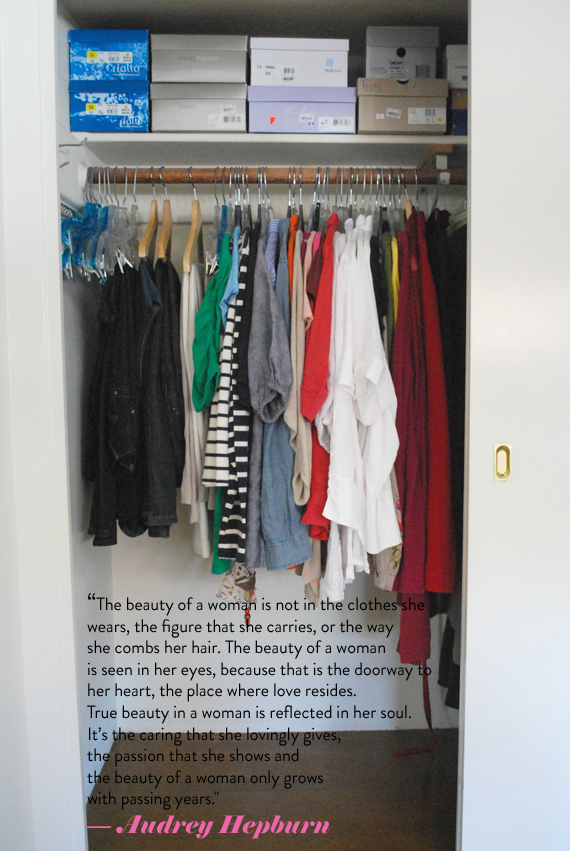 ::::::
This post was part of The William Morris Project, a weekly series that details the steps I am taking to create an intentional home. You can see more of my goals and completed projects here. To learn more about this project, start here.
::::::
Now it's your turn! Feel free to share how you have lived according to the William Morris quote, "Have nothing in your houses that you do not know to be useful or believe to be beautiful." Made a plan? Cleaned a drawer? Bought a sofa? Tell us about it with a link or comment. A few guidelines:
Please link to a specific post, not a general blog address.
Your post must relate to your efforts to create an intentional home. I have a delete button, and I'm not afraid to use it.
No links to giveaways, please.
Let's use this weekly link up as an opportunity to gather inspiration and motivation. Click links. Discover new people. Say hi and good job. I know I will.