The world opened up for Mikey when he learned colors can combine to form other colors. He figured this out in his final year of preschool, and for months afterwards he would pick apart the color combinations in crayons, flowers, leaves, and rocks. I thought this might be an obsession singular to Mikey, but when Nicholas learned yellow and blue made green in his final year of presschool, the reaction was the same. It blew his mind.
I did this super quick, easy, and cheap science experiment with them because I knew they would love watching the color breakdown in action.
Supplies
Paper towel
Scissors
Clothespin, alligator clip, or small clamp.
A tall glass with 1″-2″ water
Green felt tip marker or green food coloring (I used an ancient highlighter from law school!)
Cut a strip of paper towel, about 1 inch thick. About 2 inches from the bottom, make a large green dot with your felt-tip marker or apply 1 or 2 drops of green food coloring.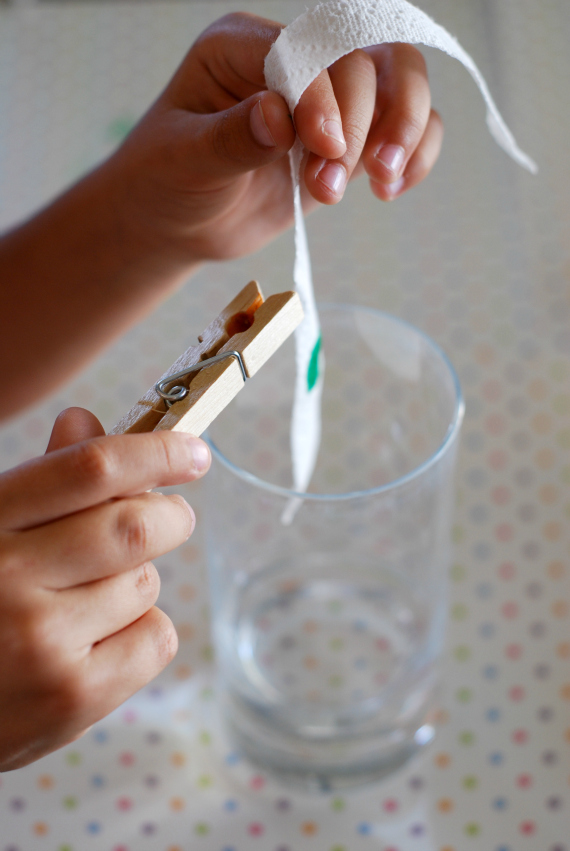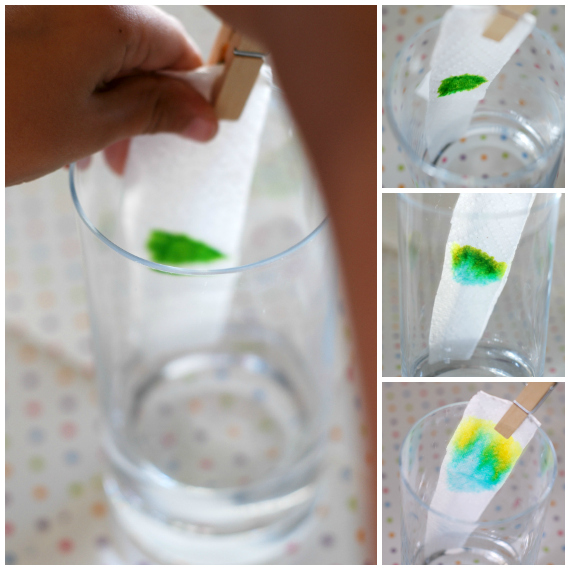 Pin your strip of paper towel to the interior of your glass, allowing the bottom inch of paper to hit the water. Keep the green dot clear of the water.
The water will quickly move up the strip of paper towel. As it travels up the paper, it will slowly dissolve the green dot and carry with it the yellow and blue pigments used to make green. This will take about 15 minutes, maybe less. My decrepit highlighter only took seconds.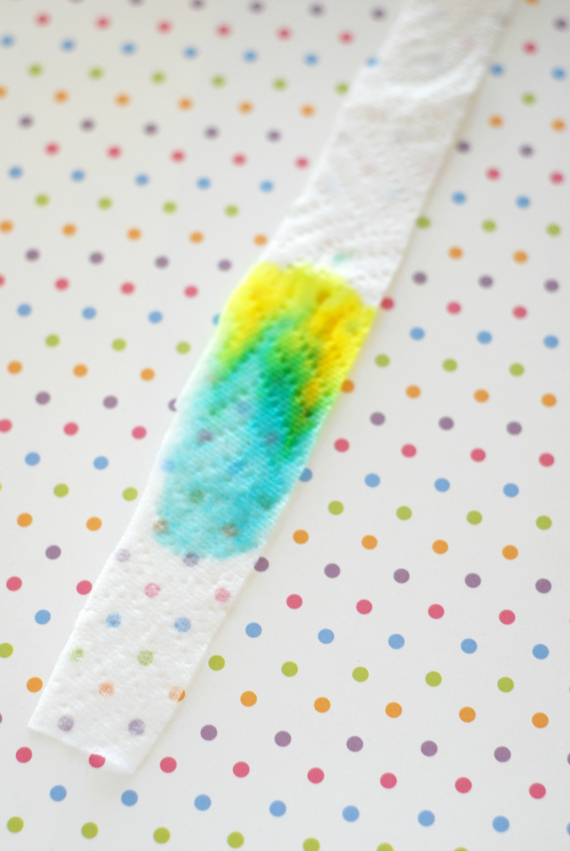 After 20 minutes, the green dot disappears completely. Above that will be a puddle of blue, and above that yellow. You can see above I didn't have 20 minutes. I had to get the boys ready for camp so not all of the green broke down. Regardless, the boys were fascinated. High fives all around, even for mom.
A couple of notes:
The marker you use is important. I used Crayola markers thinking they were felt-tip, but I guess they aren't? It didn't work, regardless.
I tried this with other colors (orange being one of them) but it didn't separate as nicely. Again, I used a Crayola marker. That may have been my downfall.