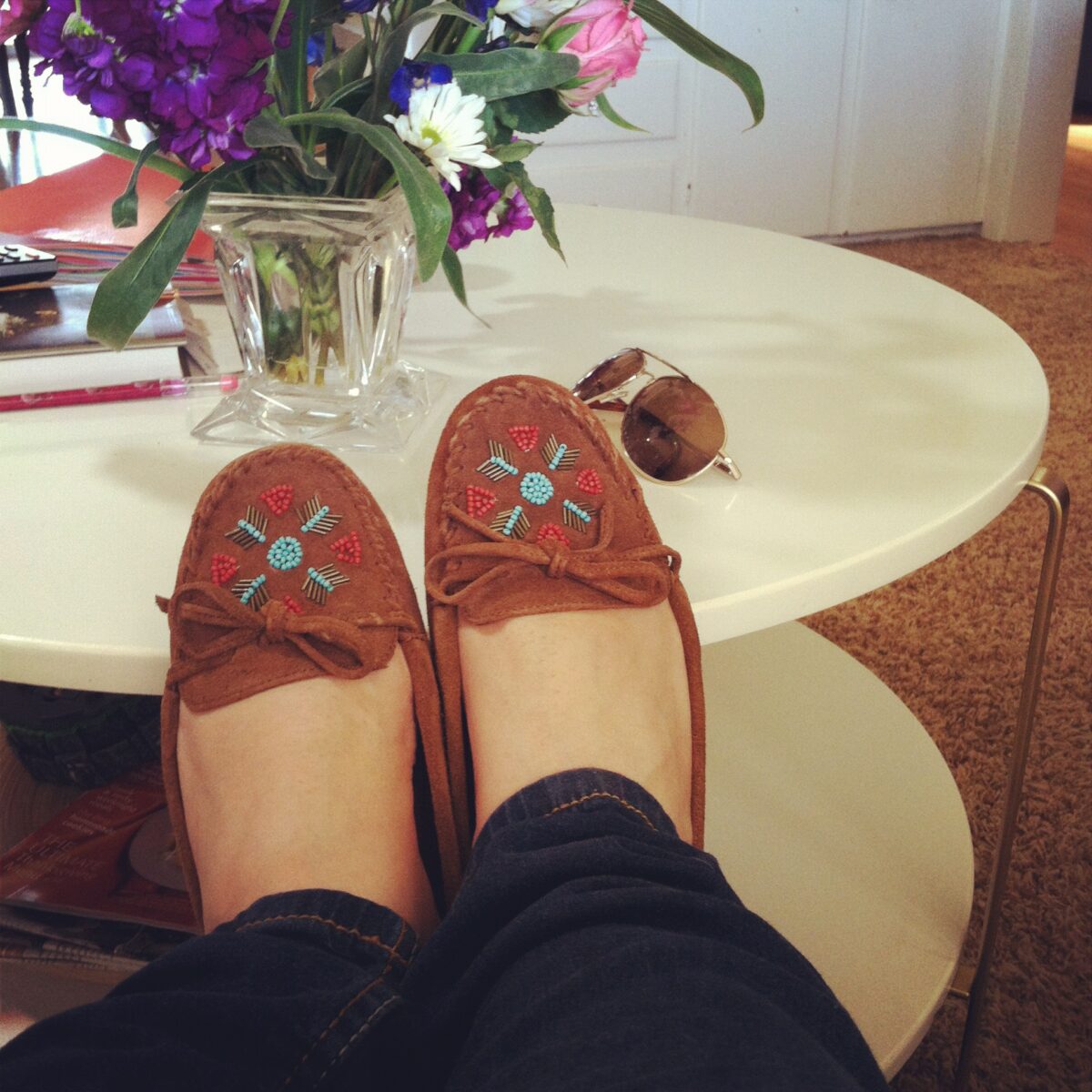 My greatest achievement over the past two days was the acquisition of a new pair of flats to wear with my skinny jeans. The pair I've been wearing for over two years are stretched beyond comfort. They flop when I walk and give me blisters. I bought Minnetonkas, shoes I last wore when I was 8 years old, so I'm not sure if this achievement isn't in fact a regression. We'll see how these work out.
I have Senioritis. I'm waiting for summer and becoming increasingly overwhelmed with everything on my plate, real and imagined. I knew baseball with two kids would be challenging on top of choir, school, everything…but in these past few weeks it seems like we have something to do every single day. Practices six days a week between both boys, games, homework, my niece is in a play, the Mister is traveling on business, family visiting, birthdays, holidays…none of it serious and none of bad. Just everyday stuff. Some people come alive with constant activity. I don't. I hate having something to do every day, even when that something is good and fun and evidence of a full and happy life.
I'm aware that I'm ungrateful and, also, an enormous wimp. I have two kids! Round of applause to those with four children in sports. I can think of at least three families I know living this…dream? Nightmare? Either way, YOU WIN.
Over the weekend I reached a breaking point, and since I'm trying very much not to eat my emotions, I fell back on my next favorite vice: reading books of questionable quality. Since Sunday I've read this one, this one, and this one. I was hoping to find another series of ridiculous, campy awesomesauce (to wit: Dark Fever) but so far no such luck. The hunt for literary oblivion continues.
I do feel better, though, having decompressed a bit between the pages of three bad books. Truly, how can you be stressed about conflicting baseball games and school plays when you know somewhere out there a half breed vampire and her blind vampire king (full-blooded, impressive lineage) are struggling to rebuild a crumbling paranormal empire?
You can't, obviously.
I'm getting sidetracked. I really wanted to come here to ask for a list of books you've been dying to read. I want a summer reading list for our book club so those of us with lackluster libraries [raises hand] have a chance at getting the book in time to participate in the discussions. I have a few ideas, but instead of linking to a million books and cluttering up your browser page, I'm linking to my book club page on Pinterest. I'm thinking about allowing people to pin suggestions to that board. What do you think? I also troll Goodreads for ideas. If we're friends there, I look to see what books everyone has in common in their "to-read" lists. So friend me on Goodreads if you haven't already.
I'm off to buy a tank filter since ours bit the bucket last night. Then I'm going to eat lunch, pick up the boys from school, and get Mikey ready for practice. After that, I'm going to studiously ignore the stains on the floor because I don't feel like mopping.