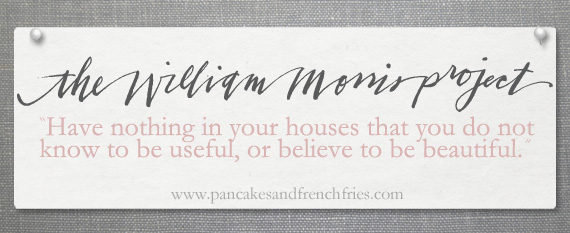 Love and money are the two motivators for this week's project.
For a while now, I've been uncomfortable with how often the projects I've been tackling have benefited me directly and/or indirectly. The work I have done to date has been about making my life easier, which is the main benefit to working towards an intentional home. Today I tackled the home office, also known as the studio in the backyard. I never go out there except to use the fax or pick up something from the printer, especially now that we moved the three bookcases inside. The Mister, on the other hand, spends several hours out there every night.
If you ever wonder how I have the time to blog, it's because my nights are usually my own after the boys are in bed. My little workaholic spends his evenings working, working, working. In a cesspool.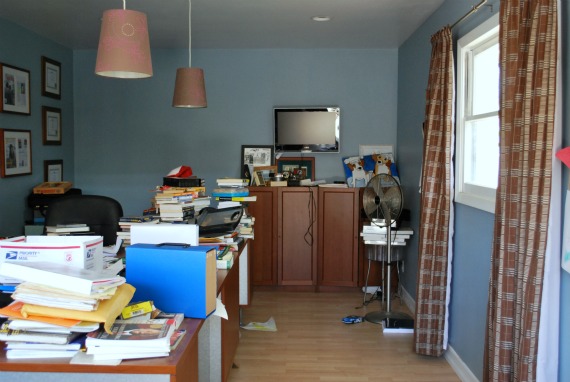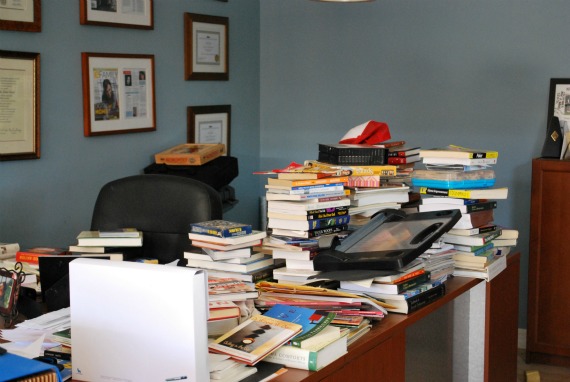 Here's what happened.
Last October, during my William Morris marathon, I tackled the books in the office. They haven't moved since because I didn't know whether to sell them, donate them, or ship them off to Amazon. (I'm still not sure how the Amazon program works.) Then we moved the bookcases, which required me to empty the bookcases completely.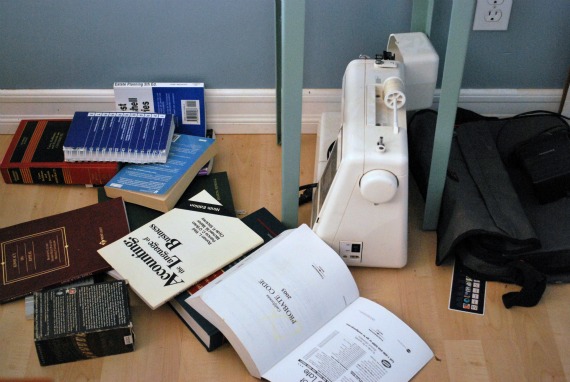 So maybe I just started chucking things onto the floor after touching over 500 books in one afternoon. Even though the Mister couldn't see the books on the floor over by my old desk, it bothered me to think of him working for hours in such a cluttered environment. I avoid going out there at all costs, and that's knowing I don't need to spend more than a minute or two in the mess.
That's my explanation for the piles and piles of books.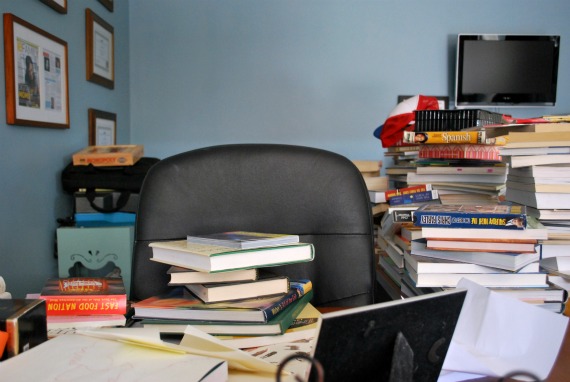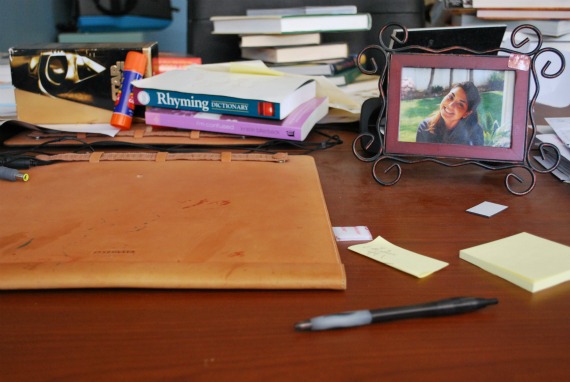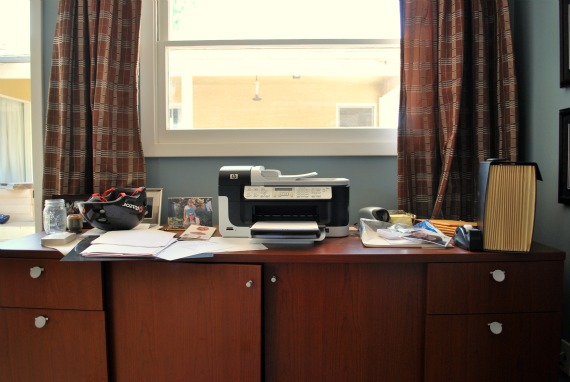 I have no explanation for his area, other than my once neat-as-a-pin husband has turned into the absent-minded professor with an aversion to filing. That heinous frame (and the picture of me, which isn't bad) has to be 15 years old. Good gravy.
More importantly, those three pictures are what he sees when he sits in his chair to work. Piles of books in front, and a cluttered printing station at his back. That can't be good Feng Shui.
I knew without him telling me that working there was stressful (how could it not be!) and I knew the prospect of cleaning out from under the mess seemed overwhelming (been there). So, because I love him and think he deserves a nice, healthy place to work (too much), I cleaned it all up for him as a surprise.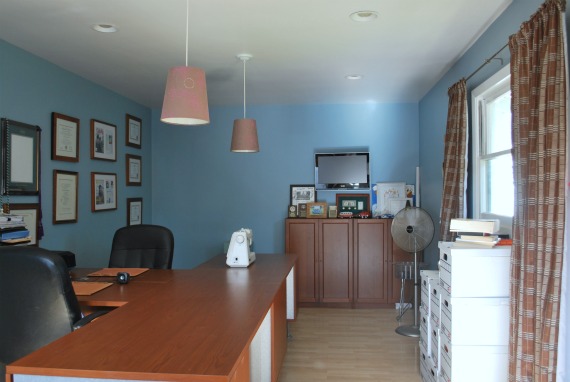 Feeling smug.
Also, feeling sore. I had to sweep the floors, then vacuum them, then wash them twice. Blargh.
The Mister was beside himself when he got home. I've got points banked for months! In fact, I'm pretty sure if I asked him to take me to the mall on Sunday he would say yes and then offer to carry my purse.
Earlier I said love and money motivated this project. It's no accident this week is more about sweat equity versus cold, hard cash. Last week's project tapped our wells, and I don't like giving the impression that making an intentional home requires an open wallet. Clean desktops are free.
Organizing the office was as simple as categorizing the books and then storing them in file boxes. We'll open the boxes and let people go to town when we have our garage sale. The rest will go into the donation pile or Amazon, if I ever figure out the consignment program and whether it's worth the effort.
We're close, but not done. Not by a long shot. The drawers and cabinets desperately need to be cleaned out, and three weeks ago we had a cable problem. The repairman's solution was to drill a hole in our wall when I wasn't there–and in direct violation of our agreed upon plan–and run a cord through the front of our credenza, which is why the door won't shut. Sigh. That will need to be addressed, as will the 293893853 feet of device cords hiding behind the partially closed doors.
Progress, not perfection.
::::::
This post was part of The William Morris Project, a weekly series that details the steps I am taking to create an intentional home. You can see more of my goals and completed projects
here
. To learn more about this project, start
here
.
::::::
Now itís your turn! Feel free to share how you have lived according to the William Morris quote, ďHave nothing in your houses that you do not know to be useful or believe to be beautiful.Ē Made a plan? Cleaned a drawer? Bought a sofa? Tell us about it with a link or comment. A few guidelines:
Please link to a specific post, not a general blog address.
Your post must relate to your efforts to create an intentional home. I have a delete button, and Iím not afraid to use it.
No links to giveaways, please.
Letís use this weekly link up as an opportunity to gather inspiration and motivation. Click links. Discover new people. Say hi and good job. I know I will.