This post is sponsored by Chase – a strong supporter of the National Eating Disorders Association

Two weeks ago Chase offered me the opportunity to write about healthy eating and body image in children. It was an opportunity I accepted gladly. I planned and researched and leaned back in my chair, hands behind head. It's my thinking position.
I sat there, playing with my ponytail, and realized I would have to discuss my own eating and body image history if I wanted to effectively communicate how important this subject is to me, how much it has impacted my life and informs the decisions I have made feeding my children. I became agitated.
I went to the library and checked out twelve books. I came home and avoided them. I opened the first one two days later and started to sweat. I put it down, picked it up. I struggled to read more than a few pages at time. I rubbed my eyes hard enough to see colors behind my lids.
I discovered that my boys are good eaters despite their mother, that what I thought was right was wrong, or at least not great. I decided I am not equipped to write this post. I told my husband that the last two weeks have been hell, that I don't know what I'm doing, that looking at old pictures and remembering old memories has been stressful and painful. I didn't want to publish this post.
He said that is probably why I must.
We'll see.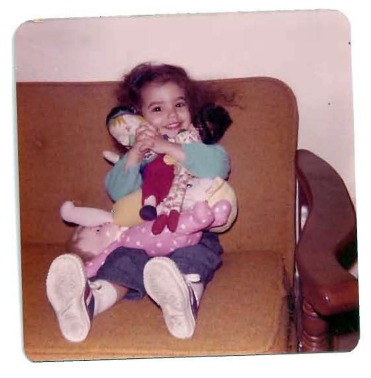 I was born on November 30, 1972, a petite 6 lbs. 15oz. We moved to the states six months later. I had my father's curly hair and large eyes, my mother's full cheeks and pointy chin. I spoke Spanish, then English. I liked dolls.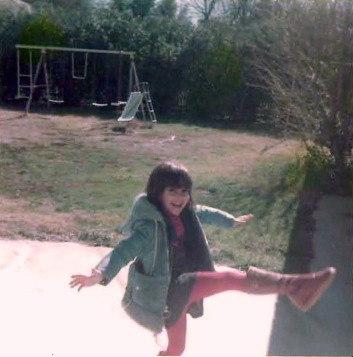 At age four my tonsils started to swell. I choked on my food and eventually stopped eating out of fear. There is a picture of me at the beach where I am wearing a red bikini, holding a bucket and smiling wide. I'm brown like the shell of a coconut because I lived outside and in the 7os no one used sunscreen. You can count my ribs, all of them. I looked emaciated and frail; strangers thought I was ill. In the first grade I had my tonsils removed to improve my health and weight. The doctors warned my parents to monitor me as far as food went because I would make up for lost time.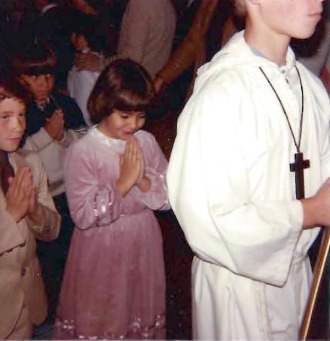 I wore dusty rose to my First Reconciliation in the 4th grade. I felt beautiful. I fingered the satin ribbons but was disappointed my skirt didn't flair when I turned. The pediatrician that year said I was far too overweight, a victim of my tonsillectomy and poor willpower. I heard that and felt fat for the first time. She had ridged nails that ended in points. I noticed that as she wrote out a diet for me. She wore unflattering polyester shifts in loud florals and rested her clipboard on the second roll of fat below her breasts. I noticed that, too. I was 9. It was 1982.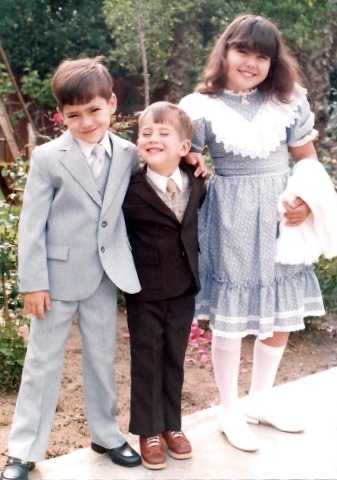 Telling a mother to put an normal-sized 9 year old on a diet is a fabulous idea. It really produces results, too. Maybe not the results you hoped for, but I promise a change in weight is forthcoming! My mom was upset this dress was tight. She felt like a failure, and I did, too. For many, many years I hated this picture. 1983.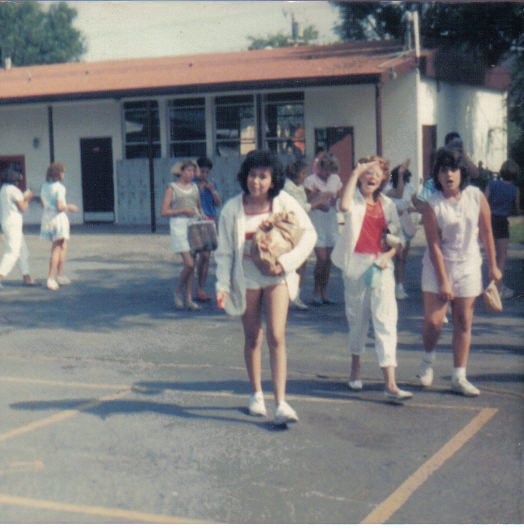 I'm on the far right. I can't explain what is happening with the top of my head. I could be wearing a hat, I could be experimenting with Aqua Net. I can explain the unfortunate hand position. I spotted the camera and was trying to pull down my shorts to hide my legs, which I hated for being big. Now I know they were strong and muscular, all the better to kick in teeth. That's what I should have done to the boy who called me an ugly, fat whale around the time of this picture. I found him on Facebook. Not impressed. 1986.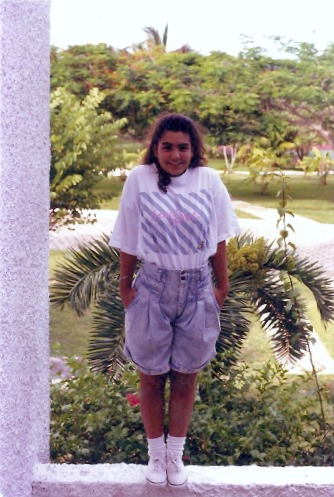 There is no greater injustice than to form your body image at the same age you dress for the trends and not for your figure. Then again, I'm not sure anyone looked svelte wearing high-waisted, acid wash z. cavaricci jean shorts. Too many classmates called me fat/chubby/thick/insert-pejorative-here in a way that was supposed to be funny, but wasn't. 1987, maybe 1988.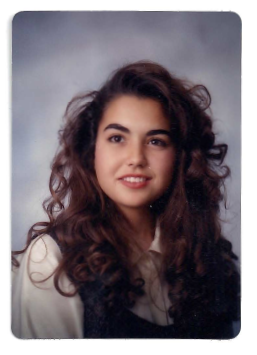 I really wanted to be on the homecoming court my senior year in high school, which boggles the mind since I was so shy and introverted I could count my friends on one hand. I was also hoping to make it into the yearbook for something like "Most Attractive" or "Best Dressed" or "Nicest Girl." They didn't have "nicest girl," but if they did I might have won. I think. Who knows. I went on my second diet to increase my odds on any of the above, but it wasn't enough. I was at tennis practice when I overheard two team members talking about me. They said it was a shame the guys only voted for skinny girls with good bodies because I had such a pretty face. I was a size 8. 1989.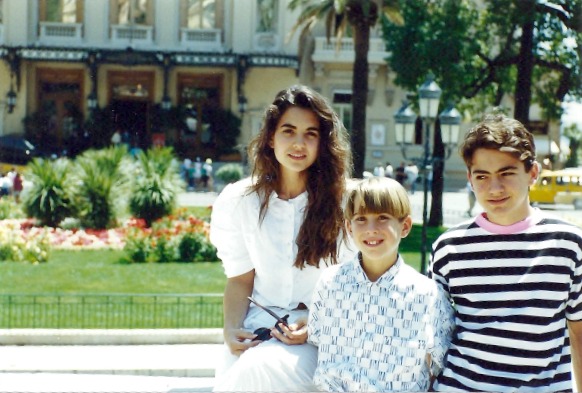 Shortly after that, I started drinking a Big Gulp of diet coke as my lunch. After school I played competitive tennis, sometimes for two hours a day. I got down to a size 2-4, but still wore an 8, sometimes a 10, because the larger sizes hid my arms and legs. I started getting attention from boys. I hated it. I hated that 20 pounds was all that stood between approval and disdain. That didn't stop me from dating them, of course. My taste in boys was as questionable as my diet. 1990.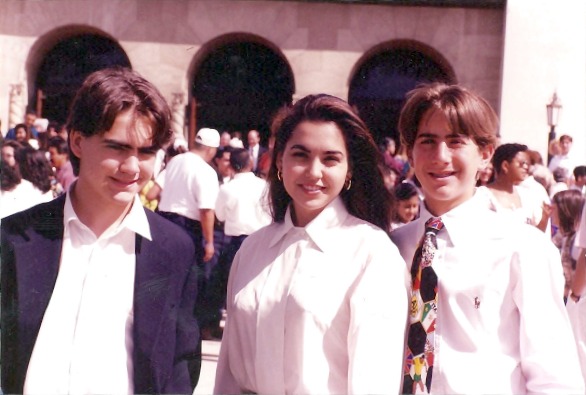 I was back to a 6-8 at my brother's high school graduation. I worried the entire time about my weight. Some studies show that people who are people pleasing, excessively goal-oriented, obsessive, and/or perfectionists are more likely to suffer from eating disorders or disordered eating. You don't say. 1993.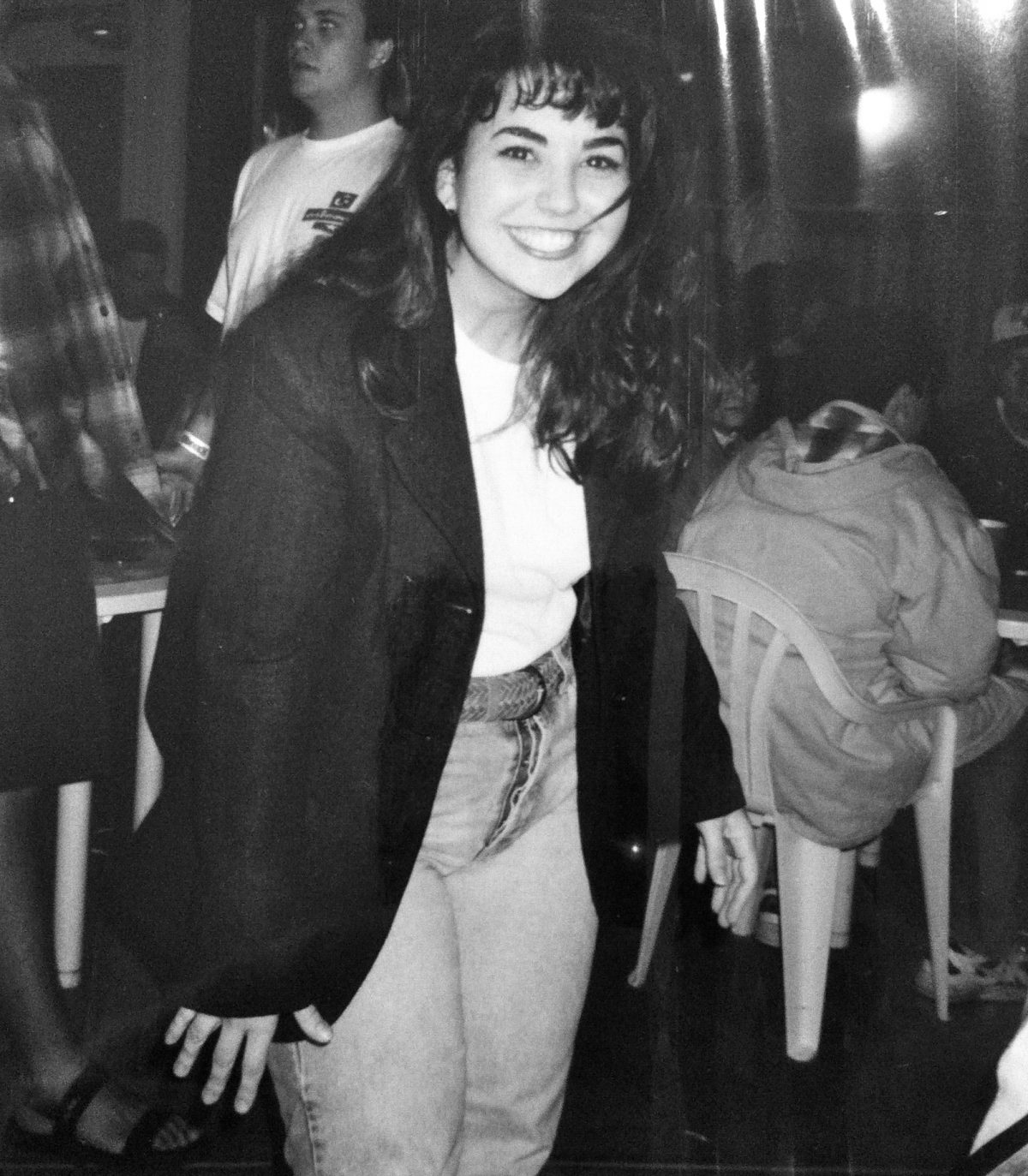 By my 23rd birthday, I was up to a size 9/10. I still wore large shirts and jackets–a blazer, here–because I thought it better hid my thighs. The same thighs I would love to have now. 1995.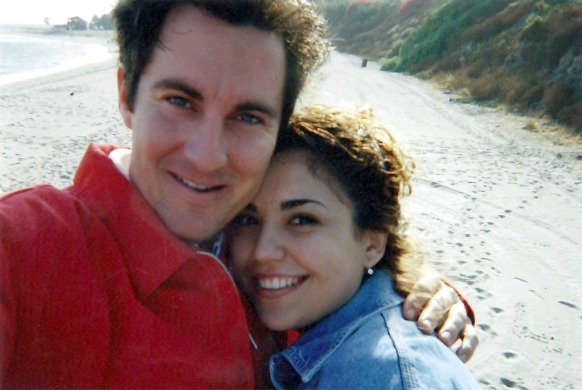 Not long after that, I met my husband. He's a rail. Always has been. We met at T.G.I. Fridays; he was a bartender. I went back a few days later with a friend to get her opinion, but before she could see him I nearly collided with him on the way back from the restroom. He was rude. I went back to the table and told my friend it would never work out. I could never date a guy with thighs thinner than mine. It worked out. 1997.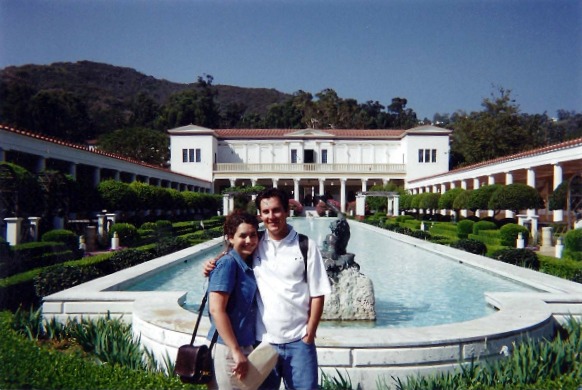 That doesn't mean I didn't hide behind purses and museum programs every time we took a picture. I'm not a fan of having my picture taken. It's why you see so few of them my blog, and they are almost exclusively of my face. 1998.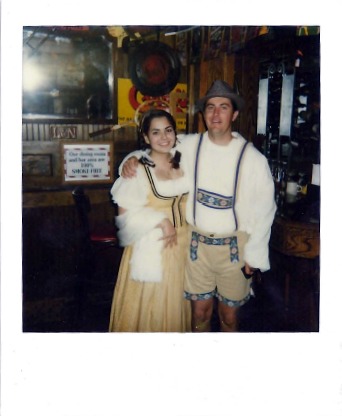 I gained twenty pounds in one month due to a medical condition. I was devastated. 1999.
I could go on with more pictures, but they become increasingly painful for me to see. I gained more weight, and then more. The white knuckle hold I had on restricting my food slipped. And, like the girl without tonsils, I made up for lost time. Then I restricted, then I didn't. Then I did.
Up, down. Up, down. Up, barely down. Over time, your body gives up on you.
When I laid out all the pictures last week, I couldn't decide if I wanted to move to a remote island or hide under the covers. It seemed preposterous that someone with such a warped body image and history of disordered eating should write about healthy eating. I'm not an expert, I'm a cautionary tale.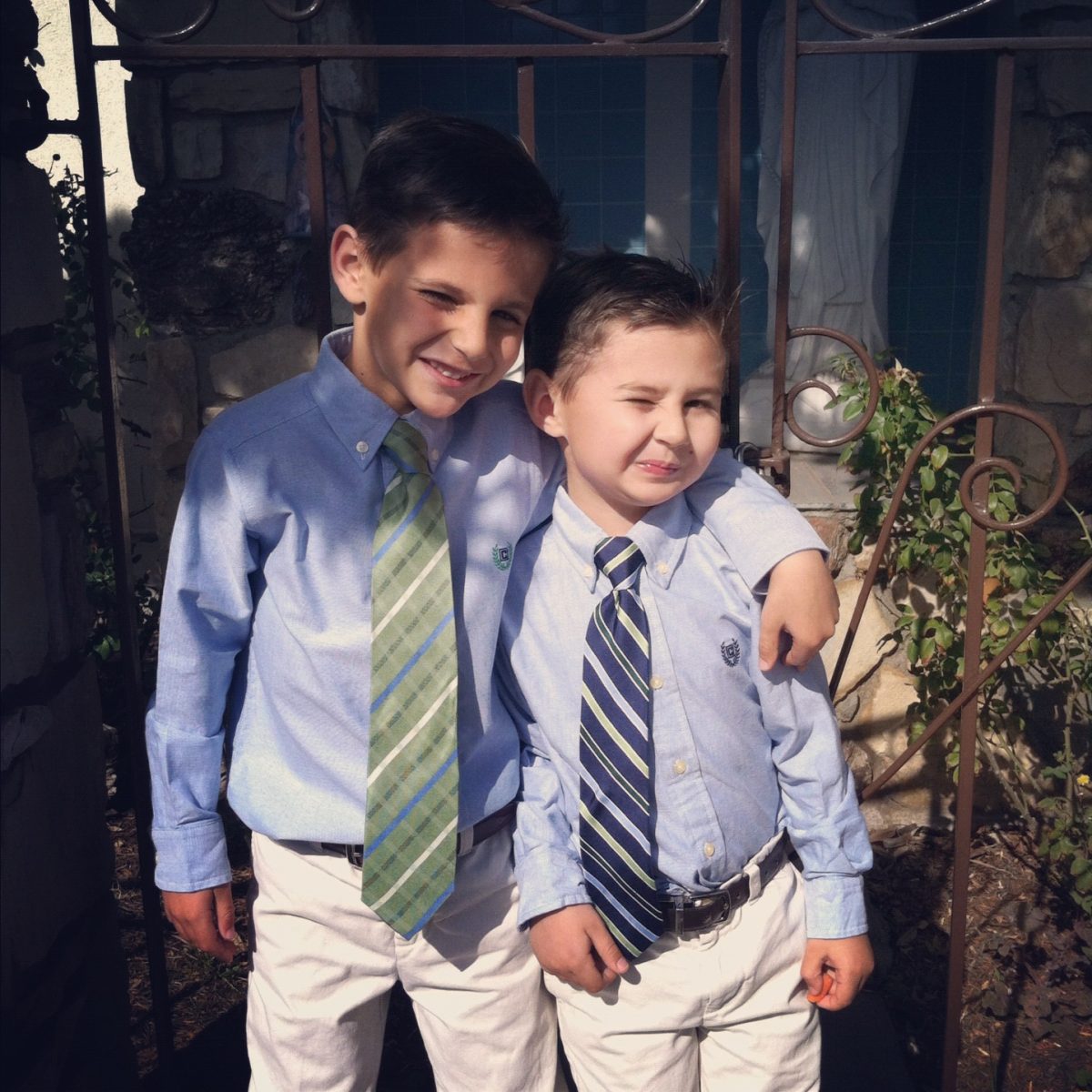 But I'm also a mother, and a smart one at that. People ask me how I got Mikey to read so much and so well, and I always tell them it's because I model the behavior. He sees me read and believes it to be fun. I think Nicholas will be the same.
If modelling can teach a love of reading, it can also teach a fear of food. I'm not going to let that happen on my watch.
I've tried a few things over the last couple of years to help me learn to approach food as a necessity rather than an enemy. Some have worked, some haven't. Nothing has worked long term, mainly because I haven't been consistent. I've talked to other women and men in a similar position, and they say it gets easier to find time to handle your issues when your children are in school. I'm counting on that.
In the meantime, there are a few things my research suggests I'm doing right. Turns out, in my own crack-pot way, I've been establishing some healthy eating patterns in the boys.
I make one meal. What we eat, they eat. There is no short-order cooking to appease multiple tastes. They can eat from what is available at the table, or they do not eat. The choice is theirs.
We have a family dinner every night it's humanly possible. It's almost always possible.
We eat healthy foods, and we eat not so healthy foods. I try not to create labels on food, but it's hard. I'm working on that one.
We don't force them to clean their plates. When they are done, they are done. The decision is theirs. They don't get anything else, though, and we remind them of that before they leave the table.
We eat a wide variety of food, and I let them help me in the kitchen. The helping takes a back seat during the school year but during school vacations or on the weekend I let them make us breakfast, season our food, etc.
I've also learned a few new tricks from Ellyn Satter. Since starting her approach–particularly in regards to scheduled snack times for myself and the boys–I've seen both boys graze much less. Also, I've stopped worrying about Mikey being too skinny and Nicholas's sweet tooth. They're fine.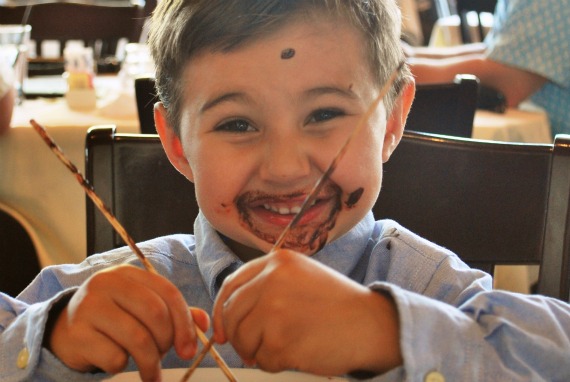 They're more than fine.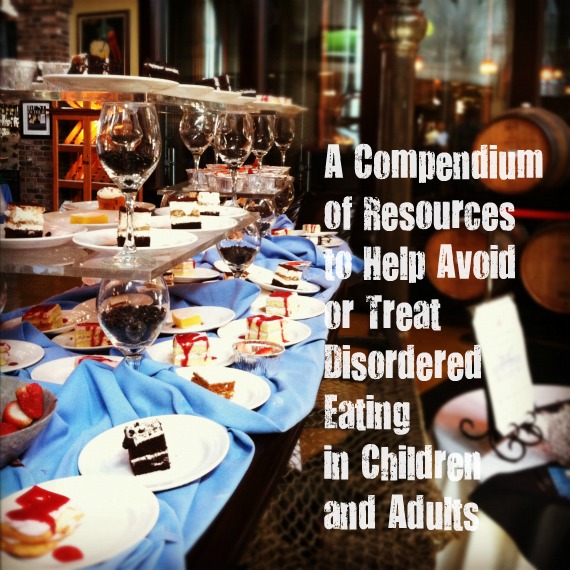 Organizations
Books on Establishing a Healthy Relationship with Food in Children

Books for Parents of Children with Eating Disorders or Disordered Eating
Books on Establishing a Healthy Relationship with Food in Adults
If you believe in a behavioral model
If you believe in an addictive model