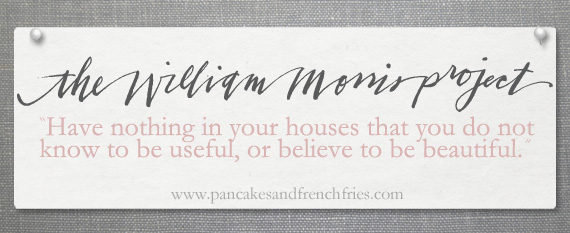 Short answer: No clue.
When the Mister and I were first married, stainless steel refrigerators were just coming into style. Appliances like stoves and ovens, I think, were still white. If they came in stainless steel, they were probably expensive and definitely not included in our new, builder basic 1100 square foot home. We bought a white side-by-side refrigerator, a Kenmore, and for the life of me I can't remember what we did with it when we moved. We might have given it to a friend.
When we moved to this house, our standard size refrigerator dwarfed the room. We had to buy something counter depth if we planned to use the kitchen for activities like cooking, standing, and opening cabinets. I was thrilled. By God, this time I was going to have a fancy food cooler right off the runway, or where ever it is they reveal newly designed appliances. We bought a stainless steel French door/armoire refrigerator, which we now affectionately refer to as "that thing that blows."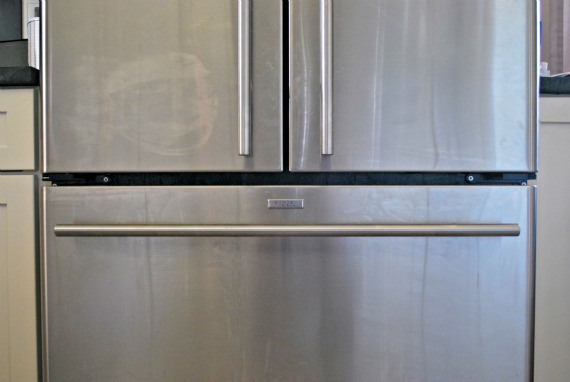 "Worst decision ever" for short. I'm sure many of you have a similar refrigerator, and I am sure many of you adore your bottom freezer. You're crazy. Kidding! (AM I?)
Armoire refrigerators look nice. Theoretically, you have more room up top to store large trays of food. It's nice to have all your food at eye level and if you have a narrow kitchen, like me, the small doors are a must. That said, this fridge gives me the fits.
The left door never closes. You have to firmly shut the door; swinging it closed isn't enough. We had to set the alarm to alert us when the door is open after we woke up to a thawed refrigerator one morning. None of the other refrigerators I've owned have come with doors alarms. Why? Because the doors shut.
Although the width up top is nice, the counter depth never allows me to store much. I feel like I am always shifting things around to get a good fit.
In order to see anything in the fridge or access the food, I have to open both doors. That wouldn't be a problem if one of the doors shut properly.
The freezer. My God, the freezer.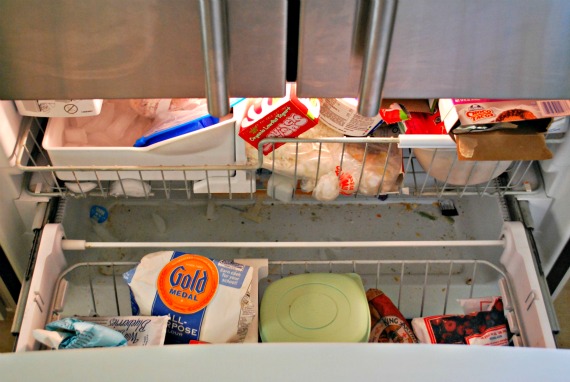 The bottom drawer is too deep to remain tidy.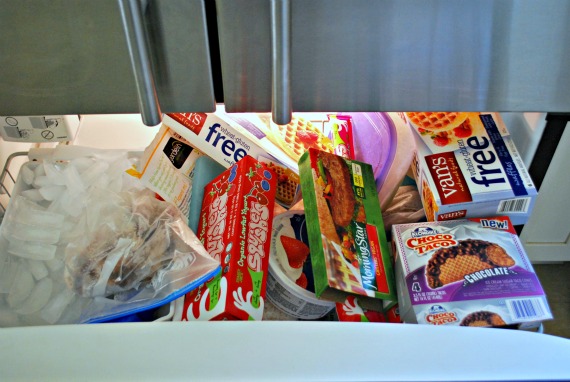 The top drawer? The top drawer isn't a top drawer. It's a large basket (with an ice maker) that sits on two ledges. You slide the basket (and ice) along the ledges. No tracks, no rails. Just ledges. It doesn't take a physicist to realize what will happen to the contents of a large, heavy basket allowed to slide on plastic ledges. The basket swings left or right depending on the hand you use. The contents get jostled. Ice always falls to the floor. Always. It's a pain. So much so, we never slide the basket out. We just blindly pull out or push in food and ice as we need it. Hence, that mess above.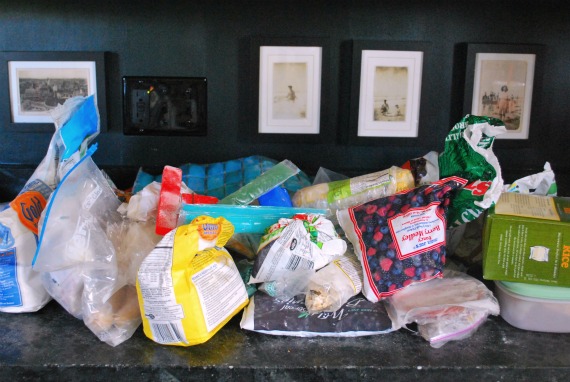 Which ended up on my counter for a super fast 30-minute purge. That's the good thing about cleaning the freezer. Once you start, it's not like you can get sidetracked. You're working under a time constraint. Which brings me, in a round about way, to what I hate most about bottom freezers.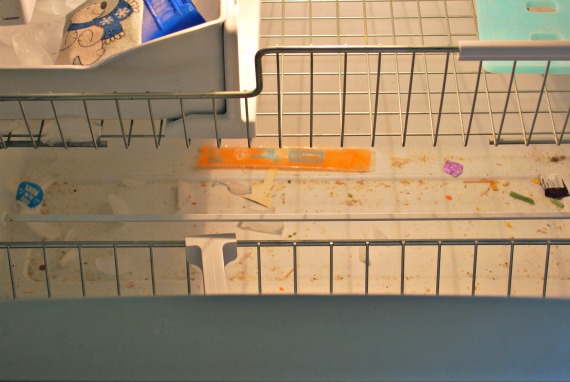 The gunk that collects at the bottom. Note the ice from the sliding basket.
Yes, all freezers collect gunk at the bottom, even side-by-sides. But with side-by-sides, you need only remove the bottom basket to clean it out.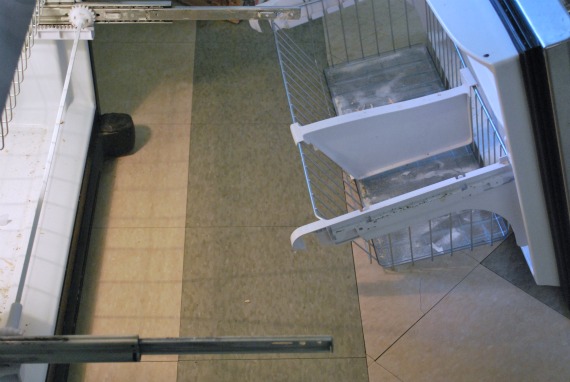 To clean out a bottom freezer–at least mine–you have to take it apart. That's exactly what I want to do on a rainy Wednesday. #Sarcasm.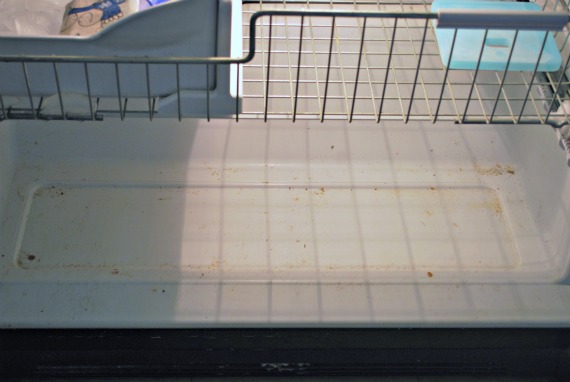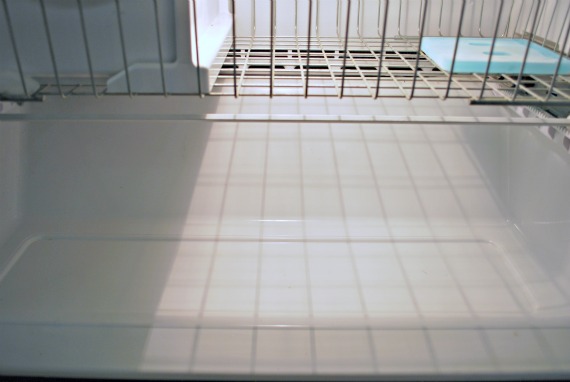 I used a broom to sweep out most of the gunk, which I picked up with a dust pan and tossed. Then I scrubbed down the interior and wiped down the top basket.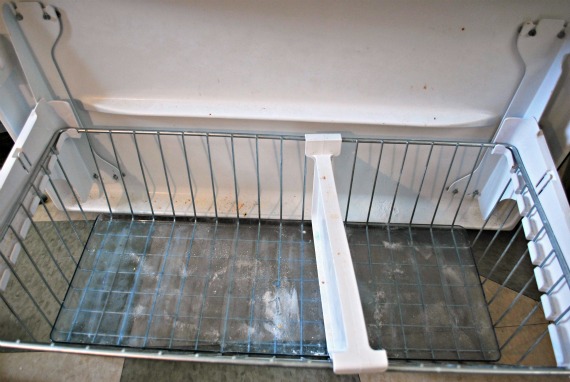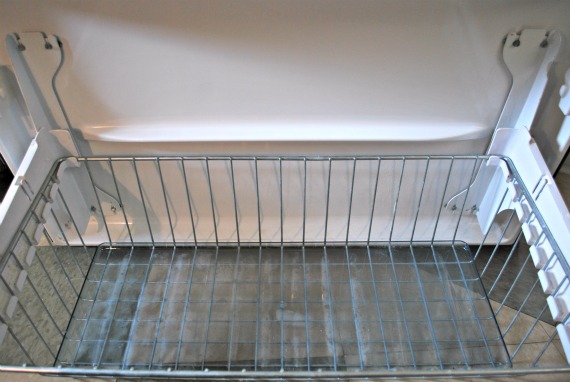 I wiped down the bottom basket and door, too. As you can see from the condensation forming, I was quickly running out of time. Luckily, I purged all the food first because putting the refrigerator back together almost killed me. Not physically, but I swear it almost broke me mentally. It was just like putting a drawer back in your dresser, only the drawer is twice as wide, three times as tall, and five times as heavy. Getting both sides on the track = total bear. But I did it!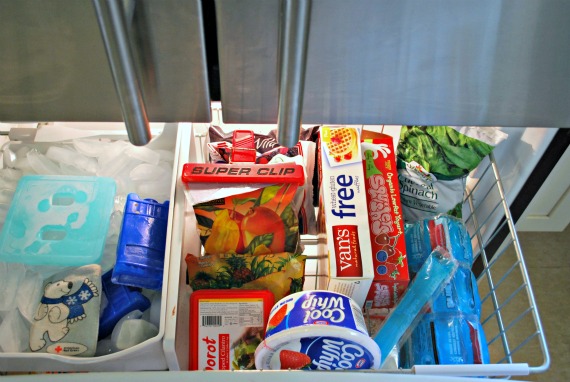 I put all the fruits, vegetables, and random tub of unopened Cool Whip I do not for the life of me know why I own (must have bought it for a recipe?) in the top basket.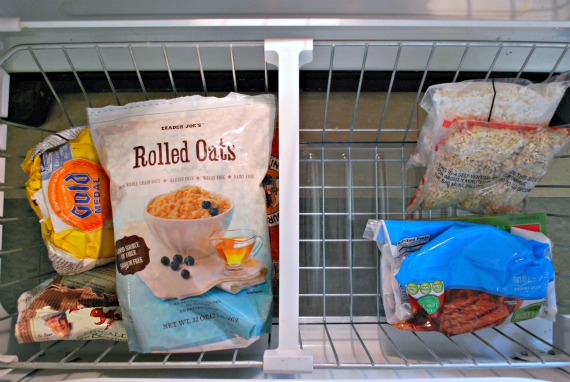 On the left bottom basket I have most of my flour. I have another large bag in a refrigerator in the garage. On the right I keep rice and meats, which I admit look meager. I will also keep chicken carcases there, which I save after roasting and then turn into stock.
Many people buy additional baskets to store foods inside their freezers, but I didn't do that for a couple of reasons. One, I didn't want to spend the money. Two, my freezer baskets have sloping sides, so if I bought straight-sided baskets I would not be utilizing all the available space.
I know some of you must be wondering what type of refrigerator I would like. Not the side-by-side. I can't get anything to fit in those, either. This is going to sound crazy, but I really like the good ol' fashioned top-freezer models. Of course, Smegs are pretty. But even the basic jobs you get at Sears are great, if you ask me. I have one in the garage, and I get so much use from it. The top freezer is much easier to organize and the fridge cabinet itself is cavernous. I feel like I could store a body in there and still have room for pickles. Something the neighbor with the loud music and even louder dog would be wise to consider.
::::::
This post was part of The William Morris Project, a weekly series that details the steps I am taking to create an intentional home. You can see more of my goals and completed projects
here
. To learn more about this project, start
here
.
::::::
Now itís your turn! Feel free to share how you have lived according to the William Morris quote, ďHave nothing in your houses that you do not know to be useful or believe to be beautiful.Ē Made a plan? Cleaned a drawer? Bought a sofa? Tell us about it with a link or comment. A few guidelines:
Please link to a specific post, not a general blog address.
Your post must relate to your efforts to create an intentional home. I have a delete button, and I'm not afraid to use it.
No links to giveaways, please.
There are buttons to add to your post or sidebar, too, thanks to the lovely Alex, of Type A Calligraphy. Let me know if you would like one for your site. Please link the buttons back to Pancakes and French Fries.
Letís use this weekly link up as an opportunity to gather inspiration and motivation. Click links. Discover new people. Say hi and good job. I know I will.