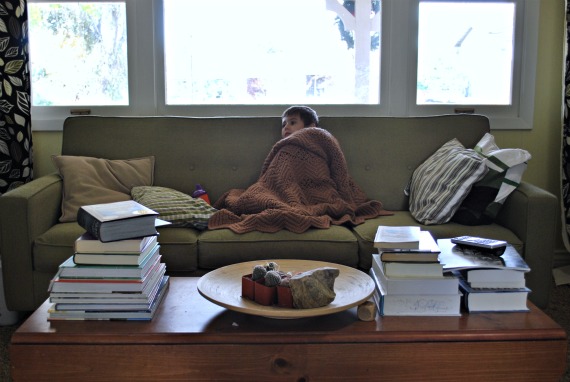 We moved the sofa under the window. We like the way it looks, though it isn't the ideal spot for watching tv. And where the sofa once was, so sits my desk. A tiny, thriftstore scrap of a thing beneath three behemoth pictures of good looks but little meaning. I bought them when I was practicing, and they remind me of who I once was: safe, nondescript, and able to fit in anywhere. Living room, waiting room, everything the same. That is why I want to get rid of them. Or maybe I want to get rid of them because I'm still the same person, and that bothers me. I haven't yet decided.
Our Thanksgiving week started off well with a Monday full of movies and golf ranges and meals out as a family. But shortly after Tuesday started, so did Nicholas's stomach flu.
It's been here ever since.
He wakes up in the middle of the night, this morning at 3:30, and grabs the bowl by the side of his bed to get rid of whatever it is he is harboring. All by himself! We are proud, congratulatory even, at 3:30 in the morning. Such a big boy, that's something a seven year old would do, we say as we finger comb his hair and rub his back. And while we know no one will ever compare him to Pollack for grabbing the bowl on his own, we are happy he does. It helps.
We moved the desk under the pictures. We like the way it looks, though it isn't ideal for writing. I still can't tell who might sneak up on me. And where the desk once was, so sits the armchair. I now have a lovely reading nook, one I took advantage of this week of roiling tummies. I read three books from my unread library. Three, which is also the number of times Nicholas tricked us into thinking he was better. Hardly a coincidence, I say.
I learned two things this week. (1) Hotdogs always precede a bout of stomach flu in our house. Always. Related: food that looks the same after consumption, digestion, regurgitation, and a 16 minute heavy duty wash in hot isn't really food. (2) You can read three books of literature in one week, but you can't follow it up with a romance novel about a circus performer who may or may not be the great grandson of Alexei Romanov. It will go down as smoothly as a basket of hotdogs.