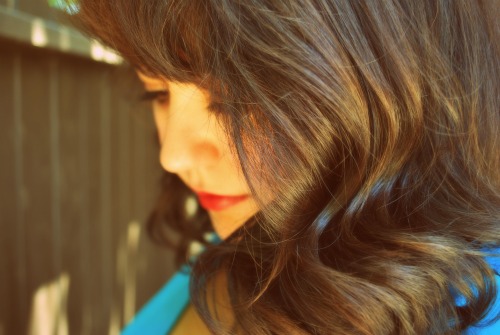 I stayed in my pajamas on the morning I shared the Real Simple mention. The new school year loomed before me like a Dickensian ghost, the one about the future, obviously, and it looked grim: early mornings; busy schedules; wrapping paper fundraisers. Given the tenth circle of hell is a room full of neighborhood kids with Innisbrook catalogs, I felt justified in lallygagging. Besides, I was having too much fun replying to emails and tweets. Still, I probably should have put on a bra.
Or drawn the curtains closed. Either one would have worked.
I sit with my back to a large picture window overlooking our front porch when I am on the computer. It's an inconvenient location because I can't avoid people who come to the door if I don't have the curtains drawn closed. They can see me at the same moment I see their reflection in my monitor. Only in extreme emergencies do I ignore someone at the door when my cover is already blown.
I saw my neighbor's reflection in the monitor too late to do anything more than wince. My hair was in a ponytail slap-hazard from sleep, I was wearing ill-fitting pajamas bottoms with a law school t-shirt, and didn't have on a bra. My cover was blown, and I considered it an emergency.
My neighbor decided at that moment to smile at me and wave. Lovely.
I lumbered to the door, my untethered primate teats making track marks in the carpet behind me. Convenient, actually, because had I died of embarrassment as I thought I would, The Mister could have at least followed the trail and found my corpse. But no, I survived and answered the door.
The window must need scouring because my neighbor face looked a bit green around the gills when I opened the door. I don't think she was expecting so much HOT MESS.
"Hi. Sorry, I'm a mess."
"Oh, gosh, HI! Completely my fault. I didn't mean to come over so early."
I looked at the clock. 11:30am.
"It's not early. I just, well, yeah."
She got on with it. Garage sale. Neighborhood. Proceeds to go to charity. I nodded in all the right places and asked questions to make it seem like I was completely at ease with my breasts around my waist and my hair a rat's nest set on the diagonal. Slowly, stealth-like, I leaned against the door frame and casually folded my right hand across my body and into the crease of my left elbow. My left hand played with my chin, my lips, my earlobes. The appearance: thoughtful, interested. The mission: heave my breasts up and out by imperceptible degrees until they sat, somewhat, within the upper half of my torso. When she handed me the flyer I had to start all over. I guess I could have used the flyer to cover up, but at 8.5×11 it seemed like child's play. I'm more of a ledger gal.
We said our goodbyes. I went to the bathroom and confirmed my worst fears. HOT MESS.
Since it was noon, I decided to finally start the day and escape the house until my dignity returned. IKEA seemed like a good place to regain my composure. Ten minutes later, I was dressed and ready to go, deciding to forgo curling my hair and putting on makeup. I walked past the bathroom mirror and decided a little makeup wouldn't hurt. The hair, though, would have to remain a raven-black, freshly colored, poof-ball. A brush is one thing, but I wasn't about to curl my hair in triple digit weather. Besides, it's not like I would see anyone I know in Orange County. [<—–FORESHADOWING]
The boys and I left the house, all of us looking more HOT MEH than HOT MESS. It was an improvement.
We were at IKEA and rounding the corner to look at some frames for my gallery wall in process when I heard a voice behind me say, "Excuse me, I don't want to sound like a blog stalker, but are you Jules from Pancakes and French Fries?"
Holy out of body experiences, Batman!
She said her name was Lesly, and she was impossibly nice. At least I think she was, because in person I am socially awkward and goofy. I was so nervous that most of what she was saying sounded like wings of a hummingbird in motion. Or maybe that was my heart, because, it bears repeating, I was really nervous. Nervous enough that I completely forgot I birthed the two children I was surprised to find standing next to me. Leslie pointed them out to me.
"Oh, yes! These are my boys!" Please don't look at their mismatched outfits.
We talked about the blog, and life, and yo-yo dieting. I apologized for my hair. Seriously, hot meh.
After a few minutes, we parted ways, she to find more school supplies, me to float three inches off the ground towards the register. I smiled smugly, but eventually my internal squeals weren't enough. I looked over at Mikey.
"Mikey, did you see that nice woman talking to mama?"
"Uh, yeah."
"Did you hear what she said?"
"No."
"Oh, well she said I was a good writer and that she likes my blog."
"Okay, mama." He darted in front of me and allowed the heavy door to the womens' bathroom to crash into the front of my cart. My ego would not be deterred.
"Right, well, did you know mama writes? And that I write about you and Nicholas and daddy and the stuff we do?"
"Uh…" We walked into the stall together. Despite my pique at the fact he didn't recognize my celebrity, I let him go first.
"Well, it's true," I said as I settled in to take my turn, thankful I was wearing a long tunic. "What do you think?"
"Wow, mama," Mikey said, eyeballing my covert moves, "I think your bottom is really big."
Perhaps, but not nearly as big as my head.