Two of the most pressing items on my list were painting the quarter round on the toe kick and the sink cabinet doors in the kitchen. The quarter round had chipped paint in several areas, and not in areas of enough traffic for me to think it was a matter of me repeatedly kicking the same spot while I prepared food. The same went for the sink cabinet doors. The paint along the top of the cabinet doors had flaked off over the last few years and is bare wood in some places. It looked terrible.
This isn't the first time I've had to deal with the sink cabinet. In fact, I've had the doors replaced twice the first two years we had the kitchen for the same reason. A year after the second replacement, the problem started up again. This time, my cabinet dealer was no longer in business. I figured I would have to repair the doors myself. So it sat on the to-do list I keep in my head for two more years.
A couple of weeks ago, probably while I was cleaning the cabinets or organizing the drawers, I started thinking about the quarter round and sink cabinet doors. It occurred to me that I could contact KraftMaid, the manufacturer of our cabinets, and see if they could help with what I felt was a warranty issue.
I went back and forth with customer service over email, and they agreed to send out a representative to see the problem firsthand. Fred came over last week, and explained to me the problems with my cabinet doors center around our farm sink. I was able to get two more doors under warranty, and now know how to prevent–or delay–the cabinets from chipping in the future.
It's a bit detailed, so I will share it in another post soon because I think it is important for those who are considering farm sinks or painted finish cabinetry. For today, I want to stay on task and focus on what I did Day 30: painting quarter round.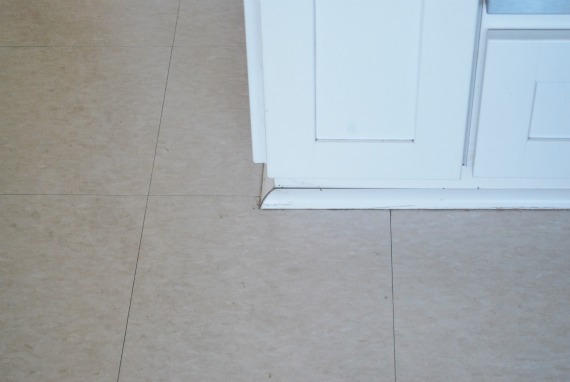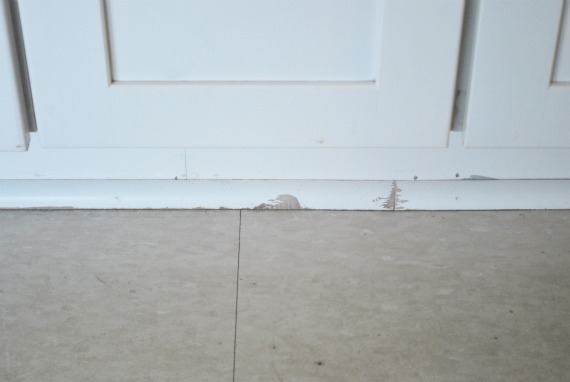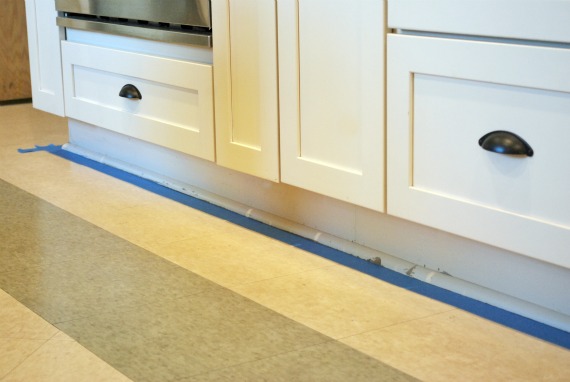 I don't know if you are the type of person who is bothered by little things like chipped quarter round, but it drives me bonkers. It's the sort of small detail that can make your home look shabby, and not in a way that is intentional, franchised, and sold at Target. There is shabby-chic, and there is just plain shabby. This is just plain shabby.
But this was not a warranty issue. It's what happens when you wash your floor regularly with a wet mop and live in an older home with a floor that dips and waves. This is water damage.
Fred presented me with several options.
I could buy more quarter round through KraftMaid, but he didn't recommend it. The problem will continue until I get the floors leveled or replaced, and KraftMaid quarter round is expensive. We want the floors replaced with a different material, but can't do that anytime soon. Buying new quarter round through KraftMaid was out.
I could replace the chipped quarter round with a stained wood, which would be more durable and less likely to show as much water damage. I don't like the look of stained quarter round, especially on against different floor and cabinetry. No.
I could replace the quarter round on my own, or repaint it on my own. Repainting it on my own was the least expensive option, so that's what I did.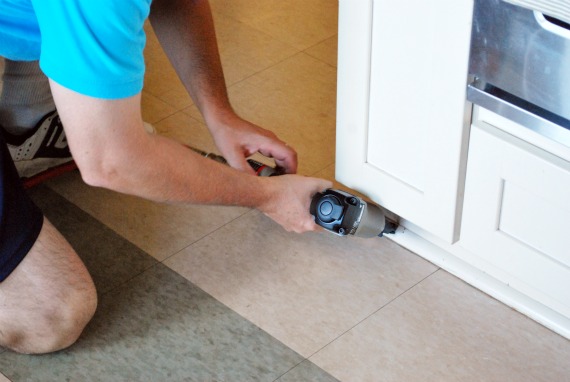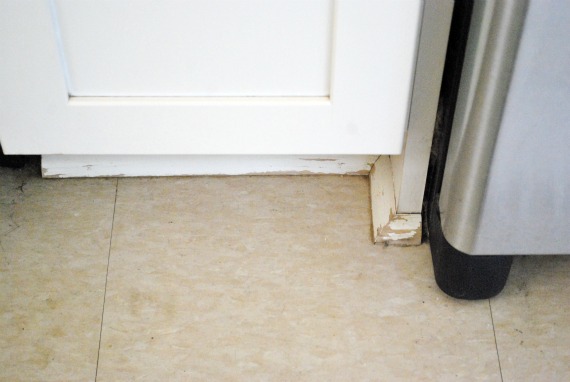 But first I had the Mister tap in a few nails on a corner that pulled away from the cabinetry. I can't tell you how happy I was to see it back, somewhat, in place. This has been driving me batty for months. I could have done it myself but, honestly? I woke up on Day 30 with a painful sore throat and achy muscles. I wasn't even sure I was going to be able to do any project at all. Delegation to the rescue!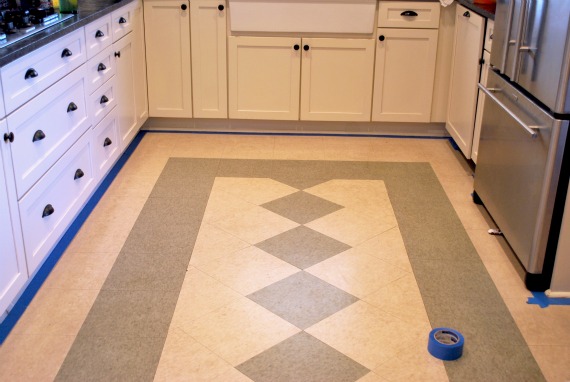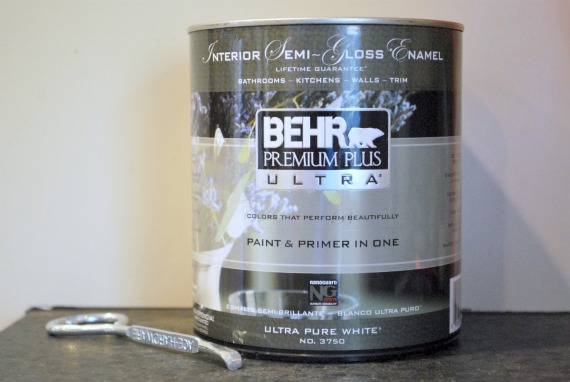 I did† manage to do the rest under a haze of cold medication. And, really, it wasn't that bad. A kitchen as small as mine (9×11, roughly) takes minutes to tape off.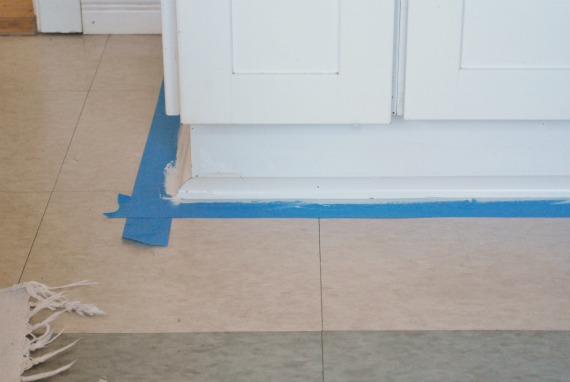 I decided to save money and take a piece of trim to Home Depot and have it color matched. With two boys in private school, our discretionary income is very, very low. I tackled every project this month with the budget as a primary concern. Fred recommend I use oil-based paint, but after crunching the numbers, I decided to stick with Behr's Premium Plus Ultra paint and primer, which still costs a whopping $18 for one quart. I say whopping because I only needed 4 tablespoons of paint. Blargh. I tried to get a sample pot, but those only come in flat finish. Oh well.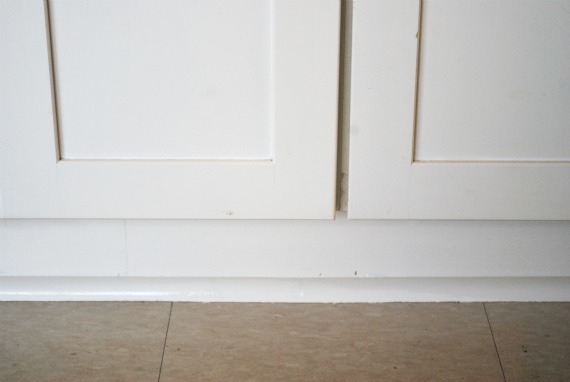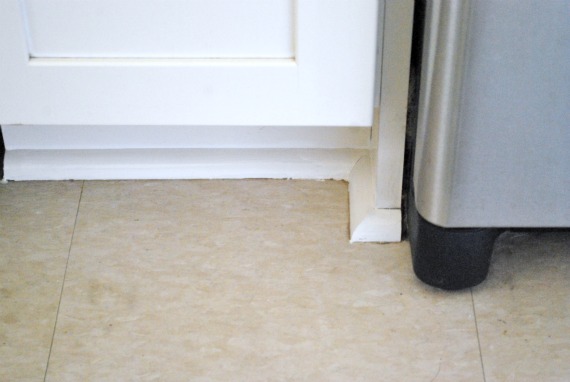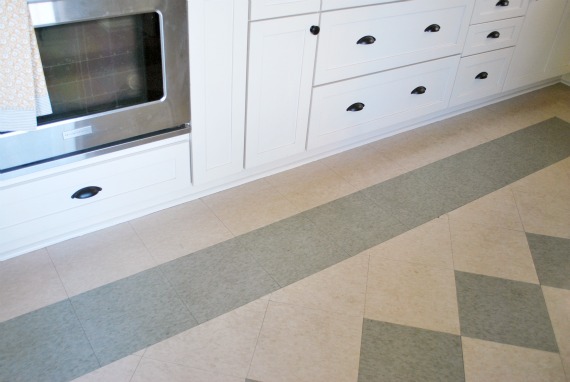 The painting went quickly, but after the second coat I was ready to toss in the towel. My throat really started to hurt, and I needed to stop. It's not a perfect job, but it still looks great, much better than before. Up close…maybe not that great. But, the way I see it, if you're stooped down on my floor inspecting my quarter round at 40x magnification, you're not one whose opinion I value anyway.
I did notice while I was down there that the toe kick needs repainting as well. Another day, another project.
I wanted to share one more thing about my visit with Fred. I forgot he was coming, to be honest. I didn't get a chance to tidy up like I normally do before people come over, so he walked into the kitchen and saw it in its "everyday wear." It was exactly what I needed.
He noted repeatedly how nice the kitchen looked, how he couldn't believe the cabinets were 7 years old, and that they were almost "showroom condition." He complimented me on how organized everything was (he had to go through my cabinets to check for water damage, which I was not expecting), and marveled at our pride in ownership and how well we maintained the kitchen. He said, and I quote, "Clearly you clean your cabinets, so I don't have to tell you they need to be cleaned and polished at least once every year." Hah!
Fred's comments made me so happy. It made this long month of hard work worth it, and was the motivation I needed to keep going, even when I don't feel well and am counting down the seconds until I get my weekends back. It made me appreciate the importance of general upkeep and maintenance and consider other little touches our home may need. Yes, it's boring to scoot across a floor on a Saturday and paint trim, and spending $18 to use an ounce of paint stings, but it's worth it.
It's really worth it. Don't give up. Keep working, because you can do it in your home, too. Shish-boom-bah, kumbaya, and all that jazz.
New here? For the next 31 days Iím living according to the famous William Morris quote. You can learn more about the project here.