On Day 29 I woke up early to help the boys into their Halloween costumes. They both had festivities at school that allowed them to dress up. I couldn't attend Mikey's, but I was able to see Nicholas and his classmates walk around a few planters a couple of times and call it a parade. There were some original costumes, unlike the Ninja Turtle Target wonder Nicholas wanted. There was a magician, a Pippi Longstocking, twin iPhones, and a roaring 20s flapper!  I wonder, are the children open to fun and unique costumes, or are the parents pulling rank? I'm greeted with rotten tomatoes every time I suggest something other than a franchised character.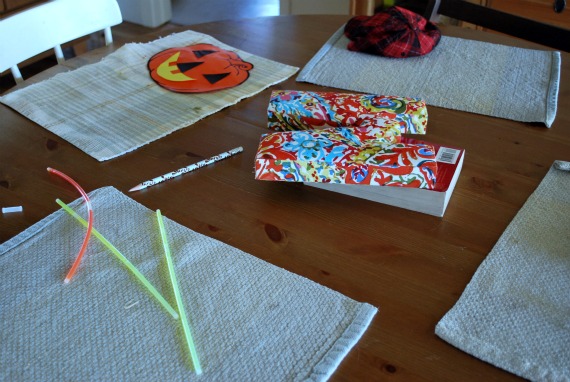 After the parade there was a pizza party, so I didn't get home until late into the afternoon. The project I planned for needed more time, so I scrambled to find something else to work on. Something else other than clean the house, which is in shambles. That's what you'll discover if you do this project in your own home. While the core is getting clean, the surfaces suffer. The process is similar to going on a diet cleanse or detox. On day 29 your colon shoots out rose petals while your face looks like a slice of microwaved pepperoni. My table is pepperoni.
I paced the house for an hour looking for something to do that wouldn't break my spirit. But this late into the month, the air hangs the scent of despair. Everything seems insurmountable. Every project is too long, too expensive, or too boring. In short, nothing is good and everything is stupid. Like the table I didn't clean up since breakfast. (Please, dinner.)
Each time I circled the house I glanced at those place mats (at least 7 years old) and thought how much I dislike them. And that I should wash them or put them away or just clean the table and be done. On lap 25 it occurred to me that if I disliked them so much, I should consider donating them and the other linens I bought on impulse and now have tucked around the house.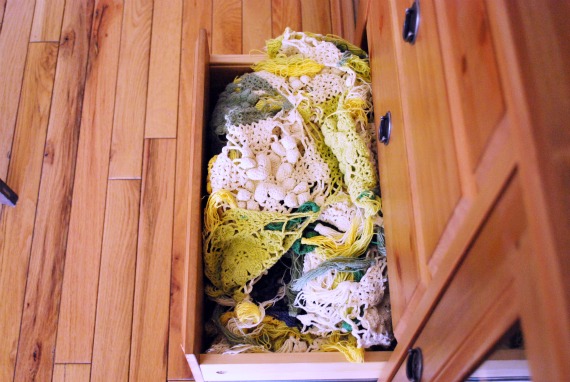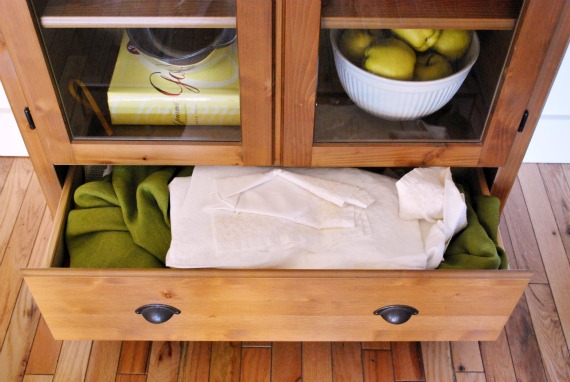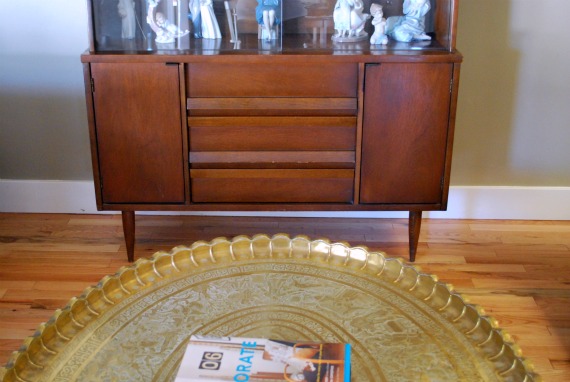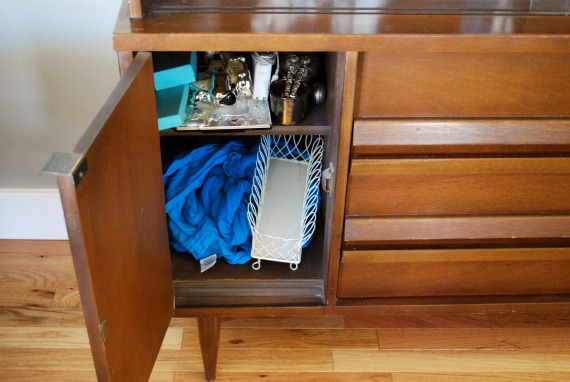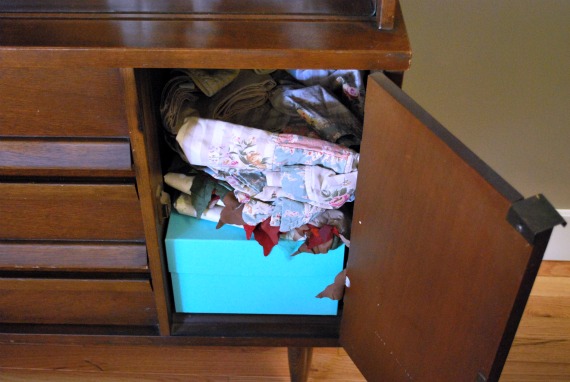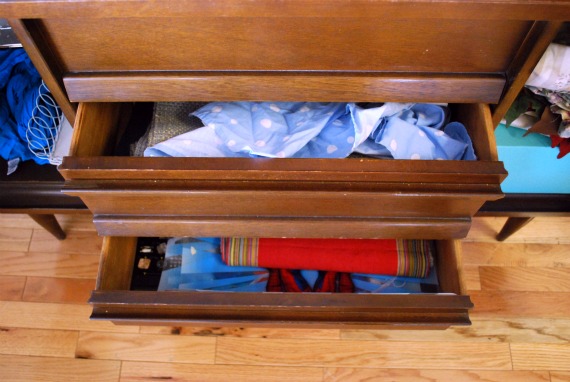 Here…there…everywhere.
My mother's philosophy on consumption is simple. Buy the best quality you can afford and treat it like family. Launder according to the label. Alter your clothing so it fits perfectly.  Treat stains immediately. Buy once, buy well. You'll save money in the long run.
I always saw her as traditional and boring, a professor with tweed blazers and príncipe valiente hair. Why must all the table linen be cream or white? How about a little pattern or a crazy holiday motiff? Let's try some fun and trendy shoes, something cheap so you don't worry about it when it goes out of style next year.
She just shrugged her shoulders and waved me off. I couldn't understand why she wouldn't buy something fun. She couldn't understand why I would buy something of inferior quality that would last one year, maybe two.
Seven years ago I was into aqua, so I bought everything blue-green. Two years before, I thought red was a great, so I bled place mats with ball fringe into the kitchen. When I registered for dishes four years before red and nine years before aqua, I thought white plates were for suckers. I asked for green.
In between green and all throughout aqua, I bought turquoise and yellow and russet and sage. I bought leaves for Thanksgiving, plaid for Easter, and oceans of blue for the summer.
I bought them here…there…everywhere. But I didn't buy them anywhere nice.
I made sure to get a good price, but didn't bother myself much with how they were made or who might have made them.
And my mom always complimented me on my colorful linens.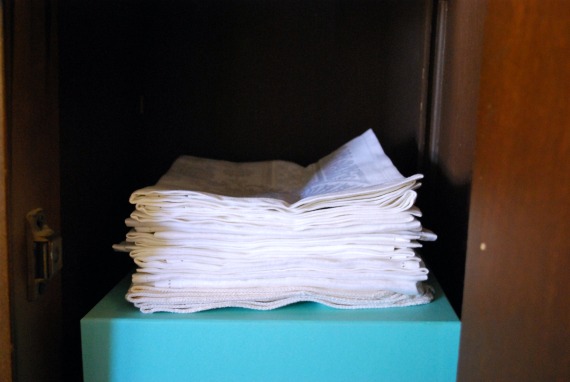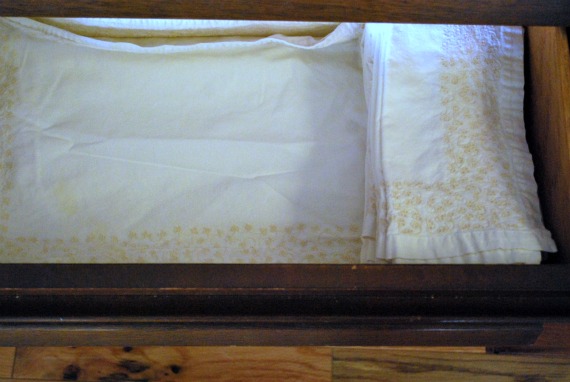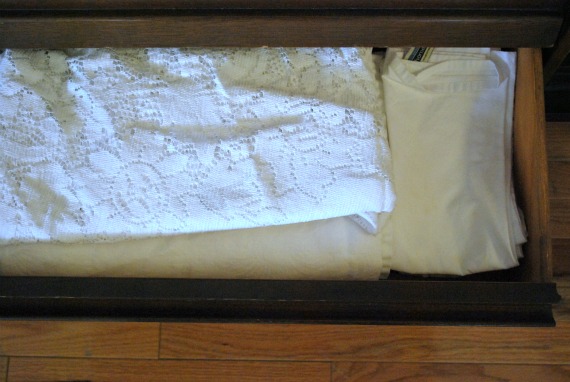 After a good bit of sorting, I decided to keep a set of place mats and napkins in cream I purchased when we first got married. Some place mats are stained, but they are good every day linens until I find what I want–and can afford it. The only other items worth keeping is a large linen tablecloth from France with matching napkins (also 12 years old) and a delicate lace tablecloth. The linen tablecloth was a wedding present from my mother. The lace table cloth is hers, and it probably 30 years old.
As for all the fun stuff I bought over the years…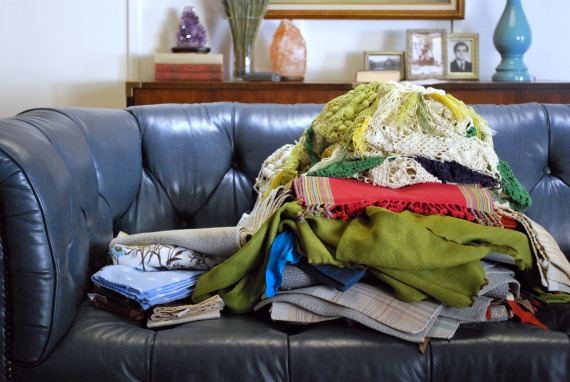 Yeah.
New here? For the next 31 days I'm living according to the famous William Morris quote. You can learn more about the project here.