October is the month for horror movie releases. So far I know of The Thing, The Woman, and Red State. No thanks! I have a zero-tolerance policy when it comes to scary movies courtesy of an overactive imagination and a childhood friend obsessed with Ouija boards. Despite this, I managed to inject my month with good dose of fear and so can you. Skip the gory movies and clean out your spice cabinets. I promise you will be horrified.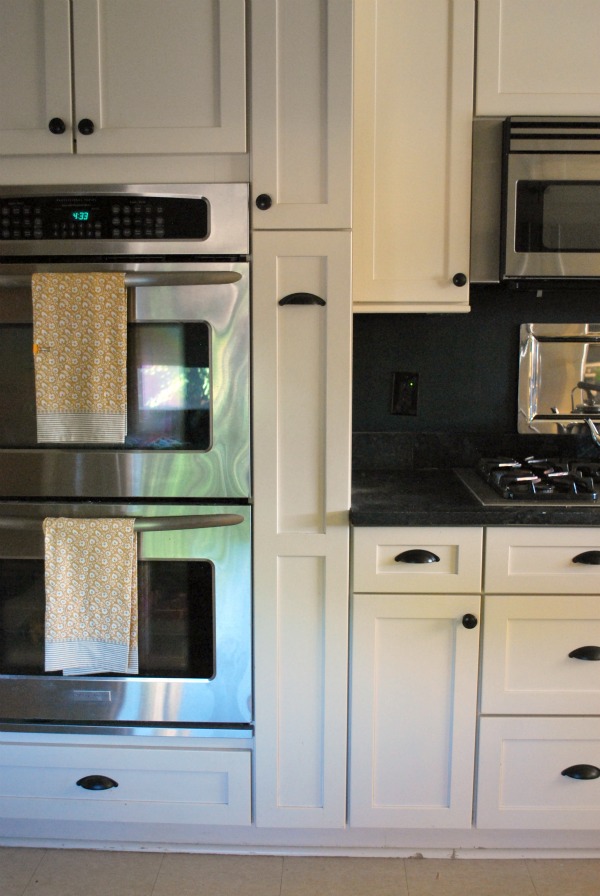 Speaking of horror: my pictures. Trust me, I know. I don't have a wide angle lens, which is how all the DIY and design bloggers take great interior pictures. Not me! I'm slapping Vaseline on my size 14 hips and wedging myself in tight corners to take walleyed pictures of cabinets. Just so we are clear, I do not live in a circular home, no matter what my pictures suggest. I do, however, live in an older home. When the horizon points in three different directions that's actually true to life. There isn't a level floor or plumb wall to be found around here.
So. The spice cabinet. It's the long pull out to the left of the stove in the above picture. The shelves inside are narrow, about two spice bottles deep. The cabinet was full and unorganized. It was due.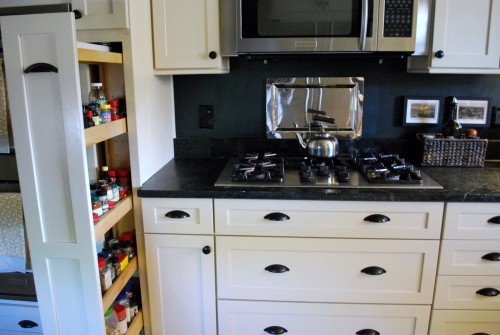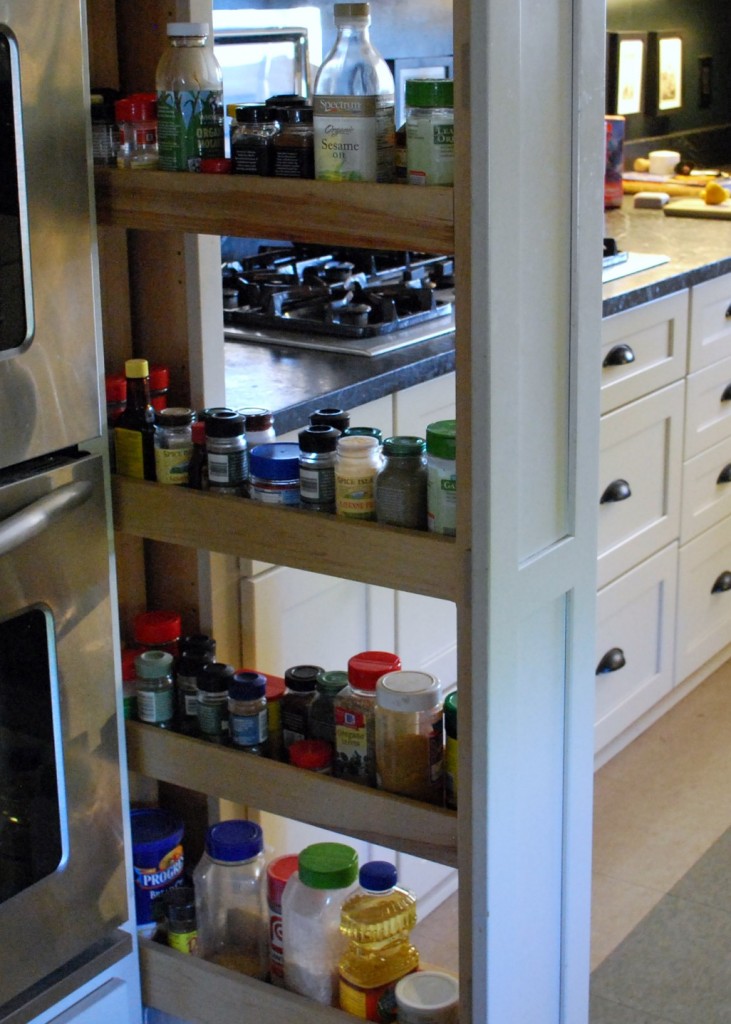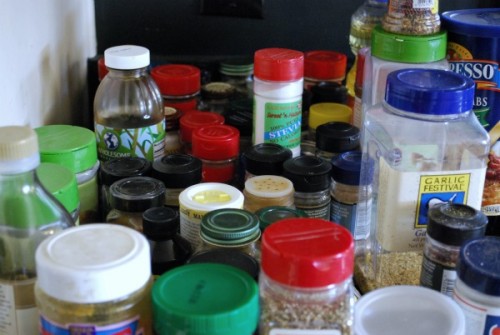 I took everything out an put it on the counter. The mind boggles.
There were duplicates everywhere, some items had dust on the lids (!), and some items were so close to empty you would think I was a child of the depression hoarding oregano leaves for the next batch of stone soup. Note to self: it's okay to toss out a bottle of vanilla with less than a teaspoon left.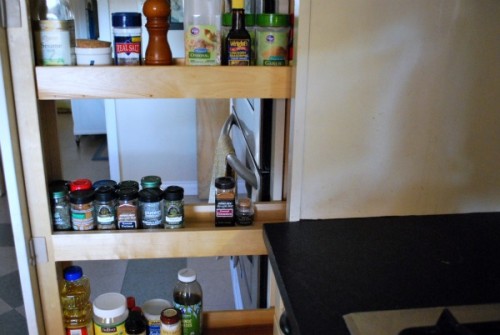 By the time I was done I had nothing left. I moved some items from other locations to fill the cavernous void left behind by the spice exodus and now have a rough idea of how I will purge and reorganize the pantry based on all this extra space.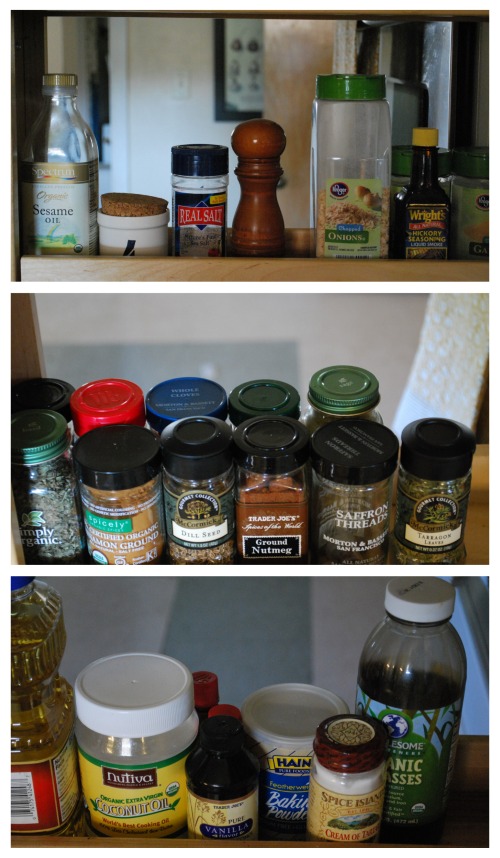 That Cream of Tartar has never been opened but, since I don't remember when I bought it, I later tossed it…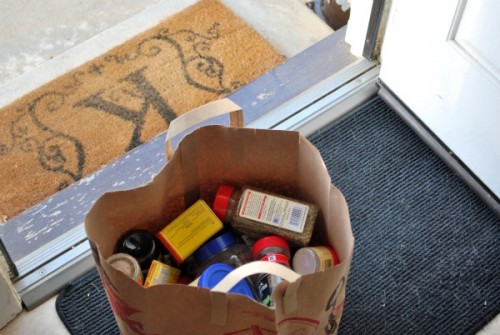 along with an entire shopping bag full of spices. The mind still boggles.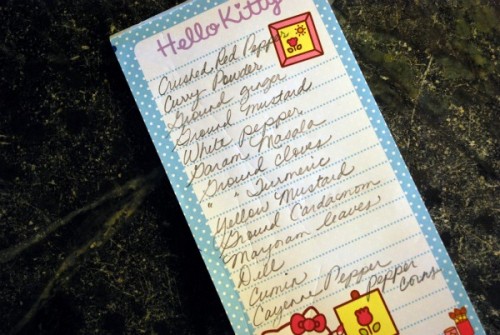 I wrote down everything I purged too keep track of what I no longer have. I will buy ingredients as I need them, and in the meantime will do some research on cooking with spices. I'm pretty sure the world won't come to an end if I broaden my horizons past salt, garlic, dill, and oregano.
p.s. I have no idea why I have a Hello Kitty notepad. I found it while cleaning out my desk. Maybe I bought it for one of my nieces? (Sigh.)
New here? For the next 31 days Iím living according to the famous William Morris quote. You can learn more about the project here.