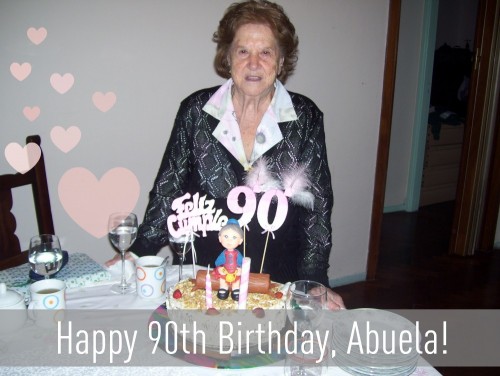 On the 21st of August, my grandmother turned 90 years old. Not too shabby, I say! Here is some trivia about the birthday girl.
Her name is Rosinda, a Teutonic name that means famous warrior.
Although her name is Germanic, she is Italian. Her parents immigrated to Argentina from Northern Italy in the early 1920s.(Shortly after World War I.)
She had five pregnancies and six daughters. Her "last baby" ended up being twin girls.
She has never been sick besides the usual seasonal illnesses, has never had surgery, takes no medication besides a multi-vitamin, and has never been hospitalized (except for giving birth).
She lives alone.
She is a whopping 4'10".
Her nicknames are Rosie, Bu, Mamá, Doña Rosie, and Peti, which is short for petisa–a slangish word for short. (See above.)
She has yet to meet the Mister or our sons. :(
It is my one goal to get to Argentina soon. Please, God, soon!
¡Feliz Cumple, Bu!