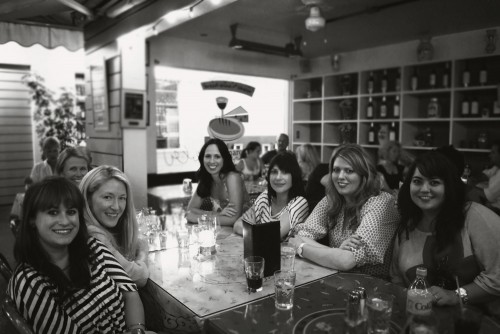 I posted the first picture on facebook Sunday afternoon. On Monday one of my oldest and best friends, Tiffany, called me.
"That picture doesn't really look like you."
"Nope."
"I mean, it's not your best picture."
"Nope."
"Is that the only picture you have of the book signing?"
"Nope."
"Okay, so am I to assume the rest aren't that much better?"
"Yup."
The pictures aren't great. They aren't bad, either, thanks to Tristan's editing skills. I wish my arm didn't look like a ham hock in that last picture, but oh well. The good news is that the quality of the pictures are inversely related to the fun had by all. I had a wonderful time and I'm glad I went. I would do it again in a heart beat with a different outfit and a portable swamp cooler.
Between the earthquake and the hurricane, I should have expected a weather calamity. I didn't. Instead, I drove into LA under the blast of our Subaru's air conditioning, smug with my good hair. I maneuvered my way into a tricky parking garage, found the perfect spot within minutes, and reapplied my lip gloss while a favorite song played.
Then I got out of the car and began the slow and steady process of death by dehydration. I refer to Friday's weather as Cancún in August. Or, for those unfamiliar with Central America, Swamp Before Hurricane.
The humidity. My God, the humidity.
I dashed from the 3rd floor of the garage to the front doors of Anthropologie, my feet keeping time with crazed internal chanting. My makeup is melting! My makeup is melting! My makeup is melting! I was like Paul Revere, but with first world problems. And, because bladders are squirrely devils, it wasn't until I crossed the threshold that my pelvic floor rang the alarm. The nearest bathroom was on the 3rd floor of the Barnes and Noble a few stores across the way. Naturally.
So I ran across, then up, and then back down and across again. Once inside Anthropologie, I scanned the store and saw no one I knew, giving me time to buy my copy of Decorate while I waited. Except, something physiological happened. I don't know if it was the running in high heels, the humidity, or the hassle of finding a book without a wrinkled or torn dust jacket (seriously, do publishers ship by burro these days?), but three steps into my walk towards the register my pores opened up like the Gates of Mordor and released a torrent of sweat so powerful I am surprised display tables didn't float away in a sea of anxiety.
I sloshed my way to the front and stood behind two slender, petite women. For once, thanks to my heels, I was tall(er).
But the sweat kept coming. It trickled down my scalp, past my shoulders, and down to the waistband of jeans 3000° thanks to a hefty stretch-cotton ratio. I fanned myself and asked the slender woman ahead of me if I was in the right line.
Of course, it was Alex. Alex, looking at me in gentle, doe-eyed wonder while I fanned myself like my grandmother after a walk to the butcher. And her friend, Lindsay, who interns at Rue. Naturally.
When we went to grab seats, I was sweating. When Tristan showed up, I was sweating. When the presentation started, and then ended, I was sweating. I was sweating while I waited for Holly to sign my book. Waiting for my friends, more sweating. Going to sit outside on the only benches available, sweating!
I wasn't surprised when Tiffany called to tell me I looked a little off in the pictures. I felt as lovely as a dead body left to float in a river, and the pictures are black and white for a reason. Tristan said it was the only way she could "mask the myriad of horrors."
They are bad, and you'll never see them. Naturally.
But! The presentation was inspiring. Leslie Shewring from A Creative Mint and Betsy Burnham of Burnham Design were the special guests. Holly was warm, open, and took time to speak to everyone in line. Rather than a quick signature, everyone received a personalized note. Afterwards, Holly, Leslie, and Leslie's friend, Kara, joined us for dinner at a French outdoor cafe. (Holly is sitting to my right in the group shot.)
The picture of the gentleman reading the book is a funny story. They were tourists from London enjoying the mild weather (sarcasm!). Since we were at an outdoor cafe, our tables were no more than 6 inches apart. He asked me if we were all friends celebrating a birthday, and I told him we were celebrating, but not our age. I shared with him my copy of Holly's book and he got a kick out of meeting a best selling author.
I did, too. Naturally.