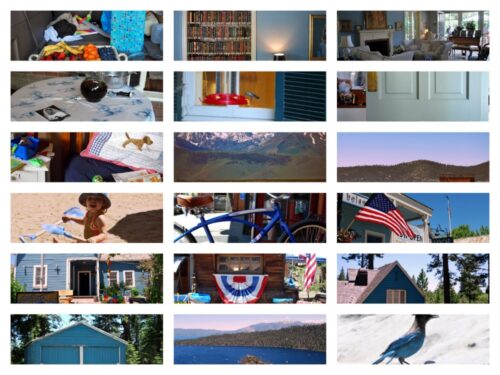 Once again, I am amazed by how this series falls together for me. Not all the time, but five months out of six isn't bad for a project where I predicted a year in advance which colors I would see most in a month. When I decided on peacock (blue) for June, I did it thinking I would be in Lake Tahoe for two weeks, like last year. (It doesn't get more blue than that!) But with everything going on with my friend, I felt bad leaving town. I decided to shorten the two weeks to the 4th of July weekend. It was a good move.
I spent most of June at the house of my friend's parents. Never, in the more than 15 years of visiting, did I notice all the blue in their home until this past month. The rest of the pictures for this Color Story are from our trip to Lake Tahoe, which is famously blue. Yes, I cheated and included some pictures taken on the 1st and 2nd of July. In my defense, there was no way I could keep myself from posting a picture of a teal garage just because I missed seeing it by one day.
This is my first time using a photo gallery. I hope the page loads faster for those of you on a mobile device. I was trying to access my blog with a Blackberry (not mine) along Highway 395 and almost had a nervous breakdown waiting for the pictures to load. This post has 18 images and is a perfect post to try out new (to me) technology.* I had fun putting together the gallery, but I'm disappointed to see it jumps back up to the top of my blog after each image. I wanted something smoother, less choppy. Oh well, the hunt for displaying loads of pictures on blogs continues. I did put in detailed picture descriptions I would normally leave out  in a regular post, so that might be interesting. I hope you like it!
* The Mister just pointed out to me that each picture means the blog reloads, albeit a bit faster. Sigh. Clearly, I don't own, use, or understand smartphones. So much for making things more user friendly.
This was a color story. Or rant. Whatever. Please leave a link to yours in the comments, if you are so inclined. Otherwise, will you join me in June? The theme is silver–the white hot color of midsummer. Find any shade of blue around your home, your town, or your inspiration folder. Stuff you make, stuff you buy, stuff you photograph. No pressure. (Do it.)
[imagebrowser id=1]