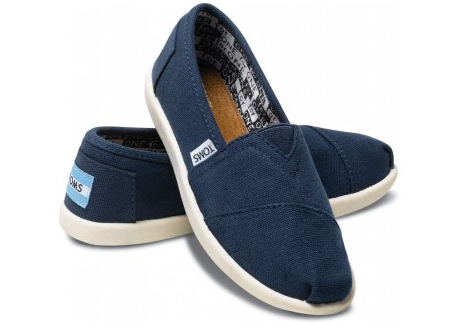 What do you think of TOMS for boys 2nd grade and up? I'm not sure I'm on board, even though their marketing plan says I should be. For Nicholas, sure. They look like sweet little slip-ons he can put on himself this summer. For Mikey, my gut says to ignore the hype and buy some Chucks or Vans. I hear Toms start to stink after a while and that they don't survive the wash well. Mothers of young boys, I think we can agree that's a problem.
Also, I think they look a bit feminine. They have a slender, delicate form I can't picture on rough and tumble boys.
Every time I think that I feel judgmental, like I am committing some sort of gender bias. I went to the TOMS website to look at the kids section, eager to squash my own preconception. The lead model is a blond, long-haired child and, hand to heart, I can't tell the gender. Could be a girl, could be a boy, could be Shiloh. I decided it was a boy because two of the remaining three models were girls and campaigns are usually spread even when it comes to gender. I'm probably correct, but it's important to note that I don't normally have to use deductive reasoning to ascertain gender among children.
Not to be deterred, I searched for images showing the shoes in action. I clicked on the Youth section and saw that 99.9% of the images were of toddlers or girls. I found one boy between 8-10 years of age. He was sitting in a dimly lit room with flat-ironed angular hair, leaning against the headboard of his bed, strumming a guitar. Looking melancholy.
Shoes for boys are difficult. You understand, as a mother, that nearly everything will be questionable in appearance. Form isn't as important as function; it's a fact. But still, I pine. I pine for cute shoes that can withstand the blast of a kickball, make believe paleontology digs, and the aggressive stops and starts of summer long bike rides.
Don't even get me started on sandals.