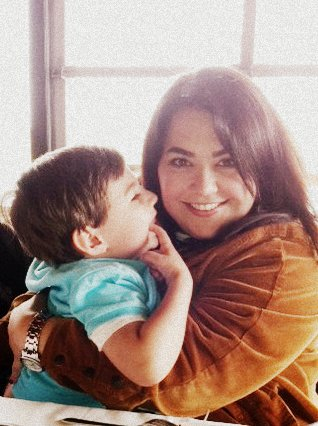 Friday was a lot of fun. Towards the end my eyes were burning from wearing mascara and eye shadow (am I the only one who has that problem?), but it was worth it.
On Easter Sunday I went the opposite route. The cold Mikey had on Thursday and Friday made it's way to Nicholas Saturday night in the form of a croupey cough. I "slept" sitting up in his bed next to the humidifier, either drenched in sweat or shivering cold. It sounds terrible, but I loved it. Puking kids, not so much. Fevers make me nervous. But the common cold or croupey cough? The kind that make otherwise independent little boys hold onto you like koala bears? Heaven. I remember how I felt as a child when I was sick, that feeling that no matter how bad I felt, I would feel so much worse if my mom's arm wasn't draped across my waist or her hand rubbing my back. By the way Nico would reach for me in his sleep, I knew he felt the same way. I love that.
I didn't love going to brunch a few hours after our 5:30am bed time, but we survived. My sister in-law, Erika, took this picture with her cell phone. I think she did a great job. I'm always behind the camera, so I admit to being a little excited about having a picture of me and Nicholas together. Too bad Mikey isn't in it. I made it my new Twitter profile pic, even though I feel a little disloyal, like I'm declaring a favorite son. (I'm not!)
This week should be fun. I hear the sunshine is coming, finally! I have big plans that include a bucket of sidewalk chalk, a lounge chair, and a book. Also, the Easter Bunny brought the boys a terrarium kit (Michael's has them on clearance for $5) and a fun book of science experiments (our third–I can't stop buying them). Here's hoping they make an appearance this week, too.