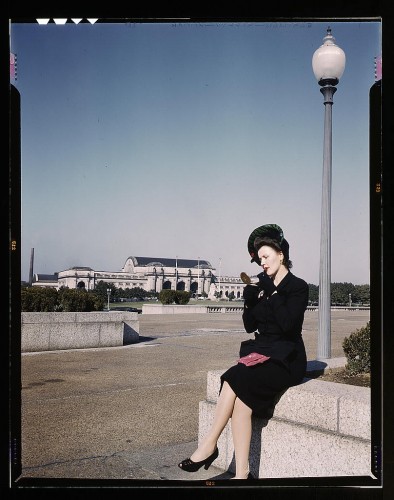 The old lady settled herself comfortably, removing her white cotton gloves and putting them up with her purse on the shelf in front of the back window. The children's mother still had on slacks and still had her head tied up in a green kerchief, but the grandmother had on a navy blue straw sailor hat with a bunch of white violets on the brim and a navy blue dress with a small white dot in the print. Her collars and cuffs were white organdy trimmed with lace and at her neckline she had pinned a purple spray of cloth violets containing a sachet. In case of an accident, anyone seeing her dead on the highway would know at once that she was a lady.
Excerpt, A Good Man is Hard to Find by Flannery O'Connor. Photograph, Library of Congress.
Learn more about Compositions here, and read all the Compositions in the series here.