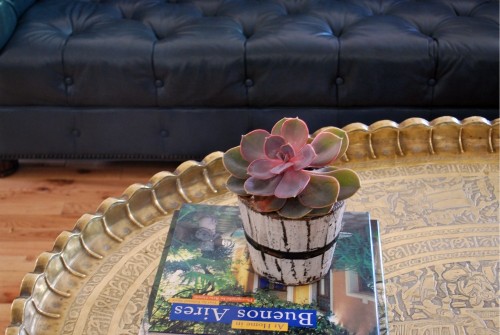 Of all the blogs I read, design blogs are my favorite. I love to look inside people's homes, see how they decorate, and define and develop my own style. Occasionally I get jealous, but not as often as I used to. Now that I think about it, "almost never get jealous" sounds more accurate. It takes a blogger to know a blogger, and I know that an entire world–messy, chaotic, imperfect–lies just beyond the camera's frame. Understanding this, I rarely covet these days. Instead, I admire design bloggers for their energy and ambition.
But I do wonder how they do it.
I understand they don't do it all; they couldn't possibly. But the tutorials, the painting, the vignetting, the monumental work that goes into designing and executing a room overwhelms me. I walk around my home and see so much undone, so much that could be better. It's not bad, but it could be better. And that's what kills me, that I have let things slide, let projects sit unfinished all because…well, I have no idea why. Apathy, I suppose. After enough trips to the laundry room, you no longer see the peeling wallpaper or perilously stacked shelf full of the Trader Joe's bags you have no idea why you keep.
On Monday, I remembered something obvious. I'm a list person. If I don't write out a to-do list, my day is at best unproductive. Hopeless and aimless is better, but I'll go with unproductive. My to-do lists are insanely detailed, and sometimes I add items to my list that I have already done or am about to do just for the satisfaction of crossing it off moments later. Things like…
make breakfast for Nicholas
make breakfast for me
eat breakfast
I break it down. I break it down, down.
So I broke the house down, down. I wrote out a 29 item list (not including sub-items!) that details every single project or task that needs completing for this house to shine inside and out. I walked around the house with a stranger's eyes and noted all the little things I usually miss until company is over. It was overwhelming to have it all on paper, but it was also freeing.
A funny thing happened once I wrote out my list. A lot of the stuff is doable. Yes, there were plenty of items that required money we don't have right now. I still went out and got quotes or priced out how much these items would cost so I can establish concrete saving goals. But a big chunk of the stuff? All I need is a block of time and, more importantly, time management.
The next few months will find me patching window frames, painting baseboards, donating items to charity and cleaning out closets. Little things that add up and leave you with what sums up to pride in ownership and the satisfaction of a job well done and–finally–completed.