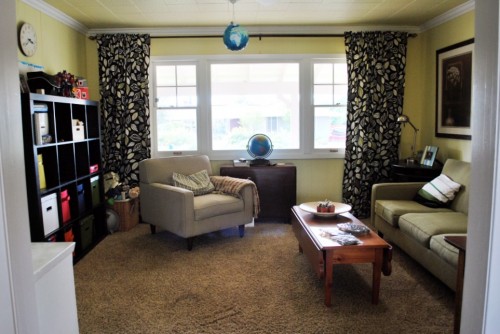 With Mikey and Nicholas now 4 and 6, the toy room is slowly morphing from consistent disaster area to old furniture retirement community. This is where the boys play every day, and on Monday I spent several hours cleaning and purging their toys. I have big plans for this room, not the least of which is to repaint the urine yellow walls. I also want it to return to its cozy den status from when Mikey was an infant and all the toys in the house could fit in two baskets. That's going to take time, so it will have to stay the way it is for now. It isn't much to look at, but it isn't terrible now that I can see the floor!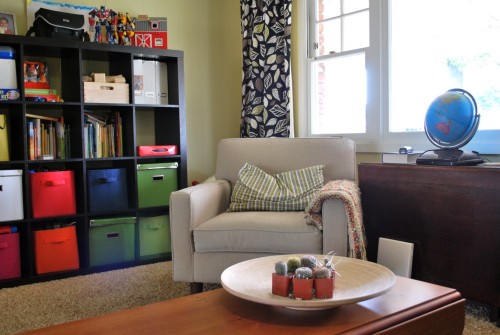 There isn't a single thing in this room that is less than 5 years old, except for the sofa and chair. But, given the abuse they tolerated under the RED SHARPIE OF DEATH, I put them closer to 73 in furniture years. The drop leaf table under the window is an antique and the coffee table is from my first apartment after graduating college (!!). We found it in my parents' storage unit in perfect condition. Three months in the toy room and it now has dings, scratches, and Hot Wheels tracks. This is why you put out of style, fifteen year old furniture in toy rooms. (I was still annoyed.)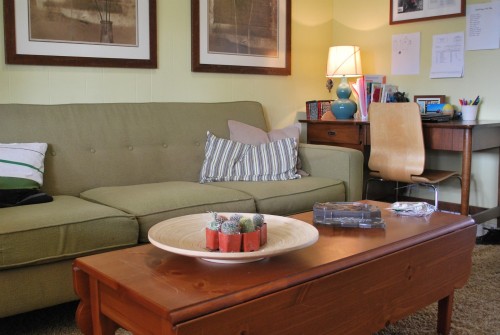 That is the infamous desk, the one I was sitting at when my neighbor came over. The Mister bought it for $20 at a thrift store. The GILBERT chair, which is super comfortable as a desk chair, was in the as-is section at IKEA years ago. I bought the turquoise lamp 6 years ago at Target, and it goes perfectly with my old color scheme. Hah!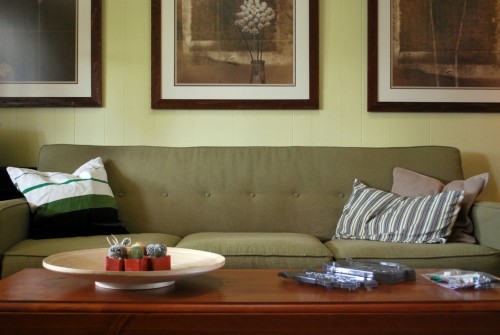 On the coffee table sits Bakugans, Star Wars legos, and cacti. Just like yours, right? The cacti were a gift from the Mister. He went on a business trip to Arizona and, because he knows me, ignored the purses, jewelry, and clothing and went straight for the plants. He forgot them at the airport and I was so upset that he called the airport on the off chance someone turned in his gift box o' Cactaceae. He figured he would end up going to Home Depot on the sly and buy me some more, but as luck would have it, he is the only traveling salesman married to a woman who thinks a gift box of prickly plants is a good thing. They were right where he left them hours later.
We used to have a long and low sofa against this wall–a little bit longer than those prints– but we sold it to make room for the toys. The prints were $4 each at a going out of business sale. I bought them because they were generic, and Michael's was having a custom frame sale (this was back when they did 50-75% off your entire order). You can't tell from the pictures, but the frames are pitted barn wood with rubbed bits of gold. My plan was to replace the prints with large scale photography of the boys. Yeah. It's been 6 years.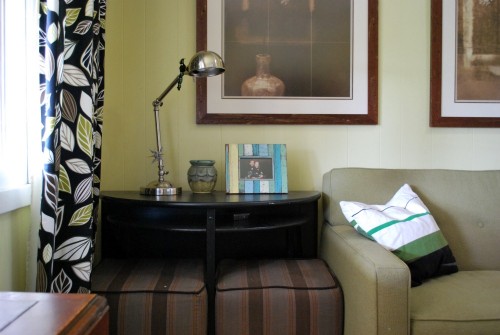 The ottomans I tried to dye a few years ago are here, still wearing their muddy frocks. The table is from IKEA and used to be our kitchen table back when we were a family of three. The lamp, I think, is from Target and is from when we first got married. I remember leaning my head against it in law school late into the night. One time, I was so focused on what I was reading that I failed to notice the metal shade of the lamp burning the top of my forehead until it was too late. I wish I was kidding.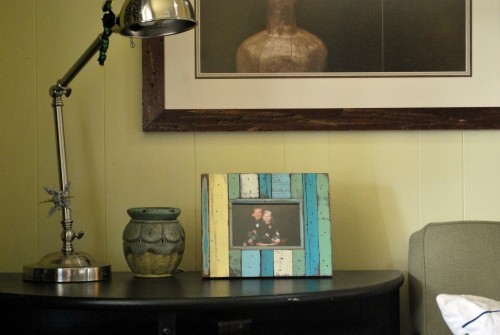 Okay, this last picture I almost didn't post. I have a ScentSational. I kept hearing about them on Twitter, but I didn't really understand what people were talking about. I figured they were candles and that was that. Well, the other day I was at WalMart (of all places) and saw an end-cap display. It was timely, as most end-cap displays are, because with the boys, the dogs, and the wall to wall carpeting, I am convinced it would take a vat of Febreeze to eliminate the smell of testosterone. I bought it because you can leave it on 24/7 if you like (I don't) and doesn't require an open flame, which is key in a room dominated by boys. I turn it on in the morning and off at night and, I have to say, it works great.
Looks? Well, we all can't be beauty pageant winners. I thought this one was the least offensive of the bunch. If I squint my eyes and look at it sideways, I can almost convince myself it looks like vintage pottery.  My main complaint is that most of the scents are fruit or food inspired, which I loathe. ScentSational needs to step up their game and offer some more sophisticated scents. Not all of us want our homes to smell like caramel popcorn or guava berry. And no, Wild Thing is not what I had in mind.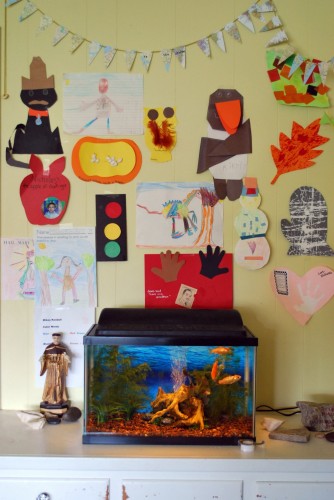 Last, but not least, is the art wall. If the toy room is the place where old furniture goes to die, it's also the place where kid crafts are exalted.
And that's it! The before images to what I hope will be a great den sometime before the boys graduate high school. I have a crazy idea about painting everything white, maybe giving the back wall a charcoal gray/chalkboard look and hanging up one of the Star Wars pictures of the boys in a super large scale. My mom is going to hate it! Which makes it almost a no-brainer!