Thank you so much for all the birthday wishes! Also, thank you so much for receiving yesterday's little giveaway so enthusiastically! I'm glad to know I'm not the only one who likes to read instructional manuals.
Speaking of following instructions…
One of the few times I even looked at my camera while in Lake Tahoe last week was mid-morning during a snow storm. The sky was dark and snow swirled through the air, giving everything a soft, grainy look. I told the boys to play in front of the bay window a bit while I took pictures of them, knowing the weak back light would (fingers crossed) turn them into old fashioned silhouettes in front of falling snow. Eat your heart out, Crane & Co.
Young, gentle faces. Snow flurries. Sweet grins and, maybe, a hug between brothers. As I told them to look at each other and smile, I imagined a softly faded photograph and thick, white card stock with discrete black lettering quoting a passage from Dickens or Tennyson. Mikey told me he had a better idea.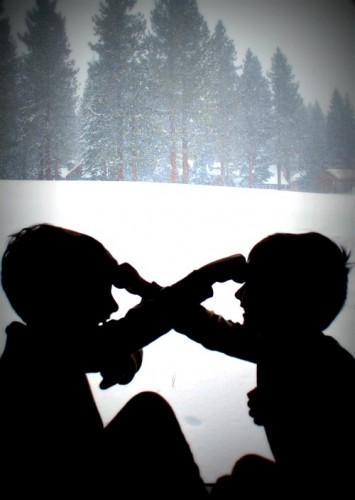 This was it.