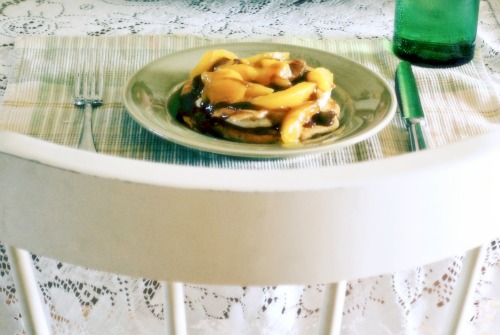 I learned last week one should never post a picture of a carbohydrate without an accompanying recipe. Today my Food + Foto comes with a recipe. (One step forward!) The recipe is for pancakes from scratch. (Two steps back!)
Yes, many people are committed to their store bought pancake mixes, and I've heard on more than one occasion about mixes that come with wholesome, organic ingredients. But, I stand firm that those ingredients are the very same ingredients already residing in your cupboards. The only difference is that you are paying someone to mix them all together into more convenient packaging.
The recipe is an adaptation from one found in The Joy of Vegan Baking, my hands down favorite baking cookbook. I've baked from this cookbook too many times to mention and the basic, foolproof recipes of treasured classics never fail to deliver. I decided at the very last minute Sunday morning that I should make pancakes. I was halfway through the batch before I remembered that I was out of maple syrup. Then I noticed a little footnote directing readers to make the brown sugar syrup if they suddenly found themselves without maple syrup. Oh, The Joy of Vegan Baking, how I love you.
I'll be spending the rest of the week cooking up a storm for my family. There will be no shortage of material for Food + Foto next week, that's for sure. See you next Monday, and have a wonderful Thanksgiving in the meantime. :)
Homemade Pancakes with Peach Compote and Brown Sugar Syrup

Basic Pancakes
makes 16-20 pancakes

2 cups unbleached all-purpose flour
2 tablespoons baking powder
1/2 teaspoon salt
2 cups nondairy milk (I use almond)
1/4 cup coconut oil, melted (any other oil or butter would work fine)
6 tablespoons liquid sweetener, such as maple syrup, apple juice concentrate, orange juice, agave,

Combine the flour, baking powder, and salt in a bowl.

In a separate bowl, combine the milk, oil, and sweetener.

Add the milk mixture to the flour mixture and mix just until moistened. Do not over mix.

Heat a nonstick griddle or sauté pan over a medium high flame. You will not need to add oil to the griddle/pan (I used half the oil listed and had zero problems) but you can if you like your pancakes to have a crispy edge.

Pour batter onto the griddle by the ladle, which should give you pancakes of about 4-6 inches in diameter. Cook until you seem bubbles form and then flip. Cook on the other side for another 2 minutes, bringing the total cooking time to roughly 4 minutes.

Brown Sugar Syrup

1/2 cup firmly packed brown sugar
1/4 cup nondairy milk (I used almond)
3 tablespoons Earth Balance or butter

Combine the brown sugar, milk, and butter in a saucepan. Bring to a full boil and boil for 3 minutes. Reduce the heat and simmer vigorously until thickened to a syrupy consistency, 10 to 15 minutes.

Peach Compote

1 10 ounce bag frozen organic peaches

Here's the thing with the peaches. I forgot to double the recipe for the Brown Sugar Syrup and was afraid the pancakes would be too dry or tasteless. (I should not have worried.) So, at the last minute I found this bag in the freezer and defrosted it, in a bowl,  in the microwave. So, it's not a real or traditional compote of stewed fruit. Sue me.

All Together Now

pancakes + syrup + peaches.