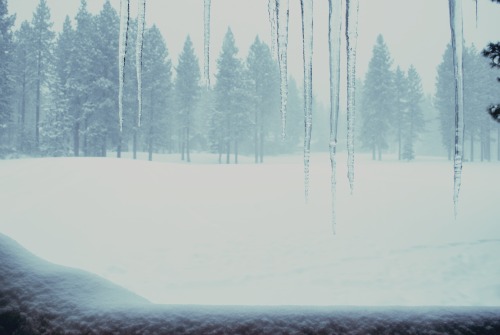 We spent the Thanksgiving holiday relaxing in Lake Tahoe. The trip up and down the 395 to Lake Tahoe was a breeze. We are blessed with two well behaved boys who make 8 hour car drives easy. I think it helps that we don't have TV in our cars. For the trip, we set up portable TVs on the headrests and they spend the drive watching their favorite movies. Because they only get to watch TV in the car a couple of times a year, it's a phenomenon and we hear not a peep from them until they need to use the restroom or get hungry. While they watch movies, The Mister and I listen to books on tape.
Once we got there, I never left the house and took only a handful of pictures. The boys had a great time sledding and building snowmen the first two days with The Mister while I was cooking (and later recuperating from cooking) the holiday dinner. By the time I was ready to go outside and play, the snowstorm hit. The next two days were spent lounging in pajamas with movies and books. I can't say I was disappointed.
I read Everything is Illuminated and To the Lighthouse, both from my Unread Library collection. I'm now in the middle of Bloodroot and am considering what to read next. I burned through almost all the super easy beach reads this summer and am left with classics, modern literature, and some really out there stuff (auras and chakras) that I don't know how I will finish (Ekhart Tolle). I started To the Lighthouse ten times over the last five years, and in the beginning third of Everything is Illuminated I found a plane ticket stub from 2002 to Reno, Nevada. Isn't that weird? I kept imagining sitting next to my 2002 self on that plane ride, tapping her on the shoulder, and saying "You're going to read that book in Lake Tahoe, but it won't be for another eight years, one law degree you'll barely use, and two young sons."
Both books were good, but To the Lighthouse had several brilliant passages that required marking up and note taking. That's the joy of reading literature, one I admit to frequently forgetting. It's not easy or fast, but the reward in reading sentences that astound you with their beauty and complexity is beyond measure, as is the exploration of themes that remain relevant 83 years later. After law school, I shied away from complex, analytical reading. I had my fill of it, you know? But To the Lighthouse may have inspired me to once again read for art as well as pleasure.
That doesn't mean I'm not looking for the next great love story. Sadly, unless I get one as a gift, I'm going to have to find it in the unread library. The Age of Innocence was a bit of a love story, at least the movie was. I can still remember that scene with Daniel Day Lewis and Michelle Pfeiffer in the carriage, where he slowly unbuttons her glove and kisses the interior of her wrist. Tell me you remember that scene because I just spent 10 minutes on youtube looking for it to no avail. Anyway, I remember thinking it was the best kind of seduction (the female kind, The Mister and my male friends would add) because everyone was buttoned up to the point that even innocuous contact was rife with electricity.
Other than Victorian sex scenes, I have nothing else to talk about. It's always slow getting into the swing of things when I've been away from the blog. Can you believe tomorrow is my birthday? Not just my birthday, but this blog's birthday, too. I started Pancakes and French Fries on my 35th birthday. I didn't do it for symbolic reasons. This was not a gift to myself as I approached middle age as a former career woman with two young children. Really, I just thought it would be easier to remember the start date if it was on my birthday. I was right.
Stop by tomorrow and we'll celebrate.