I've been deep in a book the last few days.† I haven't been able to put it down and, frankly, I'm thrilled Mikey and Nicholas are bathed and fed.† Fun reads notwithstanding, I had to give my fellow book lovers a heads up on the latest site devoted to bibliophiles.† Book worms, meet Book Swim.† Have you heard of it?† Am I late to the game with this one?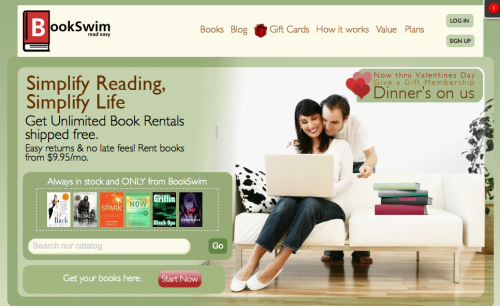 Book Swim is to books what Netflix is to movies.† From what I gather on the website, you pick out a rental plan based on your estimated rate of reading.† You order your books (there are no additional shipping fees for plans with 2 or more books a month) and get busy when they arrive.† Once you are done, you ship them back, again without paying shipping.† If you love a book too much to part with it, keep it.† You can pay for it with a click of the button on the Book Swim site.† From what I understand, they even carry textbooks.
I'm still on the fence about Book Swim, mainly because I am terrified of the commitment monthly payments require.† It's the same reason I don't have memberships to Netflix or any of the other online movie rental sites.† Still, I know sites like Netflix can save avid movie watchers a great deal of money.† I assume Book Swim offers the same benefit and wanted to pass it on to people who are able to make a decision without complicated decision matrices, actuarial data, and p values.
{Thanks to the very rad Bookilicious blog for the heads up.† I'm too busy reading without restraint to find such cool things.}