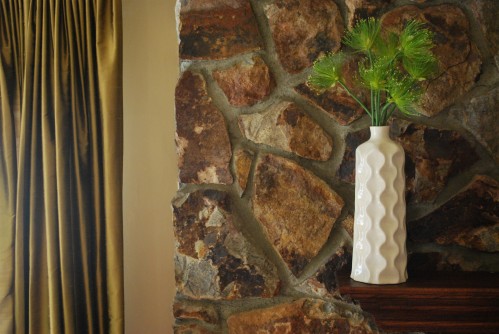 A good interior decorator or designer is worth their weight in gold.  The amount I have spent in paint, paint samples, curtains, furniture, and God knows what else would easily cover their professional fee along with a few core pieces for the house.
Last week I spent over $40 in paint samples.  I tested nearly every color I posted about last week plus a few more.  (All this because Sisal, the awesome color Maria recommended, is unavailable thanks to The Home Depot no longer selling the Ralph Lauren line.  I could have color matched it, but that's too simple a solution, isn't it?)  Some of the paint colors I tried were okay, some were unspeakably bad.  But, even the ones that were okay didn't look any better than what I already have on the wall.  So, guess what?  I'm not painting the walls.  I'm leaving them as is (Devonshire by Ralph Lauren) and am embracing the fireplace.  More on that in a minute.
I find it funny that an over-educated book worm like me can know so little about design.  Even worse, most of the time I don't even know what I don't know.  I was chatting with Seleta last week about how flat a pale color scheme looks in my home.  I would love a tone on tone room, but it seems so cold and stark; I can't figure out how the rest of blog land makes it look so darn welcoming and warm.  Seleta, a designer, was kind enough to point out the obvious.  My fireplace is large; it commands most of one wall.  One wall of rough, natural, boulders in shades of gold, copper, caramel, butterscotch, plum (!), and lavender (!!).  In order to make the fireplace work in a room with a pale or tone on tone color scheme, I need to add incredible amounts of texture to balance all the texture in the fireplace.
Well, duh.  Now that she puts it that way.  Oh well, it's a boring day the day you don't learn something new, right?
Which brings me to Plan G for the living room.  (Note that plans B-F wouldn't have happened with a designer.)  The walls stay as is.  The fireplace becomes the star, diva that it is.  No longer will I try to beat it into submission with bold curtains or deep wall colors.  Instead, I went ahead and bought new curtains in antique gold from Overstock that should take the colors of the fireplace all around the room.  Hold me.
I bought the curtains sight unseen, obviously, so I am a little nervous.  I am fairly confident it will look fine after placing one of my silk curtains from the den/toyroom up next to the fireplace as a test run.  That's what you see in the picture above, and I don't find it objectionable, do you?  Speaking of objections, I know I give my fireplace a hard time (it is a bear for a novice to decorate around) but look at those stones and the variations of color.  Isn't it just amazing the beauty nature can produce?