No loyalty, I tell you.  Brands be damned, the only thing I insist upon is the type of cleanser.  It must be cold cream.  No exceptions.  Cold cream and witch hazel is a classic combo in use since the 1800s, but up until recently, not very popular in the United States.  This type of cleanser seems far more popular in Great Britain and Japan, but I refuse to pay the shipping for a product I know nothing about.  So, I've stuck with Ponds.  But, lately I am seeing a change in attitude.  Perhaps America is joining me in adopting Victorian sensibilities when it comes to beauty?  Welcome to the geriatric side, ladies.  Look what I picked up just now at Target: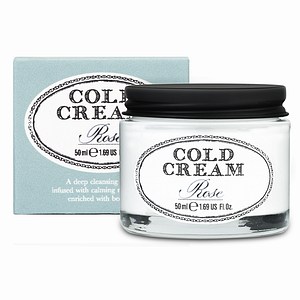 I've already tried it, and so far like it better than Ponds.  So far.  I will go through the entire bottle before I make my final decision.  The fact the glass packaging is positively irresistible and it smells slightly of roses will not factor into my review.  Maybe.  Probably it will count for 50%.
I was also trolling some make up boards, and it looks like the C.O. Bigelow line for Bath and Body has a cold cream, too.  I'll be trying this one out, too.  Like I said–selective loyalty.  Sorry, Ponds.