Let me just start this post off by saying I feel slightly stupid writing about what I use on my face, despite a few comments and emails asking me exactly that.  And the funny thing is that I love to read beauty regimen posts on other blogs.  In fact, Tristan's beauty posts are always my favorites, as are Anna's.  My hesitation could lie in the fact that both of these bloggers are prettier, thinner, and more knowledgeable than I am on the subject.  But, in truth, my hesitation lies in the fact that you are about to get the same advice your 78 year old grandmother could give you the next time she has you over for casserole and jello salad.
I am fickle.  I show absolutely no brand loyalty, and have no qualms trying something new–which I do regularly.  However, there are three products that I have used religiously, in between bouts of experimentation, for the last 20 years.  Time and time again, these are the products I weigh against anything new I bring home.  They are old fashioned, unglamorous, far from hip, and dirt cheap to boot.  In fact, you can buy all three at the supermarket.
Ponds Cold Cream. Yes, the same stuff your grandmother and strippers in Vegas slather on to remove heavy makeup. I love it. I love the grandma smell (many don't), I love the way it removes all my makeup (except mascara–I don't use it around my eyes), and I love how smooth my dry skin feels afterward.  To use it, I just rub it all over my face for a minute or so.  Then, I wet one of the boys' old washcloths in warm water and wipe it all off.  I have been using it religiously the last couple of months (and off an on for 20 years), and I have seen an appreciable difference in my complexion.  My skin is clearer and my pores look slightly smaller.  I attribute this to technique.  When I use soap or rinseable products, I find that some gets left behind in the rinsing process (and the sink and the front of your shirt get annoyingly wet), leaving me prone to hairline bumps.
After I wash my face with grandma cream, I follow it up with prairie toner.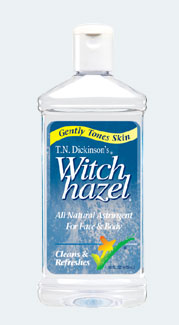 Don't say I didn't warn you about my old lady tendencies.  I have used Dickinson's Original Witch Hazel, which has been around since the 1800s, since I was 15 years old.  To put it in perspective, this product had been around a good twenty-thirty years by the time Laura Ingalls Wilder was born.  James Madison was president and California was, truly, the Wild West.  But, hey, 200 hundred years on the market–you don't need me to tell you it works. (I can never find the witch hazel formulated for the face and use the one above, which is more for first aid.  Totally gentle, and my sensitive skin has never had a problem.)
I then follow it up with lotion and eye cream.  Again, I use a brand that has been around for 50 years: Oil of Olay.  I'm not joking, and I'm not cheap!  Trust me, I have no problem dropping serious cash on beauty products–and when I was working I did just that.  But, at the end of the day, I found that most expensive products aren't any better than what you can find for much less elsewhere.  Right now, I am working my way through Oil of Olay's new Professional line, and I have been very pleased with the reduction of fine lines and crepe paper skin under my eyes.
So that's it.  My Grandma Chic Beauty Regime for all the world to mock.  Or see.  But most likely mock.  Not that I can blame you for chuckling–two out of three products are so old the companies offer product renderings instead of images.  Drawings!  Colored pencil sketches, no doubt so their loyal customers, not yet accustomed to color photography, don't get the vapors at the sight of that sexy toner bottle in the flesh.