I aced my typing class in high school.  I had perfect positioning, my hands cupped over the typewriter with the confidence of someone able to hold imaginary ping-pong balls with the youthful pads of their palms.  One day, after a particularly artful display of clerical wizardry, my teacher, Mrs. McGuire, approached me.
"You know," she said, her gravely voice reaching down to me from her imposing 5'11 frame, "you have a real talent for typing.  You should consider a career as a secretary."
I am hard pressed to cite a group more encouraging, more filled with hope for the future, than high school teachers.
But Mrs. McGuire did have a point.  I've always had dexterous hands.  I am good at putting things together and taking them apart.  I am the mom you want when your shoelaces are impossibly knotted and you are running late for school.  I played the piano (and the constant practicing, recitals, and rigmarole that entails) for eleven years, until I took up competitive tennis and developed callouses on my palms so thick I could stick pins in them without feeling a thing.
I say all this not to brag, but to justify how I can palm a basketball with my monstrous paws.  It's true; I have hands larger than many men.  My fingers, stretched long from years of piano and prodigal typing ability, extend knuckles past the dainty tips of the women I know.  Likewise, my palms are larger than average, a fact I used to my advantage every time a nutritionist told me to use my palm to determine portion size.  My friend, Tiffany, not one to miss a freakish characteristic on the body of another, once noted that my fingers reminded her of E.T. "Every time you point I expect the tip of your finger to light up."
At least they aren't man hands.  They are feminine in shape and almost graceful in appearance when manicured, which I admit is never.  But, still, graceful or not, their size comes at a price, and that price is bangles and bracelets.
I have an alumni event tonight.  The type of event where you show up over dressed in hopes people will believe you dress like that normally.  What, this old thing? I used to wear this during finals, don't you remember? The type of event where you lie about what you do and how much you make, knowing the person you are talking to is doing exactly the same. The type of event where a nice set of bangles would complement my black cowl neck top nicely.
But it is not meant to be, me and bangles.  Knowing my tendency for circus like proportions, I headed over to Lane Bryant and found exactly what I wanted: silver, but not shiny, simple enough to wear with any number of outfits, and under $20.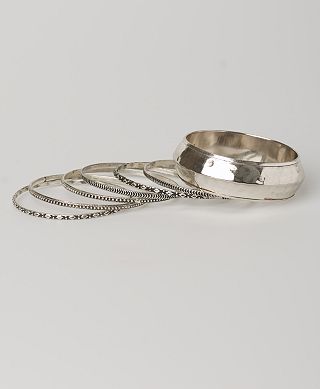 Unfortunately, the set was too big.  No sooner did I put them on and drop my hand did all seven bangles slide down and off my wrists into a tinkling pile on the floor.  The same thing happened with every other set I tried.
Aha!  I've lost so much weight that my palms and wrists have shrunk to a normal size, meaning I can now wear bangles like everyone else!  Not so much.  I went to 5 different "regular" stores and a few national chains, and while I could slide on the bangles, I couldn't take them off without grimacing and grunting, causing Mikey to ask me more than once if I had a tummy ache.  "No, Mikey," I gasped as I ripped off a bangle with a sharp edge, "Mama just has hands like an orangutan."