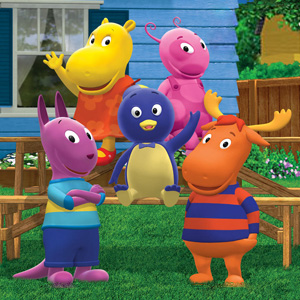 It started off innocuously enough. A hum here, a warble there. An innocent toe tap (or two) while Mikey and Nico sang along at the tops of their voices with Tyrone, Uniqua, Pablo, Austin, and Tasha. Then, one day I watched The Backyardigans video on T.V. when the kids weren't in the room. Believe me, I didn't look for it; it appeared like a ray of light from T.V. I keep on like background music.
When it played again days later I thought, my that tune is catchy.
Eh, eh, something something dunes.
Hm, hm, something about dunes.
Jules: Mikey, what's that song I like that Pablo sings?
Mikey: Vroom-Vroom, Cruisin' the Dunes! It's when Pablo is on his way to catch some waves at Tikki Beach!
Jules: Thanks. Just so you know, my life is over.
Mikey: No it's not, mama. You're right here.
Jules: Exactly.
Exhibit A:
Backyardigans – Cruisin The Dunes – the backyardigans
Yesterday I heard another Backyardigan song I like even more. In my defense, Alicia Keys sings in this one. The song is about the planet Mars and how everything is called Boinga because that's the Martians' favorite word and it's all sung to this catchy island beat and I'll just be quiet now.
Exhibit B: (This time, with video!)
I am arrogant enough to believe I am not alone. Maybe not Backyardigans, but somewhere out there are moms who whistle softly under their breath the tune to a song they should not know. Admit it. I promise you it feel great to finally get it off your chest.