I found a new product that works so (surprisingly) well for such a low price point that I had to share it with anyone else who straightens wavy, frizzy hair on a regular basis. The other day I remembered I needed conditioner while at Target. The salon I switched to last year doesn't sell hair products, and since I am too busy [re: lazy] to go to the beauty supply store, I've been shopping for hair care at The Bull's Eye. If you have ever tried to buy hair product at a store like this, you know the sea of products can be overwhelming. Instead of putting conditioners with conditioners and shampoos with shampoos, everything is lumped according to brand. That's all fine and dandy, but it seems like packaging changes ever other month, and I wind up buying the first thing I find that meets my needs. That's exactly what happened last week, but for once it worked in my favor!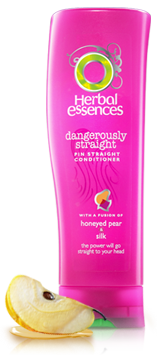 The first bottle to read 'conditioner' was Herbal Essences Pin Straight from their Dangerously Straight line. I almost put it back because I (wrongly) figured a conditioner from the supermarket geared for hair straightening–if it even worked–would be heavy and leave my hair limp and greasy. Not so!
I love this conditioner. It's only been two weeks, but I have no complaints. And trust me: I always have a complaint when it comes to beauty products. It leaves my hair silky, smooth and so, so, so shiny. And, as for those pin straight claims? For once, there is truth in advertising. My hair dries so much straighter than before! I am even able to subdue the curly hair at my temples. Phenomenal! Even better, I only have to use one pass with my "I-should-have-bought-the-more-expensive-one" flat iron, and only to tame the straggler frizzies at the top of my head.
Let's review:
Inexpensive
Readily available
Non greasy
Easy to use
Makes you feel better about buying the cheaper flat iron
There you have it.  A product that works effectively while coddling your ego.  What's not to love?