I live in a historically dry area of southern California, so my polka dot rain boots seemed like a frivolous purchase to my family and friends.  As luck would have it, this year has seen heavy rainfall and my boots, plenty of wear.  Clearly, then, my rain boots brought on the rain.  If a new pair of rain boots can bring rain, surely a new wallet can bring money.  I'm looking for a new wallet, and the money to go along with it, too.
I've owned two wallets in 17 years.  When I was 19, I  bought a  Coach zip around wallet at an outlet store.  It was similar in style to this one, but in plain, red leather.  I carried that wallet for 12 years until the Mister bought me a new wallet, also by Coach, in the popular Signature pattern.  The wallet is similar in style to this one.  I wrongly assumed it would last me another 12 years, but the zipper has failed to stay on track for 4 out of the last 5 years, and the snap refuses to stay closed.
The wallet has a lifetime warranty, but I am ready to move on to something new.  I liked the Coach brand back when it wasn't so popular and heavily marketed.  Now, dripping with Cs and logos on all sides, it just smacks of excessive consumerism. Besides, when you see a 16-year-old girl carrying the same bag as you on the way to her job at Hot Dog on a Stick, it's time to move on.
I don't want anything heavily labeled, which is almost impossible since that remains the rage.  I don't like chains or whips or fluorescent patent leather that, I'm sorry, to me screams, Look at me!  I'm a mom and still hip! I'm wild, really.  So totally wild.  Rawrrr.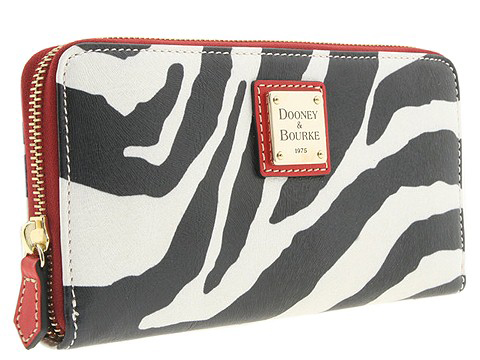 I'm trying desperately not to like this wallet by Dooney & Burke.  I know this brand is not "cool," but that is actually part of the allure.  I admit zebra has been done to death, but I love high contrast color combinations like this.  The red trim positively slays me.  It's preppy and modern and classic, which sums up my personal style perfectly.  It's also $195, which turns my stomach.  I am not afraid to spend good money on a quality product, but this is more than I am able to spend with the Mister looking for work and me trying to start a law practice.
Any suggestions?  What has been your favorite wallet?  I am open to any brand, large, small, or indie.  I don't want something cheap if it means I will replace it in less than a year.  I've tried Target and Nordstroms, but didn't find anything nearly as enchanting as that striped number up above.  Maybe that's my problem–I'm looking only in polar opposite price points and need to start shopping somewhere in the middle.