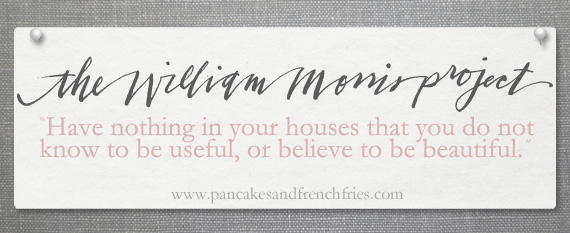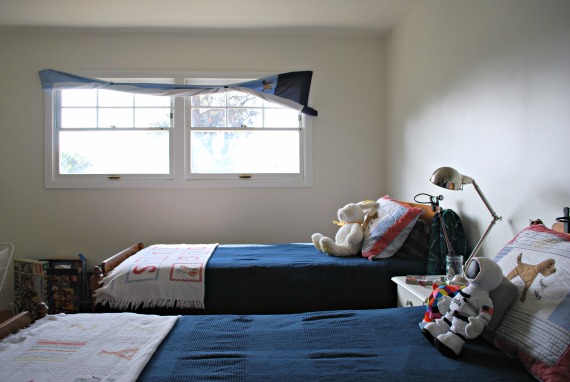 When last we left the boys' new shared bedroom, we had painted the walls a warm white. I planned that same week to add bamboo shades but Nico got sick, so that went on the back burner. That was the plan for this week (shades) along with ordering art for over the bed, installing a solar system light, and deciding on curtains (I'm looking at this one and this one, for starters).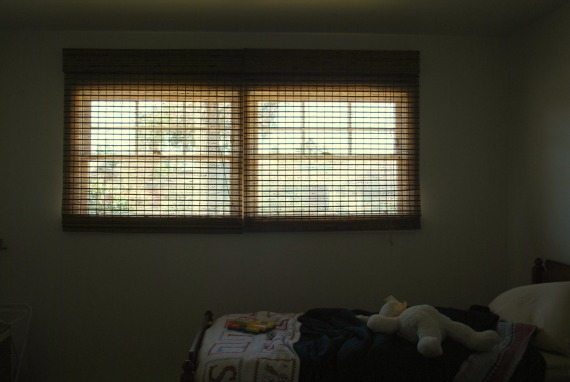 Instead, the Mister put up the bamboo Roman shades (Home Depot, same as the ones in the family room but in a lighter color) early Tuesday evening when he wasn't even feeling 100% better. I think he wanted to do something nice because did I mention on the day Nico got better the Mister got the flu? And on Tuesday, the day he started to feel better, Mikey woke up with a 102° fever–104° now, thanks.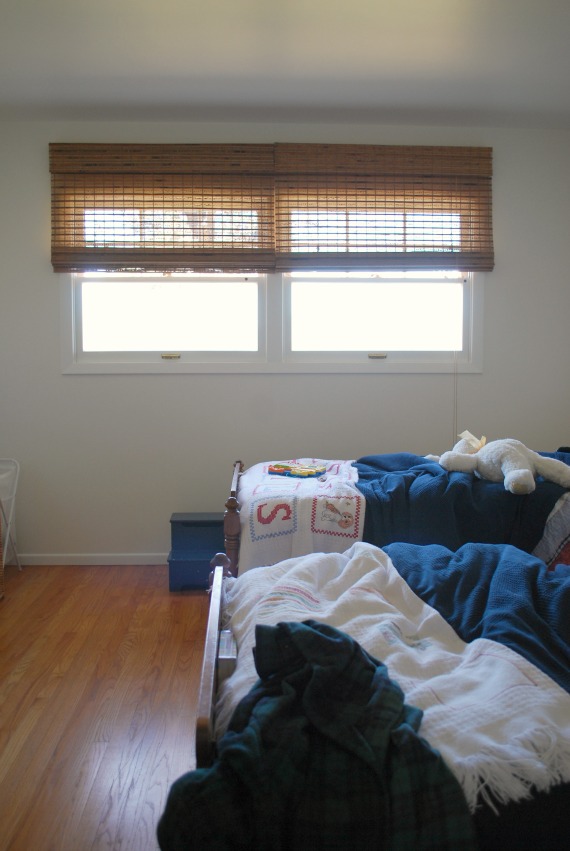 I know from Facebook, Twitter, Instagram, email, and the good ol' fashioned telephone that you are going through the very same thing. You aren't getting any sleep or work done, either, and by now, you are probably sick, too. I'm not, thank goodness, and I hope it stays that way!
I know you feel my pain.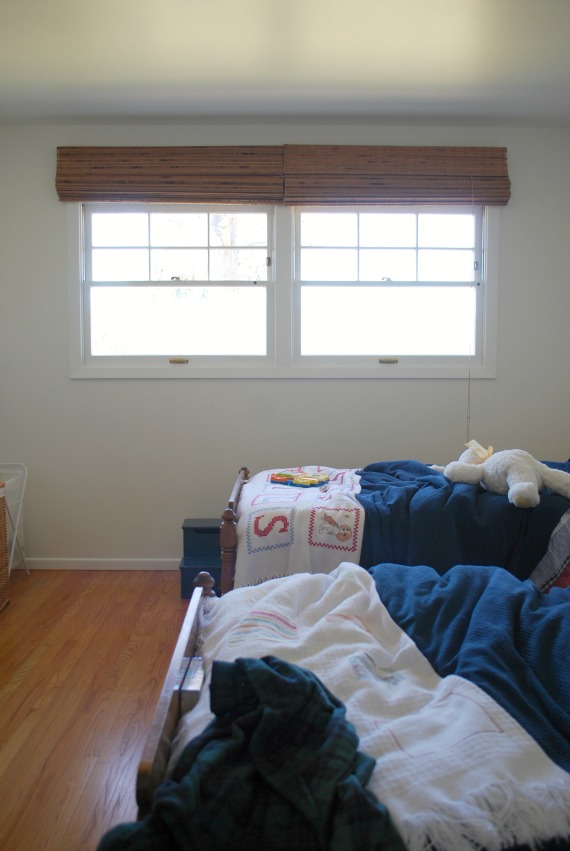 What is going on this season?! So many people are sick. Last year was a bad cold and flu season for us personally, but this year seems to be a bad one for everyone. There is one child in Mikey's class who has been sick off and on since October. At this point, he/she has missed weeks of school! My neighbor–poor thing–just had her 3rd child and her two oldest (6 and 4) keep passing around colds. She is not only up at night trying to take care of a two week old, she is dealing with sick kiddos, too. And of course the baby got the sniffles last week.
What can you do? Nothing. Soldier on and be grateful for the big and small things, like health, because we are healthy. Colds are temporary. They don't last, and those shades aren't going to go up by themselves.
//////////////////////////////////
This post was part of The William Morris Project, a weekly series that details the steps I am taking to create an intentional home. You can see more of my goals and completed projects here. To learn more about this project, start here.
//////////////////////////////////
Now it's your turn! Feel free to share how you have lived according to the William Morris quote, "Have nothing in your houses that you do not know to be useful or believe to be beautiful." Made a plan? Cleaned a drawer? Bought a sofa? Tell us about it with a link or comment. A few guidelines:
Please link to a specific post, not a general blog address.
Your post must relate to your efforts to create an intentional home. I have a delete button, and I'm not afraid to use it.
No links to giveaways, please.
Let's use this weekly link up as an opportunity to gather inspiration and motivation. Click links. Discover new people. Say hi and good job. I know I will.

//////////////////////////////////