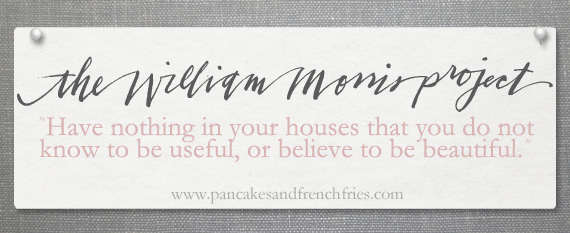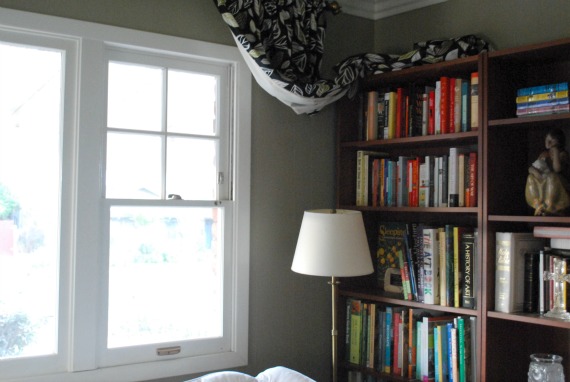 Who's ready for some janky?! Awesome. I have just the thing; you'll love it.
I'm particular about curtains. I like them thick and lined, not skimpy or wimpy. I also like them double hung with sheers to filter the light during the day. I want to be able to see out to the street but still protect our furniture and pictures from the glare of the setting sun. (Also, it's blinding come sunset.) Unfortunately, our plaster walls can't support the weight of what I like. Every few months the rods pull out from the walls, forcing us to take everything down, patch, and reinstall. There is a reason why we can't use anchors, but for the life of me I can't remember. I do know that behind the paneling in the family room is the brick and mortar of the exterior facade. Whatever the reason, no anchors.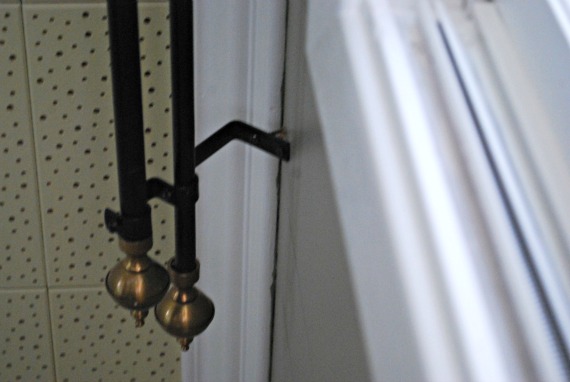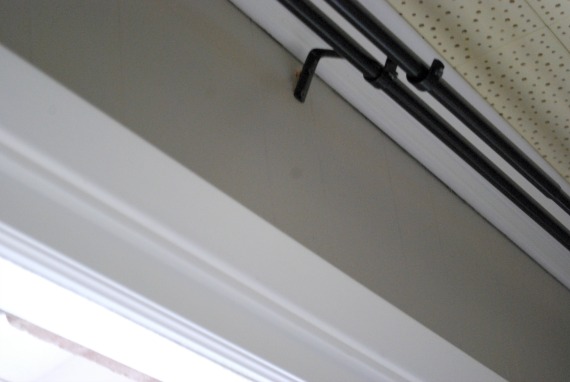 We've been trying to hold out for shutters, but the rods started pulling out again. Shutters can't happen right now, so we had to do a cheap temporary fix–something I swore we wouldn't do again. Let's agree that vowing to never do something is like waving a red flag in front of a bull.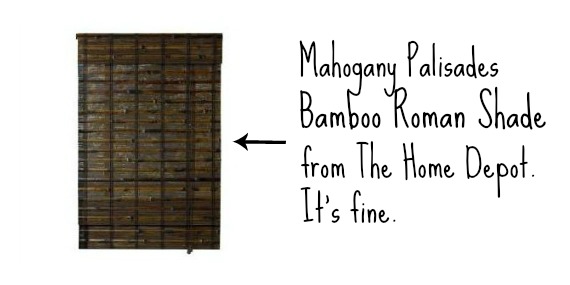 We ended up buying bamboo Roman shades from The Home Depot, but because our windows are so very wide, we had to buy three and put them together like a puzzle. It's not ideal, and the side shades add to the jankiness by being longer than the center shade, but it's the best we can do for now.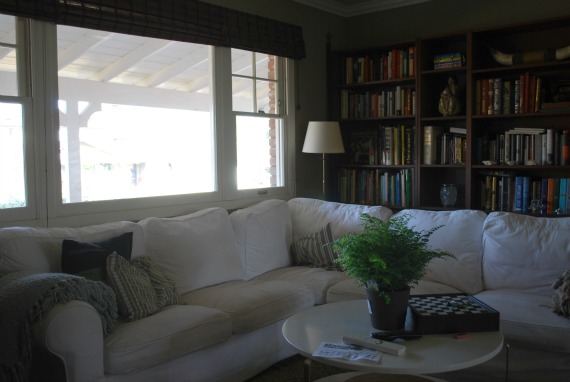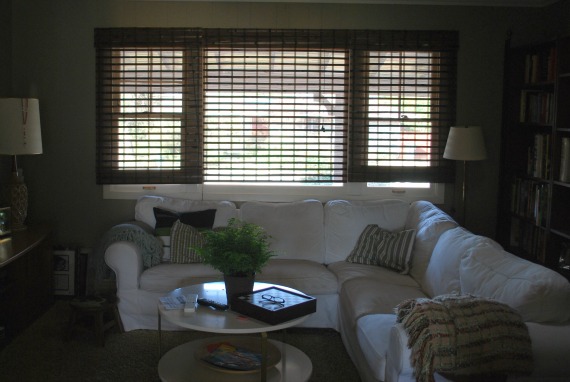 We're going to put white curtains (stationary) on either side of the window to add fullness and texture to the room. That should go far in masking (1) that there are three shades instead of one and (2) they are improperly installed since I believe Roman shades are supposed to hang inside the window casings. Also, I think it looks nice. John and Sherry did the same thing in their first house (eighth picture down) and I always liked the look. And even though the shades aren't our first pick, I admit they do a fantastic job filtering the light. They are much better than sheers, and as you can see in the pictures, I still have a clear and pretty view of the street, which is handy when the boys want to play football on the front lawn.
I don't like posting incomplete projects, but oh well. Progress, not perfection.
*Apparently there is a bug with the latest version of WordPress that fails to recognize embeded codes for videos, link-ups, etc. So, if you do not see the WMP link up option in this post, just know that I will reinsert it first thing in the morning. Website cursed, I tell you!
//////////////////////////////////
This post was part of The William Morris Project, a weekly series that details the steps I am taking to create an intentional home. You can see more of my goals and completed projects here. To learn more about this project, start here.
//////////////////////////////////
Now itís your turn! Feel free to share how you have lived according to the William Morris quote, ďHave nothing in your houses that you do not know to be useful or believe to be beautiful.Ē Made a plan? Cleaned a drawer? Bought a sofa? Tell us about it with a link or comment. A few guidelines:
Please link to a specific post, not a general blog address.
Your post must relate to your efforts to create an intentional home. I have a delete button, and Iím not afraid to use it.
No links to giveaways, please.
Letís use this weekly link up as an opportunity to gather inspiration and motivation. Click links. Discover new people. Say hi and good job. I know I will.

//////////////////////////////////